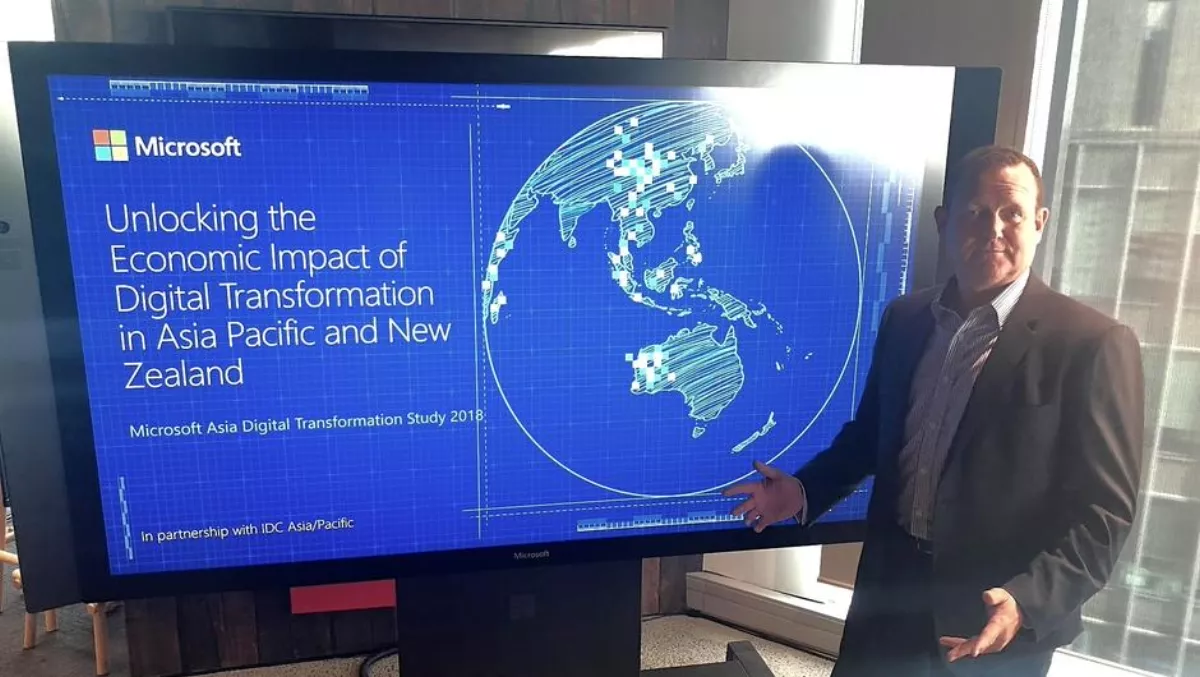 3 key takeaways from Microsoft's Digital Transformation Roundtable
FYI, this story is more than a year old
Yesterday, Microsoft hosted a roundtable to discuss the results of the "Unlocking the Economic Impact of Digital Transformation in Asia Pacific" research they produced with IDC.
The headline results were briefly revisited before the presentations began.
The speakers included Microsoft NZ managing director Barry Sheers, IDC Asia Pacific analyst Shane Minogue, Auckland Transport chief technology officer Roger Jones, and Microsoft national technology officer Russell Craig.
There were three major takeaways from the event about the future of digital transformation in New Zealand.
Opportunity - what organisations will gain
Digital transformation will not be optional much longer as expectations are shifting toward the agility, mobility and flexibility that new technologies offer.
Of the five key benefits for organisations, 'increased revenue from existing products and services' and 'increased revenue from new products and services' took the second and fifth spots respectively, Minogue says.
The top benefit was 'improvement in profit margin' with 'improved productivity' and 'customer retention' taking the third and fourth spots.
Craig points to improved security as an example of how organisations will "have their cake and eat it too" as they transform their products to fit into this new paradigm.
Practicality - how to implement digital transformation
"The old saying that 'if you don't know where you're going, any road will do' is not a recipe for success," Craig says of the importance of planning your steps.
Minogue offers some strategy advice for those about to get started with transforming their business, "It's about small quick wins that will get people involved - show them success with low-hanging fruit."
He adds an anecdote about the C-suite leaving the room and him being told by middle-managers that, "agility means that nothing gets done!"
The issue is one of culture, he says. CEOs have to start from the bottom up if they want the changes they implement to be successful.
Auckland Transport has already run about 500 people through the methodology that they are using to approach their journey, but Jones knows that it is not a quick fix.
"Some people love it, some people don't but over the next 3 to 4 years the culture will shift."
Responsibility - how to do this right
Sheers begins by quoting Satya Nadella, Microsoft's CEO and greatest spokesperson for social responsibility.
Minogue outlines that the study shows that digital transformation could provide greater access to training, more high-value jobs, and prevent any skill gaps that the baby-boomers' retirement will cause.
He also alludes to another study which shows that digital transformation will create more jobs than it destroys.
However, all of this is couched in one important 'but' - Organisations and Government must work together to ensure that they are getting these solutions out into the areas that need them most.
There was much more said about the specifics of how organisations shouldtheir journey, how retraining and upskilling employees will be vital, and a bold statement from Jones that "big solutions are dead."
But overall, the view seems optimistic as we look out at the new digital world that we are all headed towards.
Related stories
Top stories