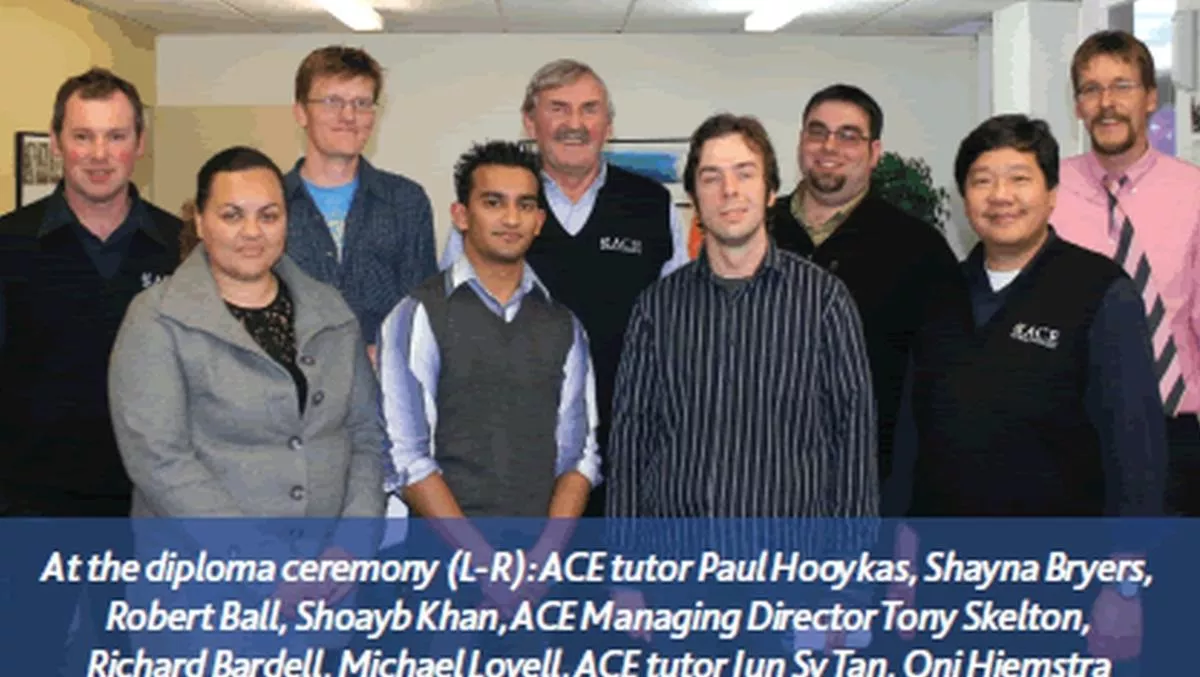 A new chapter
FYI, this story is more than a year old
It's over. After a long, hard slog for the students involved, the first ACE Diploma in Computer Technology has come to a close. The Channel attended the graduation ceremony on June 19th to celebrate with the new graduates, and spoke to long-term contacts Michael Lovell and Shayna Bryers as they eased into their new careers.
"There's nothing like celebrating success, and that's what we're doing today," said ACE's Managing Director Tony Skelton before presenting the inaugural ACE Diploma in Computer Technology students with the qualifications they'd worked so hard to earn over the last year. And with a 100% pass rate, it certainly has been quite a success. Two of the students couldn't make the award ceremony; one was required to work at a job they acquired thanks to the course, and the other had a job interview.
For those in attendance, however, it was a celebration in the true sense, with the graduates taking the chance to catch up over a few drinks and nibbles and talk about what the future had in store for them. And as class member Oni Hiemstra highlighted in a speech, the small class (which included "a waka girl, a car mechanic, a social worker and a samurai master") became incredibly close and tightly knit. "We became a team," said Hiemstra. "Jun [Sy Tan] and Paul [Hooykas] really got us into some team building."
Hiemstra was particularly thankful for the opportunity given to him by ACE as he went on to detail the invaluable skills that the class has learned, providing them with much- needed experience and placing them well to begin their careers in the IT industry. "They proved that they can turn absolute computer illiterates like me into computer engineers. I am convinced I'm better off. This course will gain us many blessings."
For Michael Lovell, those blessings are already beginning as he settles into his new role at Axon Computer Systems, which he describes as "like shifting gear". He added that he was enjoying the opportunity to put his new knowledge into practice rather than sitting in a classroom. "The actual practical is really sitting well with me and I'm really enjoying it."
Not to mention that the team at Axon has really taken Lovell under its collective wing, aiding in his transition immensely. "They're a great bunch of people; very friendly, very helpful, and they've helped me fi t right in. They even took me down to Hamilton to meet some of the guys we're working for, so actually looking at their servers and everything that we log into remotely."
Even at this early stage in his new career, Lovell already looks back on the diploma as one of the best things he's ever done. And things are really beginning to fall into place for him; now that he has a steady income, he and his wife have recently bought a house.
For Shayna Bryers, the transition from student to full-time Microsoft employee was a sudden one, but one that she had to adjust to quickly. "It felt strange; it felt like an unexpected finish," she said. "I knew it was coming, but it was so fast. It was, like, 'Oh my God, I have to go to work soon!'."
Shortly after joining the team at Microsoft, Bryers participated in comprehensive orientation courses, both for general Microsoft staff practices and for her own specific role. And most recently, she was involved in the discussion of the company's goals for the new financial year.
However, by the time The Channel spoke to Bryers, she was well settled into her role as a Technical Account Manager at Microsoft after a rigorous training regime, and the company continues to give her more and more responsibility. And as fate would have it, it even looks like the nature of her upcoming projects might have her working closely with a certain ex-classmate. "I'll probably get in contact with Michael, because Kordia's just signed up as a Microsoft partner, and that's the project that he's working on," she laughed.
The Channel congratulates the inaugural Diploma of Computer Technology students on their achievements, and extends an extra special 'thank you' to ACE Managing Director Tony Skelton and students Michael Lovell and Shayna Bryers for their continued assistance.
Next month we begin a series of topics of importance by the NZITC Group.
Related stories
Top stories