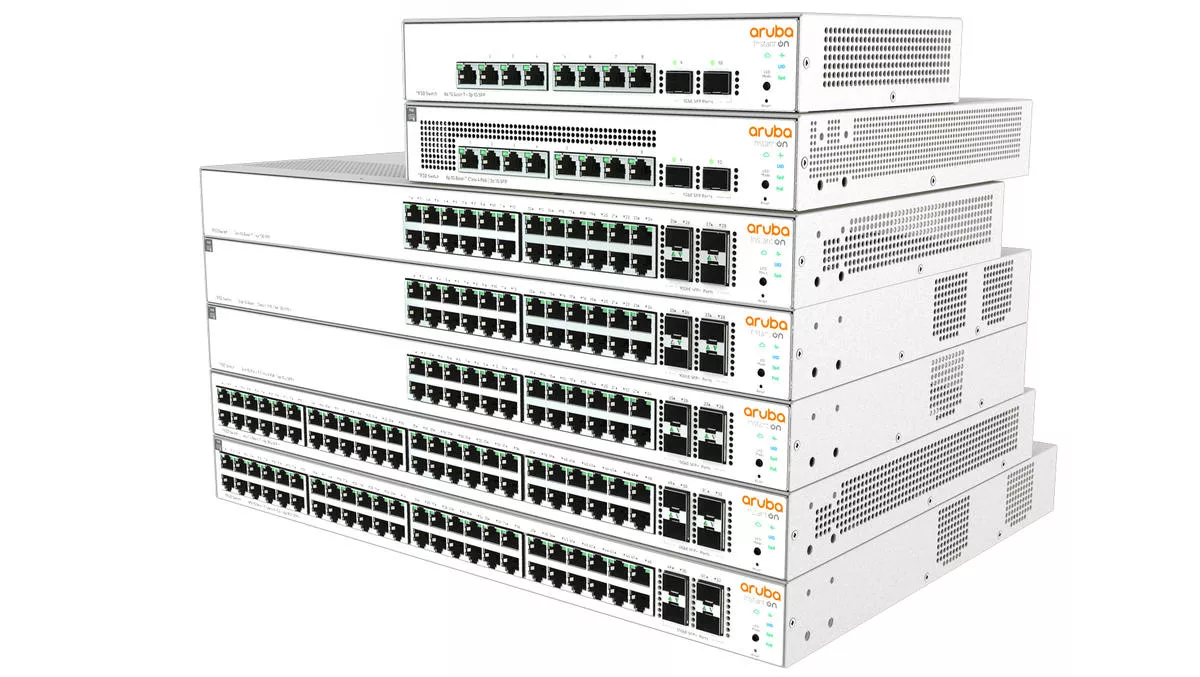 Aruba expands smart switch portfolio with solution for SMBs
FYI, this story is more than a year old
Aruba, a Hewlett Packard Enterprise company, is expanding its Instant On product family to include a new series of switches that enable small businesses to deploy a unified, high-speed network that is easy to set-up, manage and maintain.
Whether deployed as part of a business continuity strategy or connectivity upgrade project, the 1930 Series of smart-managed switches integrate with existing Instant On indoor/outdoor access points (APs), and can be centrally managed with the Instant On mobile app.
According to the SMB Group, "71% of SMBs have already moved activities from the physical world to the virtual one, and 16% are planning to do so.
Patrons' expectations for seamless and secure connectivity are high, whether they are engaging with a large, multinational chain or a small local business.
The issue is further compounded when unexpected crises strike – such as the recent social distancing mandates in response to the global pandemic – that fundamentally change the business engagement model from mostly an in-person interaction to online-only, which can also cause fluctuating network demand.
"Over the last few months, we have seen many small-to-medium businesses in Australia and New Zealand embark on a digital transformation to ensure continuity through these uncertain times. They have been pivoting to working remotely, enhancing digital sales platforms and shifting meetings and events online. Therefore, visibility into network performance and ease of IT management have become critical for businesses of this size," says Dicker Data networks business manager Tony Tran.
"The SMB market remains a sweet spot for Dicker Data and we're poised to assist our partners to remain relevant and competitive in the market. Aruba resellers can tap on our technical pre-sales expertise to build an Aruba Instant On solution that is right for their customers. We're confident the solution will appeal to many of our Aruba SMB channel partners as they seek network simplicity and reliable connectivity for both their staff and customers. The Aruba Instant On range will enable them to widen their customer base, incorporate value-added services and strengthen relationships for the long term.
Instant On offers unified management for all network services, a single architecture for both switches and access points and an innovative mobile app for hassle-free set-up, monitoring and management across the entire network.
"Seamless and secure network connectivity is not only an imperative staple among large businesses, but it's also critical for small businesses. Increasing connectivity needs among consumers and remote workers are placing undue stress on smaller entities, who often lack the resources to keep IT experts on staff," says Aruba ANZ category manager Darren Smith.
"The addition of a new series of switches to the Aruba Instant On product family aims to address this, by equipping small businesses with enterprise-like connectivity and management simplicity via the Instant On mobile app or cloud portal.
"It's a crucial time for many small businesses as they transition their engagement models from in-person to online. Demands on their IT networks are escalating, and business owners require simple monitoring and management means. Our expanded Instant On solution is designed to support them on this journey, offering a cloud-first approach that's reliable, secure and cost-effective.
The new Instant On 1930 Switch Series features:
Flexible configurations with 8, 24, or 48 1G ports with PoE and high speed 10G connectivity
Enhanced PoE+ on all ports to power a range of Internet of Things devices
Choice of management modes for flexibility:
Cloud-management via mobile app or web browser
Local web GUI
Limited lifetime warranty for maximum investment protection
"Small businesses play a critical role in our communities and, for those that provide essential services, staying connected with their customers has now become a necessity," says Aruba vice president and global small and medium business general manager Amol Mitra.
"For those who are looking for a simple, hassle-free networking solution that provides secure, high-performance, enterprise-like connectivity, that solution exists today with Aruba Instant On.
Aruba has teamed up with NordVPN, a trusted online security solutions provider with more than 12 million users worldwide, to deliver VPN services to Aruba Instant On customers.
Adding NordVPN to an Aruba Instant On network requires just a few steps and no IT expertise, enabling employees to remotely access sensitive business data when they can't work on-site.
Remote access to business services and tools is essential for small businesses, however, they often lack the resources that a large enterprise has to set-up and maintain virtual private networks (VPNs).