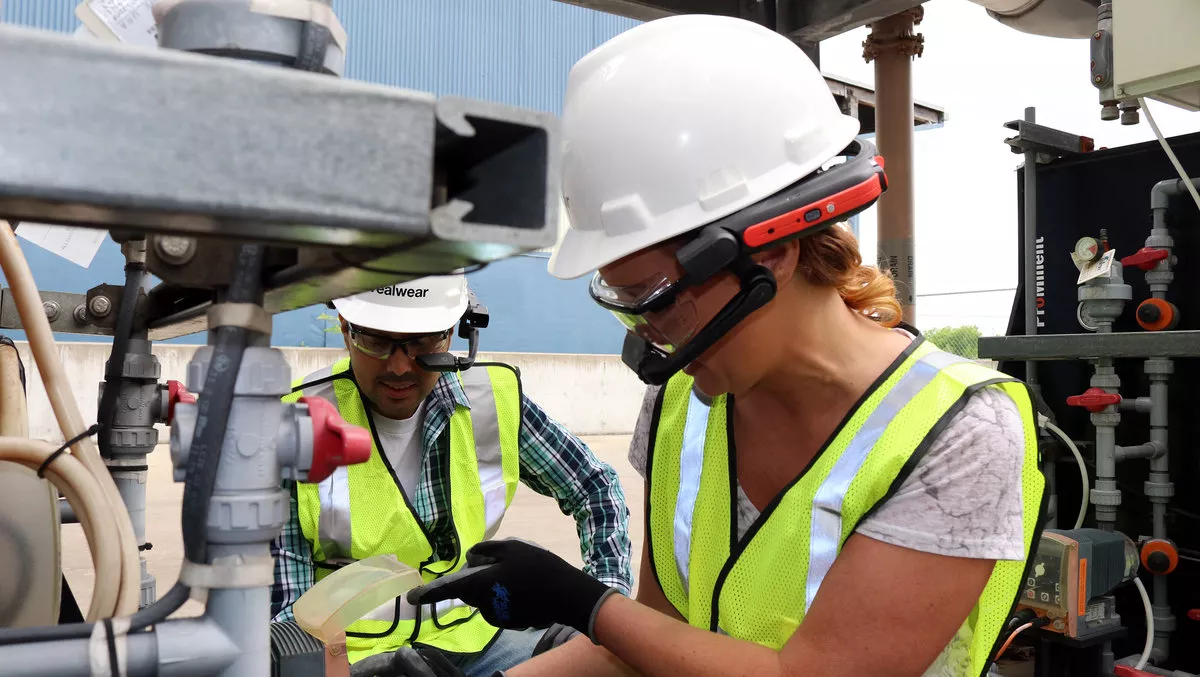 Company-X to resell head-mounted tablet range in A/NZ
By Sara Barker,
Wed 28 Aug 2019
FYI, this story is more than a year old
New Zealand-based firm Company-X has secured a deal to become the sole Australasian reseller of RealWear's HMT-1 and HMT-1Z1 line of head-mounted tablets.
RealWear's head-mounted tablets are designed for completely voice activated and hand-free use, with a narrow "boom arm" with a 'micro-display' that appears as though the worker is viewing a 7" tablet screen. The screen can be positioned just below line of sight, so the user can easily see glance on the screen like a dashboard.
The device can also be used just like a smartphone for remote voice calls. Users can also share camera feed for picture-in-picture video calling. This means a technician can discuss an issue, record it and save it. Information stored in the device is synced back to their corporate systems.
According to Company-X AR/VR specialist Lance Bauerfield, essentially the devices are rugged tablets that clip on a hard hat for hands-free use. He notes that Company-X can design software for the tablets.
"It runs off the Android operating system and apps, so we can write customised apps for our clients, exactly like you can for a tablet. The core functions that are built into the headsets are the voice command functionality that has been enabled for all existing apps and navigation."
He notes that the Company-X team was initially sceptical about how small the screen was.
"Our concerns were unfounded as it is very user friendly as the screen is mostly a reference check for the voice commands," says Lance.
"They've spent over seven years perfecting the product, so the usability is excellent," says Lance. We believe in the product and are excited about the opportunities."
"The challenge was to help technicians onsite at remote distribution hubs. The technicians carry out repair and maintenance on site so using the HMT needs no computer or laptop. You can't take a laptop into an explosive area, which was needed here, but you can the head-mounted tablet, and the HMT-1Z1 model is certified as intrinsically safe."
He points to tools like Siri and Alexa and how they have enabled voice-assisted working.
"Pepper Creative's integration into Company-X has meant that there's now the resources to be a full reseller here. Being able to provide the hardware as well as the software means we can offer a fully integrated service, as well as opening up further business opportunities in Australia."
RealWear executive vice president Rocky Scales says that the company is pleased to be working with a partner across the A/NZ market.
"This channel will help accelerate RealWear's market growth and expand our userbase and ecosystem in a country that is well recognised as an innovation leader. We carefully select our resellers who add additional value and have proven relationships with their regions and reach. We have found such a reseller in Company-X."
"They've spent over seven years perfecting the product, so the usability is excellent," adds Bauerfield.
"We believe in the product and are excited about the opportunities."