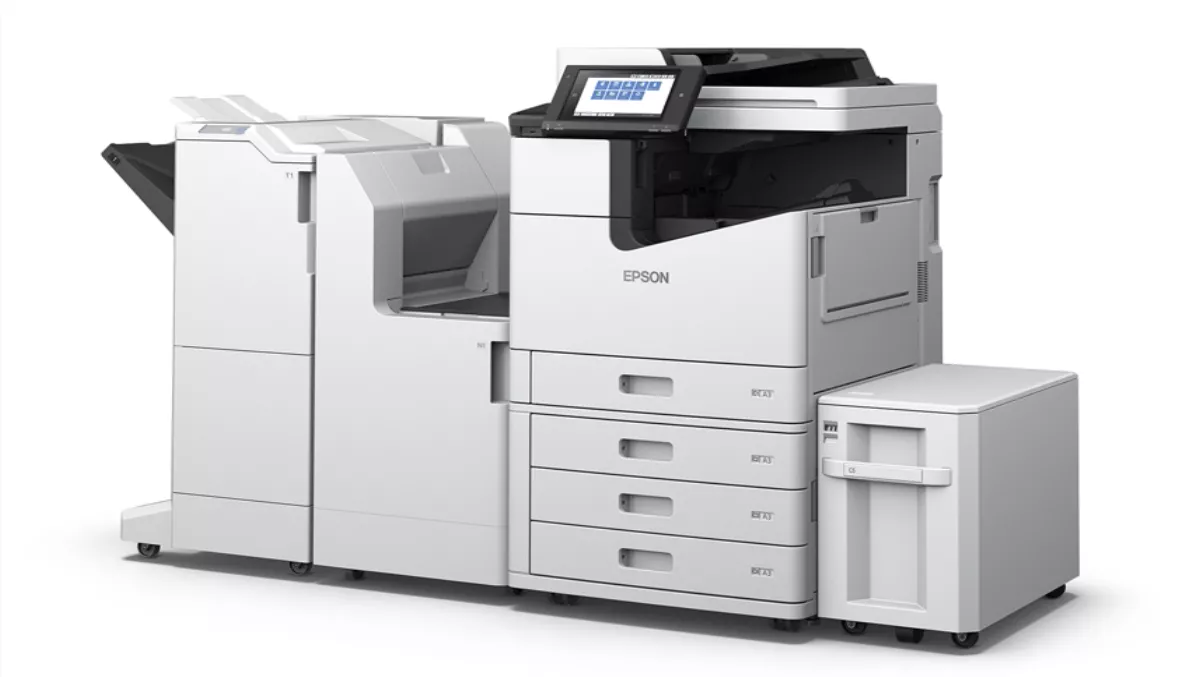 Epson business inkjet grabs pole position
FYI, this story is more than a year old
Last week, Melbourne's provocatively named Smart Artz Gallery played host to the launch of Epson's WorkForce Enterprise WF-C20590. The venue was a stone's throw from Melbourne's Albert Park, with the sound of racing cars roaring in the distance, Epson, themselves being sponsors of the Petronas Mercedes F1 team. Against a backdrop of art and photographs, all printed using Epson hardware, their new business inkjet printer was unveiled.
That's right. Business inkjet printer, and it's certainly not your dad's inkjet printer.
Inkjets have dominated consumer printing for years, but in the office the laser printer has reigned supreme. And it's no wonder. A traditional inkjet printer isn't really man enough to handle the duties required of printer in a modern office.
Epson are changing all that.
Pumping out 100 pages-per-minute, the Workforce Enterprise WF-C20590 is an impressive beast. Virtually indistinguishable from a colour business laser printer, Epson's bold and innovative inkjet machine boasts number of benefits that are going to change the way you think about office printing solutions.
The WorkForce Enterprise offers a more consistent and vibrant colour image than a laser, creating less heat and using less moving parts. This offers savings by lowering power consumption and maintenance costs.
Epson says that the 320W WF-C20590 can give you a 96% reduction in power usage, comparing it to a 7600W Fuji Xerox Color 1000i laser printer. It a world where we are all being asked to implement eco-friendly office policies, that power reduction goes a long way toward reducing your company's carbon footprint.
With a 43mm long print head, the WorkForce Enterprise printer squirts ink from an amazing 33,500 nozzles. This provides speed and image consistency as it prints across the entire length of the paper at the same time.
General Manager, Business Division, Epson Australia Craig Heckenberg said, "The WorkForce Enterprise represents a true revolution in office printing. It is so much more than just a printer and in fact, due to its networking capabilities, now represents an integrated document management solution at the heart of any office's IT infrastructure. This printer also cuts the environmental impact of print by providing a low power solution, with fewer supplies, while delivering remarkably fast print speeds at high quality. Having far fewer parts than equivalent laser-based MFDs, the WorkForce Enterprise will deliver higher reliability and significantly increase printer uptime."
Seeing is, of course, believing. And whilst the WorkForce Enterprise will not be available until winter, I've watched the thing in action. By my watch the printer produced ten full-colour A4 flyers in six seconds, with results virtually indistinguishable from a laser printer and without that paper curl you get from your home inkjet. Defaulting at 600 x 1200dpi, but with high quality printing up to 600 x 2400dpi, it's not surprising that the printing was crisp and without any banding.
The demonstration printer was coupled with the optional WorkFlow Enterprise Finisher with a 5,350-sheet input and a 4,000-sheet stapler and stacker. This completes the system, giving you all the functionality of an top-end office colour laser MFD.
Whilst pricing is not yet available, Epson have stated that the WorkFlow Enterprise will enter the market at a competitive price-point and that it will also be available through a range of flexible finance and managed service options to suit individual business requirements.
The 100-ppm WF-C20590 certainly changed my view on the viability of inkjets in a business environment and will be worth checking out when it becomes available in the winter. The 75-ppm WF-C17590 will follow later this year.
Related stories
Top stories