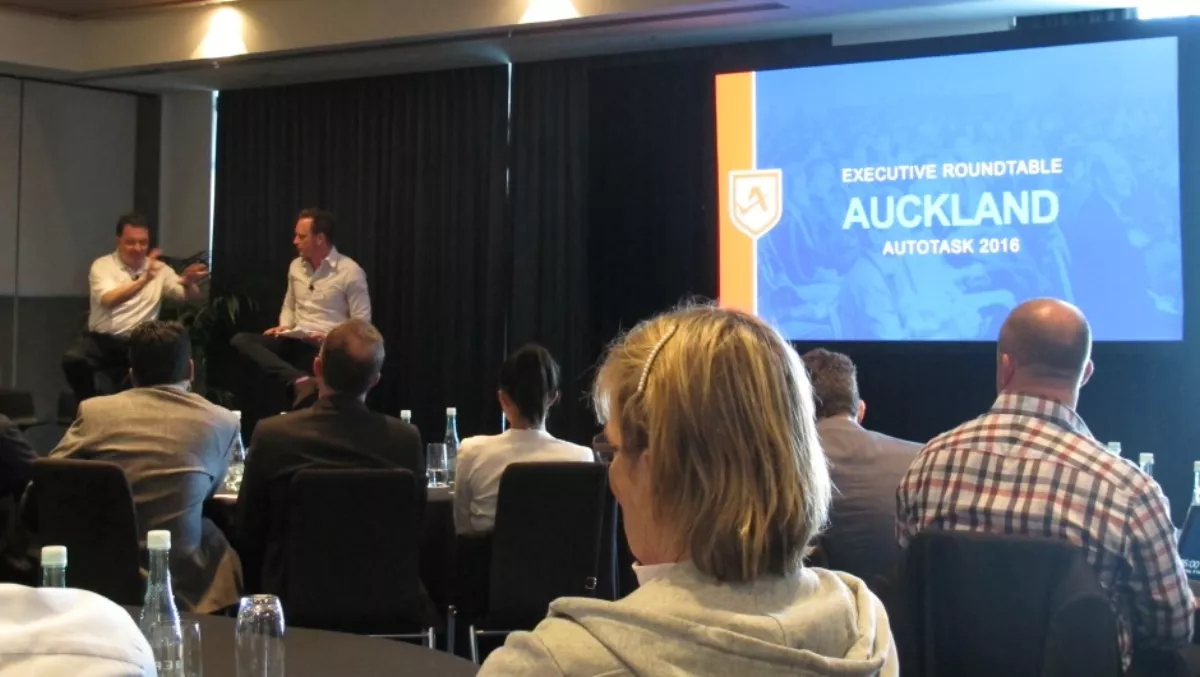 Exclusive Autotask event speaks candidly about mergers & acquisitions
FYI, this story is more than a year old
IT industry executives gathered at a low-key executive roundtable event at the Hilton Auckland yesterday to discover how Autotask, a global MSP, is shaping the industry.
Speakers at the event included Autotask CEO Mark Cattini, APAC director Adam Ross, VP of product management Pat Burns and a panel including representatives from Vo2, Base 2 and Computer Concepts.
Cattini talked about mergers and acquisitions, highlighting that acquisitions should be smart and informed.
"There are several reasons why companies buy other companies, and it's all about an investment thesis," he says.
"Sometimes it can be in a completely and utterly new space. Sometimes it can be synergies. It could even be competitive takeouts. I know a CEO and he's basically taken two of his competitors out. In the end, there's always a reason."
Cattini says that the first acquisition he ever did was MapInfo, a tech company.
"It was just about technology. There's only three things a company can really be. A technology leader, the lowest cost alternative (Walmart) or it could be customer intimacy."
Cattini also says that it's important to have a strategic framework in place - know what companies you want to buy and why you want to buy them.
Cattini has gone through a number of mergers of acquisitions around the world, and he says it's all about getting the right fit.
Having opportunities behind immediate acquisitions is the single biggest reason for not making mistakes, he says. It might be draining going through the process, but it's the only way to make things work.
"If any of you are looking at acquiring anybody, you have to have a pipeline. Don't look at one business, look at five."
"In the Autotask industry, one of the relationships you have is with your customers. It's not just about your company and the target, it's ultimately about the customers," he says.
Cattini believes it's a different approach to the sales or getting new customers, instead it differentiates a go-to-market strategy.
"You have to focus on what customer value you're bringing."
On the flipside, organisations wanting to be acquired need to go to potential partners or buyers instead of waiting for acquisitions to come to them.
"If you're looking to be acquired, you need to have an exit strategy," Cattini says.
He says organisations need to think through the benefits for the acquirer.
"I believe if you're beyond three years in a software business, a five-year plan doesn't make much difference."
Pat Burns explained how to maximise value and execute it on a worldwide roadmap, (see recording). Autotask splits its roadmaps into specific sections: Market trends, corporate goals and user needs. These influence the product visions, themes, concepts and roadmaps.
Burns says the managed services industry is now attributing 35% to outsourced IT.
"It's clear that managed services is now the primary model, but it continues to change," he says.
The final panel examined the market landscape. Sean Hill, director at Vo2, Leah Carr, senior executive at computer Concepts Ltd and Greg Sharp, managing director from Base 2, all spoke about a range of topics, including mergers and acquisitions.
Hill says that Vo2 has done the opposite of merge - in fact it has broken away from a larger organisation.
"Once we understood the fact that the acquirers wanted to push their product instead of the customer relationships that we were working on, that's when we became our own company," he says.
Carr says that it's all about people when it comes to software projects. "People, business-led is the recipe for success." Leadership is critical. Mistakes come from being IT led, rather than business-led," she says.
Sharp spoke about how its focus is on its customers - and those customers know what they're doing.
"We wanted to be very customer-centric about 4-5 years ago. We decided to have a workroom focus about who are our customers," he says.
He also says that putting investment into staff, alignment, culture, operations and finance is an important part of the process.
Related stories
Top stories