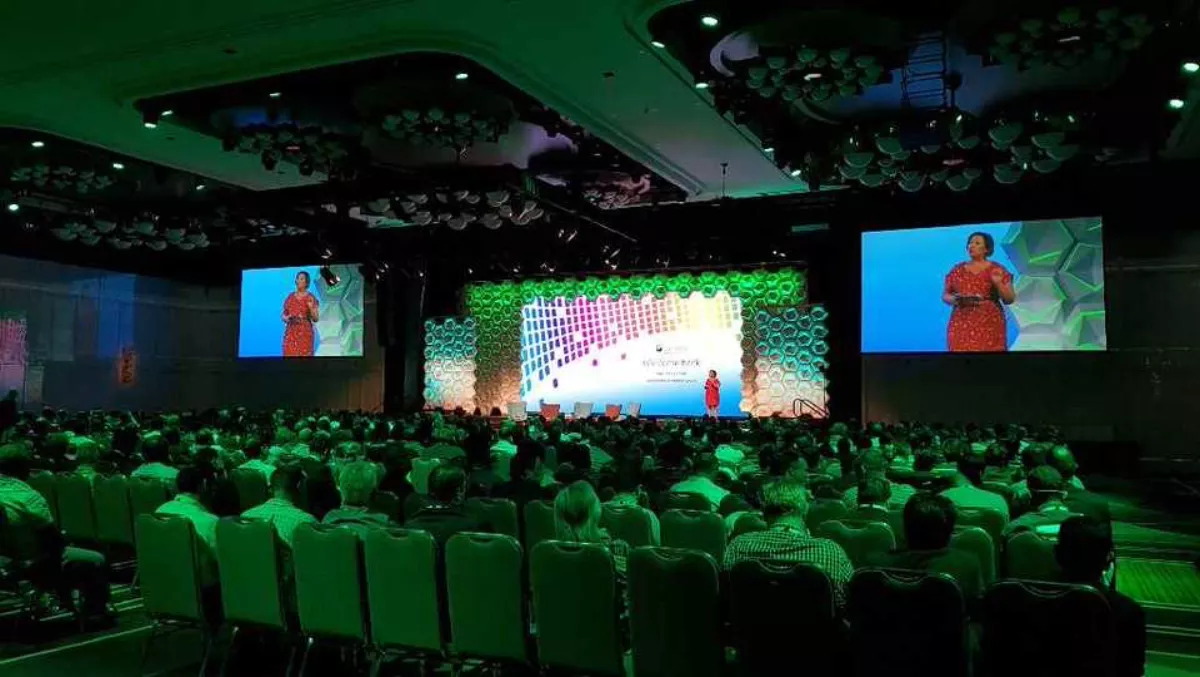 Exclusive: The big four vendors speak out at the Canalys Channels Forum
FYI, this story is more than a year old
The Canalys APAC forum wrapped up in Perth yesterday, ending a week of networking and collaborative learning between a vast range of partners within the channel community.
The forum is one of the premier events for the APAC channel, with one of the greatest advantages being that vendors, distributors and resellers can have comprehensive discussions on their business relationships and the state of the local channel.
Techday was on the ground at CCF 2017 APAC and we reached out to all four of the event's premier vendor partners, on what the event means for them and what's on offer for their partners.
While HP, Lenovo, Dell EMC and HPE all different agendas for Canalys, fostering partner relationships was high on the list of priorities for each of them.
HP
Richard Bailey, HP head of the APJ region says the CCF forum essentially gives the channel community a chance to touch base with more partners than they could in any other setting.
"We've been going really well at the event. The reason behind that is because there really isn't any other true industry conference for the channel," he says.
"So when we come here we're not only speaking to our partners, we're also speaking to the broader community.
"There are people here from the wider ecosystem, who are doing other interesting things that add to the channel partner business, and this is one place where you can come and learn about those kinds of things."
Talking about Steve Brazier's keynote, Bailey also says he agreed with him on most points.
"I followed him (spoke after Brazier), I had no idea what he was going to talk about and I hit all the same themes around digital transformation and service."
He went a step further in that he talked about this omnichannel realm, and what is going on in that space, but I agreed with what he said there as well."
Rajiv Srivastava, HP chief operating officer for APJ also told us that the event made it clear that partners are thinking about ways to adapt their channel approaches to changing customer expectations.
"Partners are realising that there is a change in things like customer buying behaviour and online-offline business models," he says.
"Realising that change, there is a desire to engage in dialogue with vendors like us, asking what they should do to transform themselves, which has been a consistent theme across all the different kinds of partners we're talking to."
Dell EMC
Cheryl Cook, Dell EMC, VP Global Channels and Alliances says the different venues in which the event takes place always sets the scene for a good collaborative environment.
"I think the energy is really great. I think Steve (Brazier) does a nice job of putting a beautiful destination together and it's frankly an opportunity for the OEMs and the vendors to see a large number of partners at the same time," she says.
"I think it's an efficient use of everyone's time to come here and the engagement, networking and the conversations that are taking place are actually all very powerful."
On Brazier's Keynote, she says a lot of his points are tightly aligned with the company values and outlook of Dell EMC, specifically on digital transformation.
"Steve did a really good job of offering very relevant industry examples of the transformations that we're all speaking about," she said.
"He mentioned the impact and the pace of digital transformation, and how that affects customers, which is strategically aligned with our vision. We see those same pressures and we try to align our solutions accordingly."
Lenovo
For Lenovo, a lot of the advantages come from being able to have high-level business discussions with a multitude of partners from around the APAC region in a quick, useful way.
Amar Babu, Lenovo vice president and COO for the Asia-Pacific regions says "It gives us the ability to communicate at various levels. We can communicate our strategy at the top, but we also had a theatre session where we went to the next level, talking about our data center strategy, PC strategy and - importantly - what we are doing for our business partners.
"Just today I've met partners from the Philippines, Japan, Australia and New Zealand, then tomorrow I've got meetings with partners from India and Malaysia. It's very difficult to get such a huge cross-section, and it's been wonderful."
Matt Codrington, Lenovo A/NZ managing director adds, "You've also got to remember that 95% of our business goes through the channel, so it's very important to us to get this kind of engagement.
"Looking at all the Vendors here, we're probably most invested in channel partnerships. We are constantly looking for ways to improve our partner programs and make sure they're relevant," he says.
"Even with existing programs, expectations are changing a little bit. We used to run more transactional type programs but now it's about driving different lines of business."
Codrington also says that Brazier's prediction that hardware will form 50% of revenue for 90% of partners in 2020 also plays into their investment in AR and VR.
"The laptop will still be in place within that revenue number, but we've made our first successful forays into AR and VR now and that's going to be a significant influence in the commercial space.
"So it's not necessarily around traditional hardware, as growth will also be driven from other areas within the hardware space and AR and VR one of them."
HPE
Marina Fronek, HPE general manager for channels and alliances reflects a lot of what the other three vendors say in terms of the potential for networking with a range of partners, but also says the keynotes are valuable in providing innovative ways to think about the channel for vendors.
"In terms of the keynotes, to hear some really forward-thinking ideas around partnering in ICT is quite useful. One of the things that Steve (Brazier) predicted was around partners potentially selling energy in the future, which was interesting" she says.
"I'm sure there were people in the audience that have never thought about doing that and would now be thinking about possibly looking at those things.
"So I think it just takes you out of a one-vendor mode and puts you into more of an industry mode, it's that focus to hear about the future that's probably one of the most valuable parts of the conference."
Related stories
Top stories