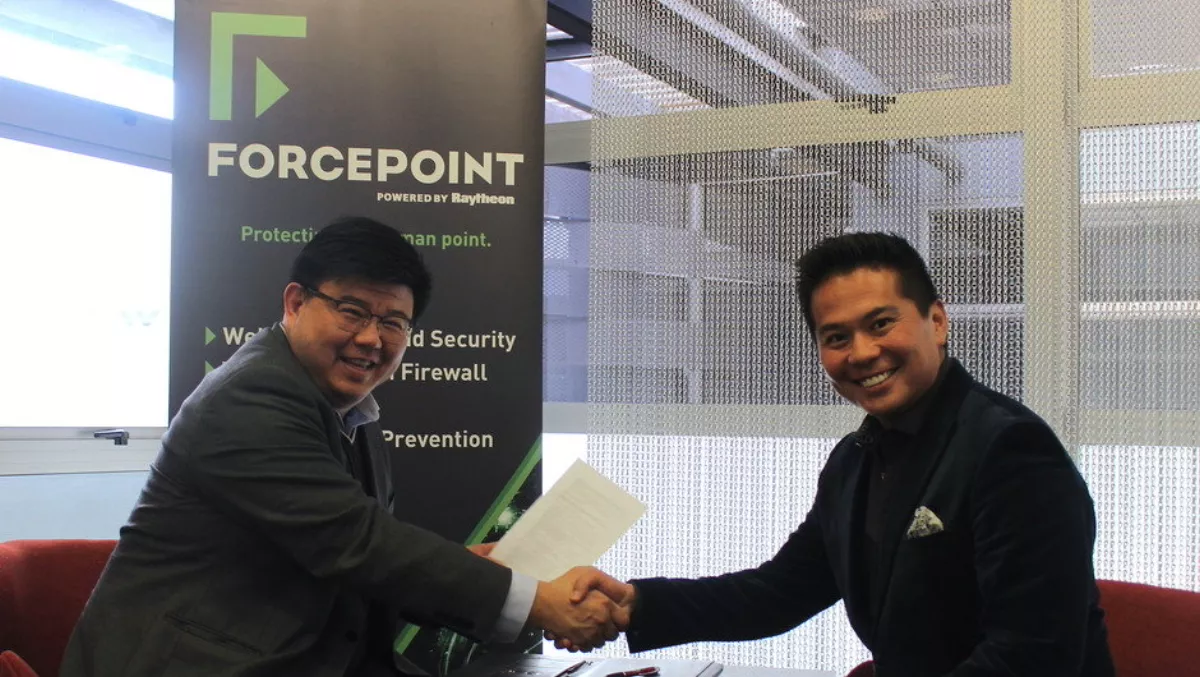 Forcepoint and Chillisoft - "a powerful combination"
FYI, this story is more than a year old
With 20 years of experience in the game, Chillisoft has a well-worn groove in the New Zealand cybersecurity distribution landscape.
Today, they took a massive step toward expanding that presence with a distribution agreement with Forcepoint, a global vendor of best of breed cybersecurity products.
Forcepoint ANZ regional sales senior director Sam Ghebranious explains that the company has a very distinct approach, giving it a unique voice in the crowded cybersecurity market.
It leverages data analytics around user behaviours to identify threats - before they become a real problem.
"We're all about data and people, that means understanding and profiling people correctly," says Ghebranious.
"For example, if a user is moving on to another organisation then the threat level there is increased, so we will monitor them because they may want to take data with them. Certain things can be seen from behaviour patterns and our products across the board can actually allow an organisation to monitor and see the change in people's behaviour.
It has become a bit of an adage in the cybersecurity world that people are the weakest part of any cybersecurity strategy but Forcepoint has a more glass-half-full perspective.
"The strength of any organisation is also the people - if they are managed and helped correctly. What we try to do is to make sure that we have the right information on hand so people get what they need to make the right decisions, and so they can protect themselves and their organisations.
This partnership also represents a large step in a new direction for Chillisoft that, under the recently established leadership of CEO Alex Teh, is building out its portfolio to create an holistic solution base for Kiwi companies.
"Chillisoft is extremely excited about the Forcepoint relationship," Teh says.
"Primarily because Forcepoint technologies give us extensive breadth in markets that we have traditionally not played in. We have signed with Forcepoint because their technologies are best of breed and they are extremely channel-friendly. We do not want to work with anyone who isn't channel-focused and so those two elements have pointed us towards an alliance with Forcepoint that is essential to the development of our business.
Chillisoft founder and managing director Geoff Cossey also recognises that Forcepoint is a strong play for a forward-thinking distributor.
"We're seeing an increasing transition from an annual to an MSP (managed service provider) style of business," Cossey observes.
"Chillisoft has been working with MSPs for more than half a dozen years and we have experienced a transition of traditional on-premises deployments to public cloud and we have been very successful at making that business work - not only for Chillisoft but for our partners who are critical to cybersecurity defence in New Zealand.
"Forcepoint has the ability to provide our partners with a multi-tenanted, easy to work with MSP model. That's what excites us. They have the products that enable that and the platforms for this type of service. The fact that they're so embedded in cloud technologies already gives partners the choice, whether MSP, on-prem or hybrid.
"And that is a powerful combination.