Partner content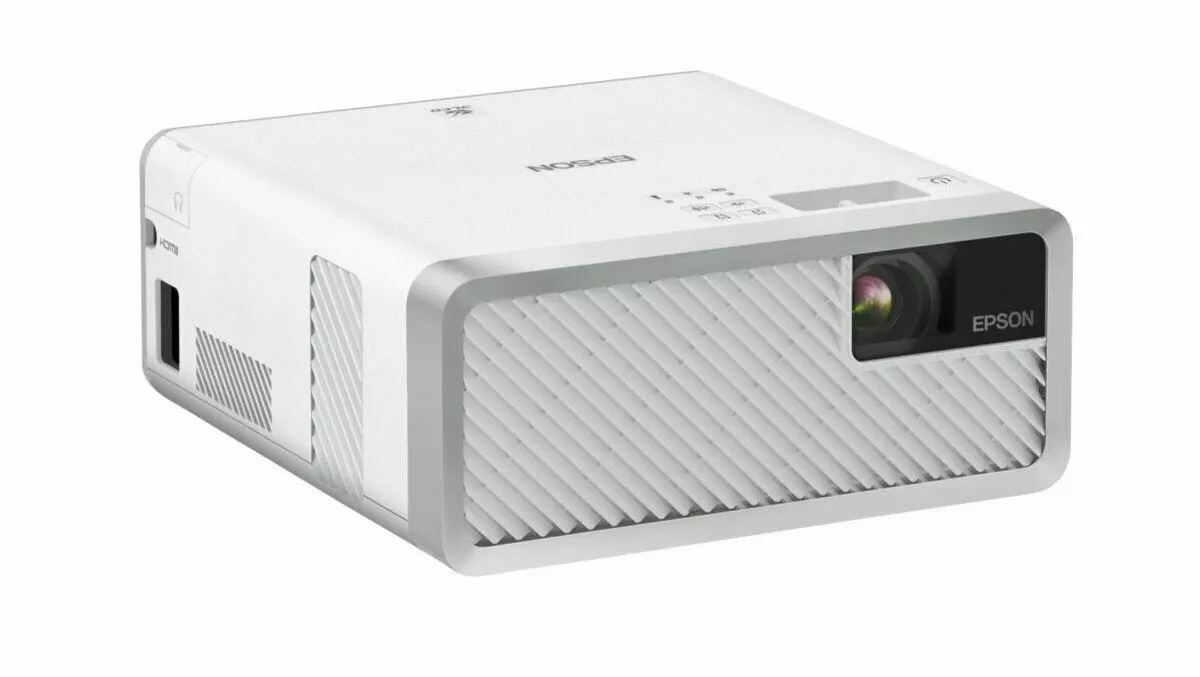 Hands-on review: Epson's EF-100 projector is an outstanding portable cinema
FYI, this story is more than a year old
Next month, Netflix premiers The Irishman, the latest film by legendary film director Martin Scorsese, just four weeks after a limited release at select cinemas. It appears that the Epson EF-100 home theatre projector - the company's first portable laser projector - has come just at the right time.
Inevitably, streaming services will have exclusive rights to an increasing number of blockbusters in the coming years. More people will be looking to bring the cinematic experience to their living room.
A major drawback to owning a projector up until now, is that most are simply unusable unless you have almost complete darkness. Despite its compact size, however, the Epson EF-100 can produce outstanding images in most light conditions.
First impressions and design
The EF-100 is pleasantly small and neat, with just a few buttons, status lights and a focusing ring on its exterior. Thanks to its faux-leather casing, it's also quite stylish. It's available in both black (EF-100B) and white (EF-100W).
There are also several grills dotted around, including one across the entire front of the device - these are designed to keep the projector as cool as possible as you binge on your favourite boxset.
Weighing in at just 2.7kg, it's portable and compact enough to fit into a backpack if you ever wanted to take it on the road.
Besides the projector itself, there's not much in the box apart from a power adapter and a remote control with two AA batteries. Setting everything up for use is an absolute breeze thanks to the built-in welcome guide.
Taking off the soft-feel rear panel reveals all of the media inputs for the projector - HDMI 2.0, USB Type-A and mini-USB.
There's enough space beneath the panel to neatly house and connect smaller streaming sticks such as an Amazon Firestick which uses the mini-USB for power. For anything larger like a games console, there's a small gap designed to run any excess cables through and still reattach the panel.
Setup and performance
Almost any surface, including the ceiling, can be used as your 'screen'. As mentioned previously, you needn't worry about waiting until the sun goes down as it performs incredibly well in a lit room. There's also a little stand underneath the projector to allow you to fine-tune the angle of your projection.
Depending on the size of your room, the EF-100 is able to produce a total screen size of 150 inches.
If the angle of your projector isn't aimed directly at your proposed 'screen', the vertical and horizontal Keystone adjustment buttons (on either remote or on top of the projector) allow you to get the picture looking as rectangular as possible. Once you've focused your picture, adjusted your brightness accordingly and chosen from one of the four available picture settings - you're ready to go.
Whether you're watching films, TV shows or playing on a games console, the picture quality is stunning thanks to the 2,000-lumen output, which helps creates a vibrant, unforgettable display.
The built-in speaker performed well, and it's great to have if you make use of the EF-100's portability. You do also have the option to connect an external speaker too, either via Bluetooth or the hidden 3.5mm headphone jack. The Bluetooth speaker function will work with speakers that support SCMS-T.
The speaker is helped, somewhat, by the fact that the projector produces virtually no fan noise. That's astounding if you consider the size of the EF-100 and the punch it packs.
Verdict
Epson's first portable laser projector is designed to not only function in your living room, but all around your property, on your ceilings, or even taking it with you when you're on your summer roadies.
In an era where millions of people are streaming TV shows and movies every day, the EF-100 projector is the perfect way to bring the cinema to your humble abode.
The release of The Irishman next month will set a precedent in the film industry, and over the coming years, more Oscar-worthy films intended for the big screen will be available through streaming services like Netflix.
With this in mind, it looks like now might be the time to invest in a projector like Epson's brilliant EF-100.
Related stories
Top stories