Partner content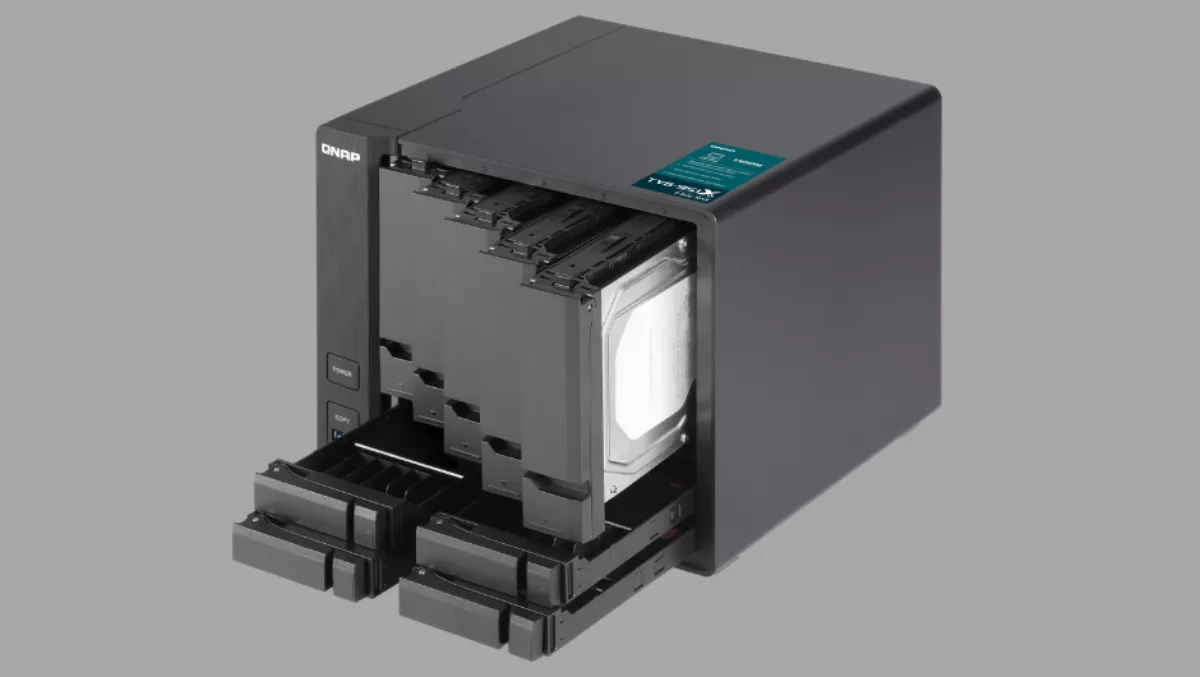 Hands-on review: The QNAP TVS-951X NAS is an affordable SSD alternative
FYI, this story is more than a year old
QNAP's latest TVS-951X NAS is meant to hit the sweet spot for users requiring high-capacity storage but unable to afford a full-SSD storage solution.
The TVS-951X provides the ability to use a hybrid storage structure that leverages the benefits of both hard drives and its SSDs to provide high storage capacity and high performance.
Powered by a 7th-generation Intel Celeron 3865U low-power dual-core processor, it comes in two versions, a 2GB RAM version and an 8GB RAM version.
QNAP positions the NAS as a high performance and budget-friendly storage solution for small-to-medium businesses, so we put this to the test.
What it did well
The TVS-951X was easy to set up with both hard drives and SSDs (the NAS has five 3.5-inch drive bays and four 2.5-inch SSD bays).
QNAP's tool-less installation system means the drives and SSDs can be smoothly and straightforwardly set up without too much fiddling.
QNAP's proprietary Qtier auto-tiering technology also allows you to use the SSD as the cache while still letting you use the storage space, meaning there's no need to sacrifice storage space for higher read and write speed.
However, the feature I was most excited about was Snapshots.
Small businesses can rarely afford expensive backup and disaster recovery software, but are equally vulnerable to cyber threats such as malware and ransomware attacks.
The TVS-951X's Snapshot function allows a user to recover all your files if your data has been compromised, or if you have mistakenly deleted important files.
Users can recover data and files at a point when a snapshot was taken, and the TVS-951X has the capacity to take 1024 snapshots.
Furthermore, using the TVS-951X allowed me to experiment with testing applications on different operating systems.
The NAS' Virtualization Station allows users to run multiple Windows, Linux, UNIX and Android virtual machines at the same time.
Using Virtual Network Computing (VNC) through a browser to operate the virtual machines was easy and intuitive, even for someone who doesn't consider themselves to be highly tech-savvy.
The NAS' GPU and hardware transcoding capabilities performed really well.
I was able to watch 4K GoPro videos smoothly from the HDMI output and stream high-res videos.
Uploading large video files was especially effective with the dedicated copying USB port, which was able to transfer files at lightning speeds.
What can optimise the performance
If you're considering getting the TVS-951X, getting the version with 8GB of RAM is definitely recommended, as the 2GB version didn't quite have enough processing power to run all nine bays when they were fully occupied – I ended up supplementing it with an additional memory kit.
The TVS-951X comes with a single 10GBASE-T/NBASE-T port that provides 10GbE connectivity for accelerating virtualisation tasks and file sharing, which is a fantastic feature to have.
However, in order to take advantage of this, you need to have QNAP's 10GbE unmanaged switch, which is sold separately.
In conclusion, the TVS-951X puts many exciting features in the hands of small businesses at a price point that's hard to beat.
If you're looking for a NAS drive with both high storage capacity and high performance, the TVS-951X is definitely a serious contender.
For sales enquiries about the TVS-951X, click here.
Related stories
Top stories