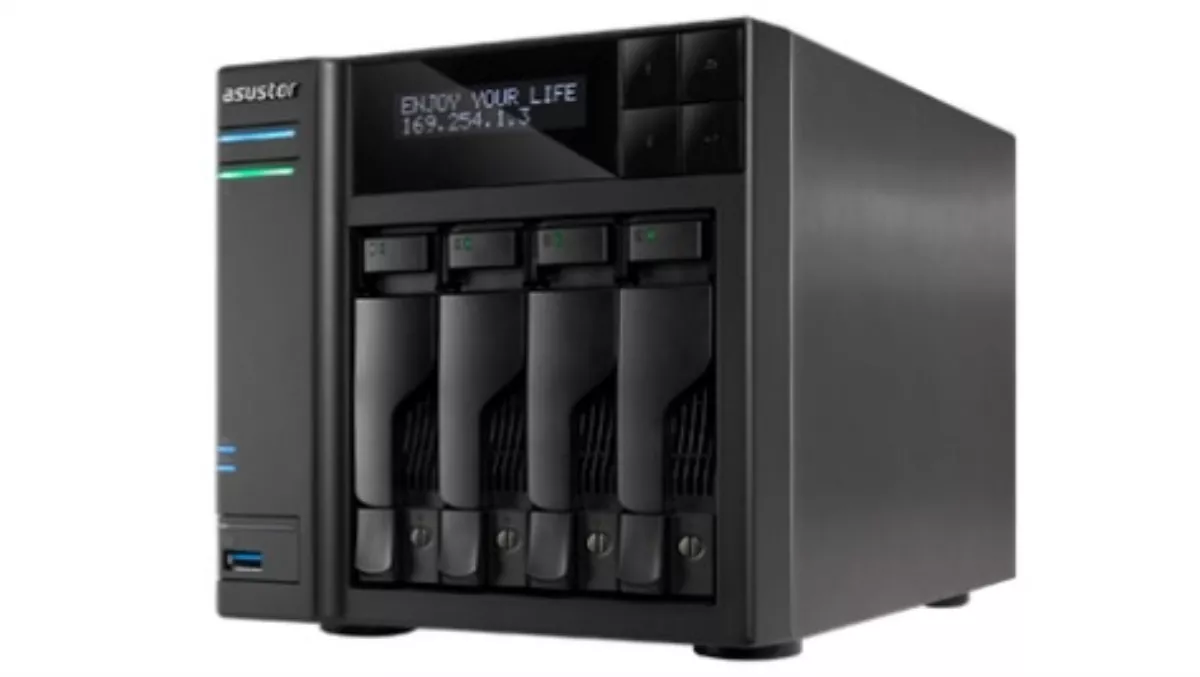 Hands on review: ASUSTOR AS-5104T NAS
By Greig Strafford,
Mon 15 Jun 2015
FYI, this story is more than a year old
The market for Network Attached Storage (NAS) used to be just for geeks to keep their range of videos. But with advances in their capabilities, companies like ASUSTOR are bringing innovative answers to more customers, using a mix of their own and open source software to turn their NAS products into powerhouses, replacing full size servers without the overhead of managing an entire IT infrastructure stack.
ASUSTOR have released a new line of NAS, making them the hub of the home or the business. These are complete media players, with capabilities up to 4K, and the latest media playing software such as Kodi. The HDMI and audio out enables direct connection to a TV, giving you access to a range of apps without having to use the web interface.
With the ASUSTOR Portal users can connect NAS with a monitor via HDMI cable to easily use KODI/XBMC, ADM, YouTube and Google Chrome.
The AS-5104T is quick to set up, with a simple configuration interface, good enough for the majority of users. But under the hood lies some powerful abilities, enough for established IT providers to support in an enterprise environment.
The ASUSTOR's software, or ADM (ASUSTOR Data Master) makes the difference, especially over other manufacturer's offerings. Having experience of, and being an owner of them, software is often several versions behind the latest due to the requirements for them to be specially compiled for the devices.
ASUSTOR have one of the best ranges of software, with their own apps supporting the usual open source NAS software. With Cloud-connect, Searchlight and their ASUSTOR Portal app, it makes accessing your data quick and simple.
And the ASUSTOR is no slouch. With 4 bays, a quad core intel processor (Celeron in this model and a dual core i3 in the 7004T), 2GB of DDR3 RAM (expandable to 8GB), it has the performance of a desktop, with the reliability of the 4 RAID drives.
They've also made upgrading a breeze. You can pop the drives out, and put them into a new ASUSTOR NAS, without losing any data. It even includes the capability to be a video recorder for up to 12 IP cameras, providing its own security. ASUSTOR provides 4 free channel licences with all series of NAS, and the Surveillance centre provides a live view from the cameras.
The ASUSTOR app store has the latest apps, and having tested some of them, there is little to tell the difference between it and a normal server. Business apps such as vTigerCRM, OwnCloud, and OrangeHRM as well as Project Management and web content apps allow for the management of pretty much all of a business' requirements.
With the AS-5104T, ASUSTOR have proved that they are ready to take over from standard expensive servers, and with their 3 year warranty, they have the same lifespan, maybe it's time for you to make the change.
For more information about this and other ASUSTOR products, head to the website and check out the live demo page.
The solution is distributed in New Zealand by Dove Electronics