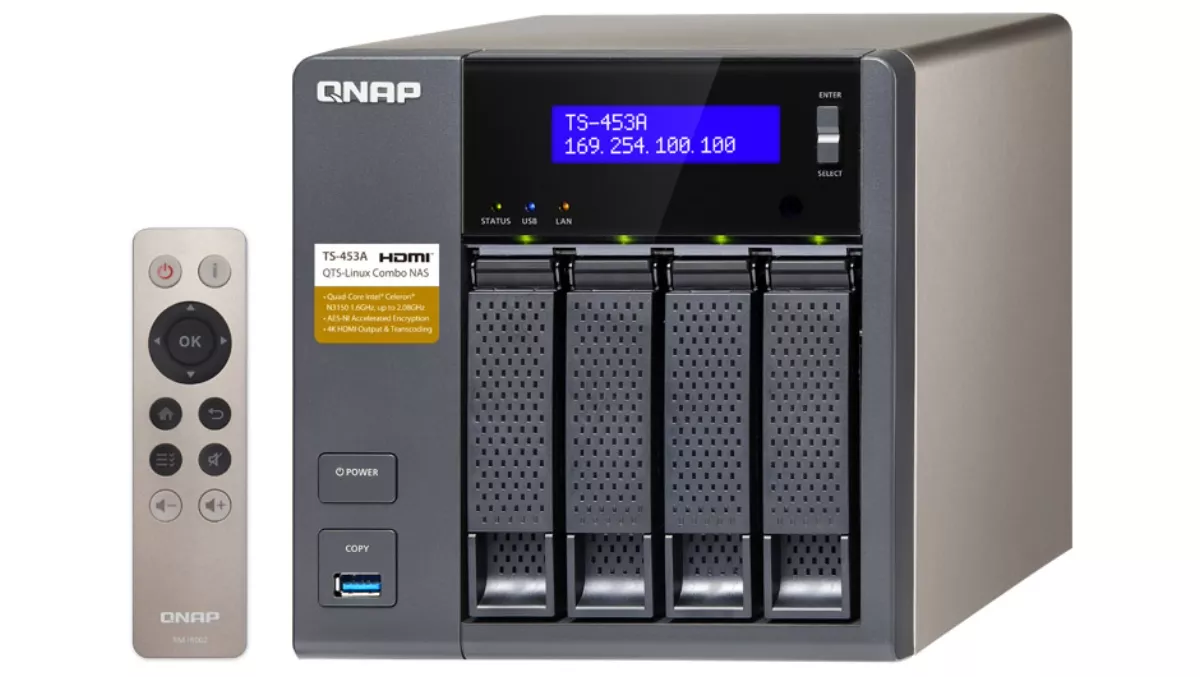 Hands-on review: QNAP TS-453A NAS Drive
FYI, this story is more than a year old
As the next addition to QNAP's range, the TS-453A is a 4-bay NAS drive with a quad-core Intel Celeron N3150 processor. What makes this one different? For starters, its system information screen and its Linux capabilities help it to function as more than just storage space or a server.
The NAS unit I tested had 4GB of built-in memory, but could be easily upgraded to 8GB to obtain higher performance
Cloud installation is convenient if you don't want to go through the traditional software downloads. Once the various firmware and app updates are done, you're free to customise your NAS into a machine that suits your needs. Audio jacks are included on the rear of the NAS so if you're in the habit of converting analogue to digital or just using the jacks for speaker, headphones and microphone capability, those options are a handy feature.
The TS-x53A series is available in 2, 4, 6 and 8-bay models (TS-253A/TS-453A/TS-653A/TS-853A) powered by a new Intel Celeron 1.6GHz processor (burst up to 2.08GHz) with dual-channel 4GB or 8GB DDR3L-1600 RAM configuration (upgradable to 8GB).
Coupled with SATA 6GB/s support and 2/4 Gigabit LAN ports, the series delivers up to 400MB/s throughout performance for business applications and to meet multitasking requirements. It also features AES-NI hardware-accelarated encryption for over 200MB/s AES 256-bit encrypted transfer rates for either full NAS volumes or shared folders.
It's equipped with 4K UHD HDMI output, 4K H.264 video hardware-accelerated transcoding and playback, snapshots for multiple recovery points, integrated virtualisation and container support. The TS-x53A series can provide a secure private cloud environment for file backup and sharing, and with the new Linux Station it can act as a great base for Internet of Things (Iot) applications and developments.
Featuring the latest QTS 4.2 operating system, the TS-x53A series provides various applications to meet business needs such as up to 256 volume/LUN snapshots and max 1024 total snapshots per NAS for easy backup, restoration and cloning; cross-platform file sharing and backup for Windows, Max, Linux and UNIX users; and disaster recovery solutions with Real-Time Remote Replication (RTRR), rsync and cloud storage backup. TS-x53A series users can also flexibly expand their storage on demand by connecting an 8-bay UX-800P or 5-bay UX-500P expansion unit.
As with other QNAP drives, the QTS operating system is accessed through your web browser, wherein you control the main settings, antivirus, web server, cloud storage and FTP capability. The App Center has a basic range of apps preloaded and offers a variety of official and third-party apps.
There are two standouts about the TS-453A: HybridDeskStation and LinuxStation. HybridDeskStation turns your NAS into a home multimedia server, accessible through an HDMI-capable TV or monitor. Connect a mouse and keyboard to the drive and it becomes its own mini-PC with apps such as YouTube, Spotify, TuneInRadio, Firefox and Libre Office. Transcoding media files can vary depending on what app you use for playback. File Station's transcoding stutters at 1080p and 720p. I recommend the Kodi app, which transcodes at a much better frame rate and resolution. But if you're looking for something even better, LinuxStation does a fantastic job of transforming the NAS into a fully-functional operating system and PC, running Ubuntu.
Standard apps such as QFile, QManager, QVideo and QPhoto are all available for mobile devices. Media transcoding works better through these mobile apps than through an HDMI connection to a monitor, though playback still stutters at higher resolutions. Finally, QSync Client is a handy programme for PC that allows file syncing to and from a designated NAS folder through your computer.
Is the QNAP TS-453A worth it? The NAS drive's ability to function as both a decent media server and an independent Ubuntu operating system is a definite advantage for those who want a little more from their NAS drives.
For more information of these new products and the full QNAP Turbo NAS lineup (including where to buy), please contact ausales@qnap.com or click here to visit their website.