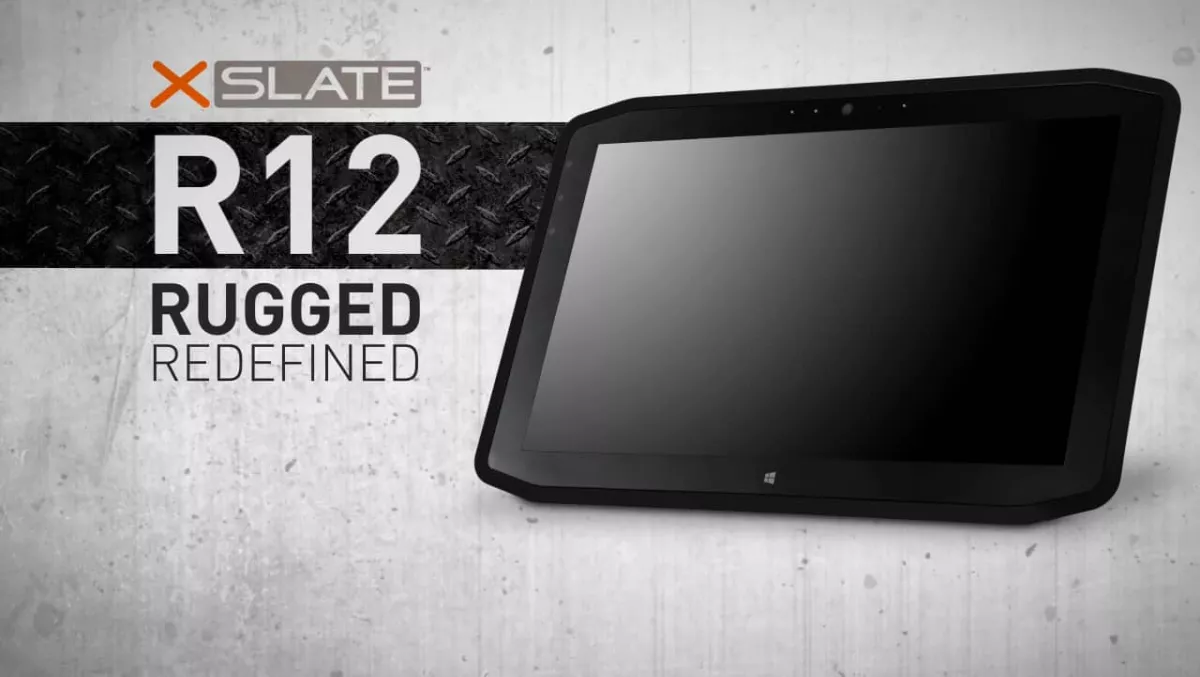 Hands-on review: Xplore XSLATE R12 - hard to kill, hard to beat
By Ashton Young,
Mon 28 Nov 2016
FYI, this story is more than a year old
Xplore recently launched their latest detachable rugged tablet PC – the XSLATE R12, a truly next generation device.
The R12 is ideal for mobile professionals, providing more screen real estate, durability, versatility and performance than is commonly available in consumer tablets. At the end of the day, consumer tablets are just too fragile for field, vehicle or sometimes even office use. This is the market that Xplore is targeting, and one they've had nailed down for the past two decades.
Look and feel
Contrary to the rectangle shape of virtually every other tablet on offer, the R12 sports more of an elongated octagon shape. The company said this was to not only make it unique and memorable, but also to make it easier to pick up and hold. There is also speculation amongst reviewers that the design makes it less prone to impact damage.
The R12 has a large 12.5" display with full 1920 x 1080 1080p resolution (which is the same as HD TVs) and offers excellent viewability from and angle. Theis a sturdy but lightweight magnesium alloy. All up the screen measures 12.9 x 8.1", while the whole tablet is .65" thick and comes in at a very modest weight of just over 1.3 kilos.
There are hinged rubber covers on the right side to protect the various connection ports (power adapter jack, 3.5mm audio in/out, usb 3.0, HDMI, expansion input, fingerprint scanner, attachment point for supplied coiled pen tether, storage for the supplied Wacom active pen), with the discreet heat exhaust, power button, security button and battery indicator on the left. The entire tablet is encased in a rubber housing material covered in hundreds of elevated dots, making it very hard to ever lose grip.
Features
The R12 has been built to last, with both water and shock resistance capabilities. According to Xplore, the R12 can handle four foot drops (which I reluctantly trialled in the office) and has IP54 sealing, where the '5' means protection against dust and the '4' protection against water spray from all directions, albeit with limited ingress permitted.
In addition to the aforementioned ports, the R12 has dual speakers, three microphones, a microSD card reader and dual cameras.
With an 8-megapixel camera on the back (for documentation purposes) and a 2-megapixel camera on the front, the R12 is well equipped for any media purposes. The front camera provides great clarity for tasks like video conferencing, while the rear enables professional quality photos for documentation and picture-taking out in the field. It provides a great advantage over traditional cameras or smartphones, as with the 12.5" display you can see exactly what you're taking a picture of.
The R12 also has a number of docks, accessories and peripherals to provide extra protection and functionality, including a desktop computer dock, barcode scanner and wirelss keyboard.
The powerplant
When it comes to power, the R12 is a fire-breathing V8, sporting Intel's 7th and most recent generation of core processors. This means the all new R12 is ludicrously fast – in the RuggedPCReview test, it ran 50 percent faster to the previous generation R12 and for now is faster than anything else out there.
Despite this performance, the R12 still has an extraordinary battery life, extending over 9 hours with regular usage.
Summary
For a tablet designed to be equally at home on a desk as it is out in the field or in the car, the Xplore R12 is perfect. It's not too large to carry around and it's not too small to work intensely with Windows. Put simply, this tablet is hard to kill and undoubtedly hard to beat. Well done Xplore on another great product.