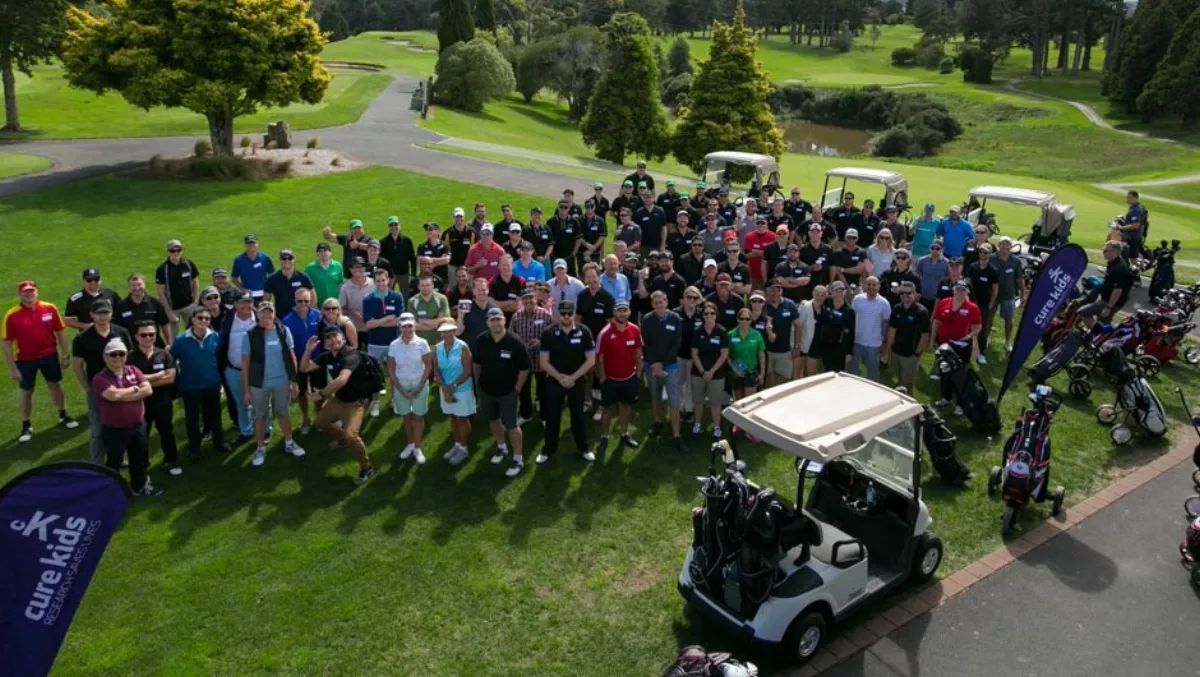 Ingram Micro NZ Cure Kids Charity Golf soars to new fundraising heights
By Heather Wright,
Mon 10 Apr 2017
FYI, this story is more than a year old
Ingram Micro New Zealand's Cure Kids Charity Golf Tournament has soared high for the third year in a row, raising more than $59,000 for the charity.
Gary Bigwood, Ingram Micro New Zealand managing director, says the distributor is 'delighted' with the fundraising outcome, which is up $9,000 on last year's event.
More than 130 resellers, vendors and Ingram Micro New Zealand suppliers enjoyed a round of golf with 'interesting' challenges at each of the 18 sponsored holes, which saw players competing in challenges including closest to the pin, closest to a bottle of whisky and champagne – no broken bottles with that one we hope – and marshmallow drive.
A betting hole saw teams having to drive their ball onto the fairway and stay on the fairway, doubling their money if all four completed the task. Teams who saw all four missing had to pay up. And apparently, Kiwi resellers aren't quite as good at golf as one might expect, with around 30% of teams having all four players crumble under the pressure – giving them the extra opportunity to display their philanthropy and support for the Cure Kids cause.
Canon's team of David Ball, Ben Smythe, Stephen Hawkes and Michael Hutching were the only team to get all four players on the fairway on a tricky hole 15, but promptly donated their winnings back to Cure Kids.
Ingram Micro says special mention goes to Pablo Garcia from Softsource who, for the second year in a row, had his three team members on the fairway before electing to play 'Happy Gilmore' style with a long run up, driving a long ball well to the right and ensuring charity was the winner.
Ingram Micro APAC vice president Mike Zilis and his wife Erin flew in from the United States to attend the event, with Zilis challenging players to drive their ball closer to the pin than his, with prizes on offer for those able to do so.
The event ended with a charity auction and prize giving which saw New Era's Tony Gilbert generously auctioning off an 'archaic' set of golf clubs purchased from the Salavation Army on the way to the event with some heated bidding for the mix of left and right handed clubs, sans putter.
As with other years, the auctioneer was kept busy with many winners donating their prizes to be reauctioned. Noel Leeming's Wade Booth donated his prize, only to buy it back – and then donate it again.
A five course degustation meal for 20 hosted by Sir John Kirwan – donated by NZ Post – was the finale of the auction and was snapped up by an Ingram Micro product manager, with Ingram Micro suggesting resellers keep their eyes peeled for a promo coming soon.
The event wasn't all fun and games. As well as raising the $59,000 for Cure Kids, attendees had the chance to hear from one youngster, Bella, and her mother, who have benefited from Cure Kids work.
Tracey Button, Ingram Micro ANZ HR director and organiser of the event, says hearing Bella and her Mum speak was a very moving experience.
"Cure Kids is such a fantastic charity and we are honoured to support the great work that they do," Button says.
"We are already looking forward to the 2018 tournament."
And if you want to see the photos from the day, head over to our pic gallery.