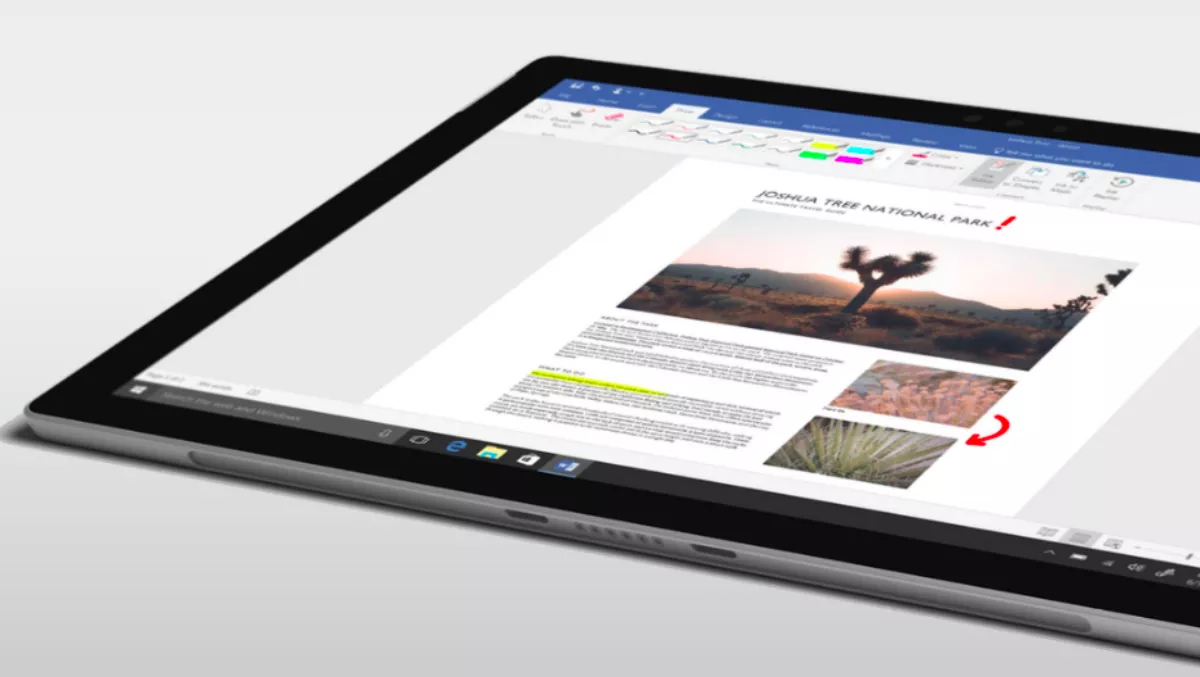 Launch of Surface Pro LTE in NZ to revolutionise the 9-to-5 workforce
Mon, 18th Dec 2017
FYI, this story is more than a year old
By Ashton Young, Editor
After Microsoft unveiled its ground-breaking Surface Pro with LTE Advanced earlier this year, the 'ultimate device for the modern workplace' has finally launched in New Zealand.
Corporate vice president of Microsoft's Devices Group, Panos Panay says the Surface Pro with LTE Advanced heralds a new era of mobility.
"We are at the edge of a major technology shift towards more intelligent computing – one fuelled by the rise of data, artificial intelligence, and machine learning. But there is a larger shift happening that is about more than changing technology," Panay says.
"It's about people – how they work, where they work, and the culture that guides and motivates them. It's through that lens that our team builds products, bringing hardware and software together to empower people in this new culture of work. To help people be more creative and more productive, from anywhere.
According to a 2017 report from MarketWatch, a whopping 50 percent of the global workforce will be mobile by just 2020 and already the office has transformed from being restricted to a set of buildings - for example, at home, in a café, a city on the other side of the world or on a plane.
Having 4G LTE connectivity enables ultra mobility for the new age of working professionals without having to rely on a hotspot providing phone.
"With so many changing locations your device becomes your office and many of our customers tell us that's what their Surface is to them – a mobile office," says Panay.
"As a team we've seen this come to life over the last five years, spotting people all over the world using their Surface for sharing, creating, consuming, and producing. As we move from economies of scale to economies of innovation and creativity, our ideas become the new differentiator. We need to give people the right tools to bring their ideas to life.
The Surface Pro with LTE Advanced represents Microsoft's relentless innovation to stay on the pulse of change, as it's no surprise that the expectations of the next generation of workers will transform the idea of the typical 9-to-5 desk job – they need a device that works everywhere that they do.
Statistics surrounding the future workplace certainly back up Microsoft's intentions:
An Ernst - Young study shows 75 percent of the workforce will be made up of millennials by 2025
A PriceWaterhouseCoopers report states 50 percent of CEOs believe that competition is heating up in more in new sectors
The market is hot for Microsoft's Surface Pro with LTE Advanced as a recent study reveals 15 percent of organisations plan to increase their investments in Microsoft Surface PC over the next 12 months – compared to just 8 percent for Apple laptops and PCs
Click here to find out more.