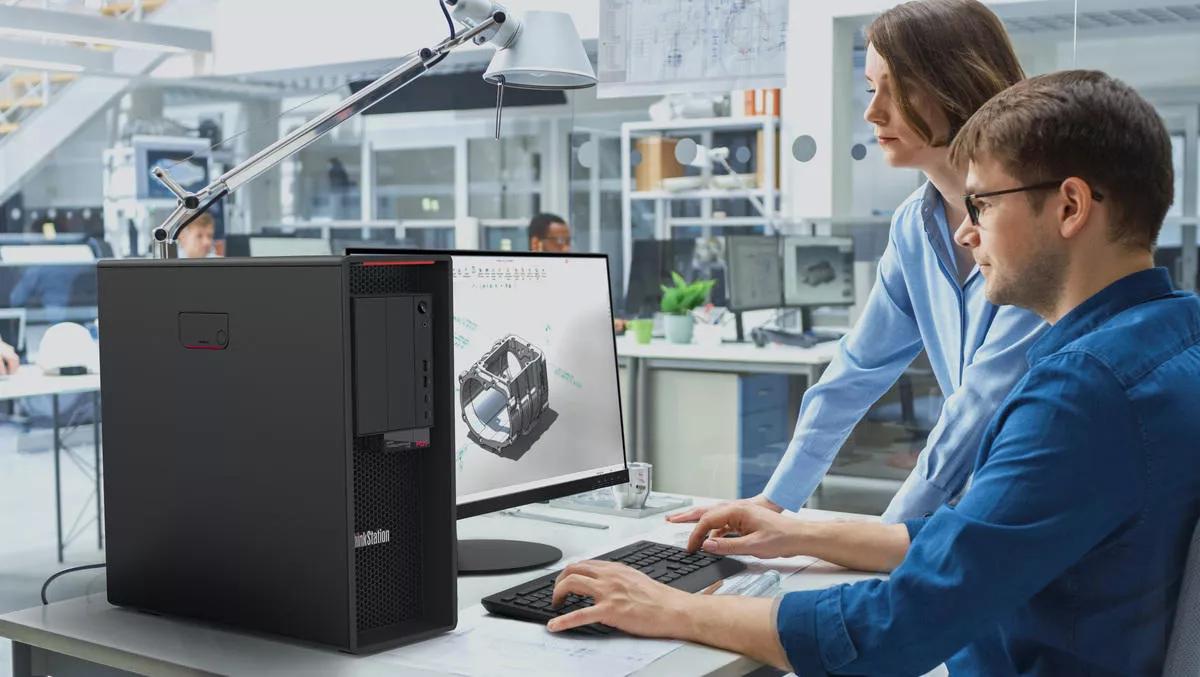 Lenovo announces first AMD Threadripper Pro workstation
FYI, this story is more than a year old
Lenovo's ThinkStation P620 in September will be the first professional workstation powered by AMD's brand-new Ryzen Threadripper Pro processor when it releases this September.
The ThinkStation P620 offers power and performance, as well as the configurability to meet each customer's needs.
With AMD's Ryzen Threadripper Pro Processor, Lenovo is delivering the only 64 core workstation platform – a new industry standard.
Traditionally the max core count that a single-CPU system could handle was 18 cores, while the highest a dual-processor system could support was 56.
Threadripper Pro processors offer clock speeds up to 4.0GHz, 128 lanes of PCIe 4.0 bandwidth and 8-channel memory support. In addition to speed and flexibility, customers now have unmatched core counts for multi-threaded workloads in a single socket platform – rivaling competing dual socket solutions.
Users can achieve 8K streaming in real-time, reduced render times, ultra-fast simulation solving, quick assembly rebuilds and smooth interactivity with 3D assets all without having to scale to a dual-socket system.
It offers flexible GPU configurations, faster memory, quicker storage transfer speeds, and 10GB built-in Ethernet.
The P620 was designed for versatility, removing the bottlenecks to allow performance to scale.
This includes support for up to two NVIDIA Quadro RTX 8000 or four RTX 4000 graphics cards, up to 1TB of memory and 20TB of storage. It will be the first PCIe Gen 4 workstation available – offering twice the bandwidth of PCIe 3.0.
The design of the processor also brings increased thermal requirements with a unique air-cooled solution and a custom-designed heat sink.
"Our customers rely on us to deliver professional-grade solutions that are powerful, but nimble enough to be customised as their needs change and evolve," says Lenovo workstation and client AI business unit general manager Rob Herman.
"One of the challenges for IT departments we've seen is the push to try new technologies before they've been vetted - lacking enterprise-grade features, certifications and security, and support. We've worked closely with AMD, ensuring the ThinkStation P620 removes all these barriers and gives users the support they need."
The ThinkStation P620 provides essential enterprise-grade features with rigorous standards and testing, ThinkStation Diagnostics 2.0, ThinkShield support, upgrades to Premier Support and a three-year warranty.
AMD Ryzen Threadripper Pro desktop processors offer advanced security features at the silicon level allowing users to better guard their important data.
This includes AMD Secure Processor, validating code before it is executed to help ensure data and application integrity, as well as AMD Memory Guard which enables full memory encryption to help protect sensitive data against advanced physical attacks should a PC be lost or stolen.
Related stories
Top stories