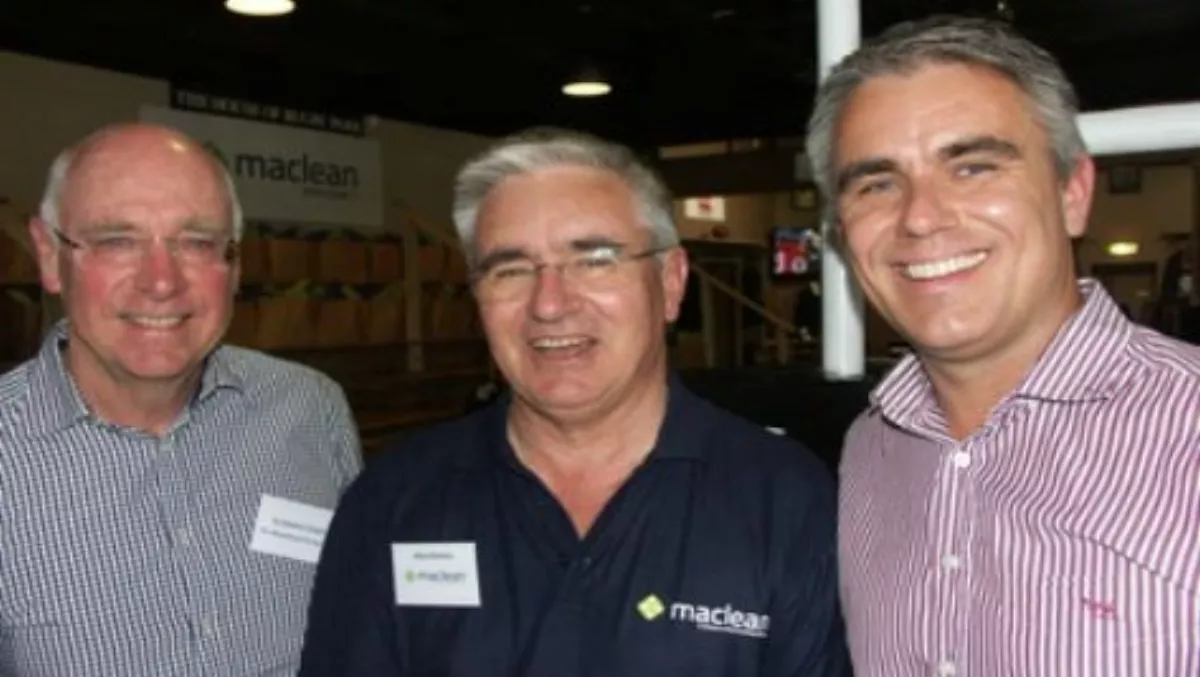 Macleans exit Maclean Technology
FYI, this story is more than a year old
Two well known faces on the New Zealand IT scene will be stepping aside on 01 December, with Chris and Allan Maclean announcing they will be leaving Maclean Technology in December.
Mark Burgess, currently Maclean Technology finance and operations manager, will lead the business moving forward.
The company was started by Allan and his wife in 1991 and formalised into Maclean Computing in 1993, with Allan's brother Kevin also involved.
Following a liquidation and rebirth in 2011, the family business was sold to Noel Leeming Group in late 2013, with Chris Maclean moving into the extended role of Noel Leeming general manager of services, and continuing to manage the Maclean Technology side of the business.
Allan Maclean has been involved operationally, supporting the transistion as a fixed term project.
While Allan – now 72 years old – will be taking a well deserved retirement, Chris says he will be taking a long-awaited break with his wife and two children, before doing some further executive education.
He says he will consider option in the new year.
"I haven't set any future plans in stone yet, but needless to say that after a decent break over the summer, I'll be looking forward to getting stuck into something I can get my teeth into," Chris says.
Chris says while he has only been operationally involved for eight years, the business has been 'a hugely important part of my life for almost as long as I can remember'.
"We've had ups, downs and everything in between, but overall it's been an awesome experience and something I've learned an extraordinary amount from," he says.
He says the company has had a 'great run' during the past two years, since being acquired by Noel Leeming Group.
That period has seen the company build its cloud portfolio from scratch and achieve customer satisfaction scores that are 15% above the industry average, he says. Employee engagement scores area also in the mid-80s, something Chris says the company is 'very proud of'.
Adds Allan: "May I add my personal delight that Chris' focus on hiring for 'right fit' has been instrumental in delivering a great employment engagement survey score, and we will both be leaving with more than a little pride in that outcome."
Chris says the sale to Noel Leeming has been 'a fantastic success for all those involved'.
"Customers have now got a partner that remains agile and responsive, but with big company credentials and the investment behind it to drive market-leading innovation; our team have had their employment opportunities grow and enjoyed access to more resources; our suppliers have been positively impacted by our growth under new ownership and we have personally enjoyed seeing the future of the business secured and with huge potential ahead of it."
When Maclean Technology was sold to Noel Leeming, Chris says he made a two year commitment to the retailer, with the aim of focusing first on the transition to being a group company, then repositioning the business for the future through things such as building cloud capability.
"We are proud of what we've achieved in this time and we have been successful in both the transition and building new services to support the next phase," Chris says.
"I'm really happy with where we've got the business to and am comfortable we're handing it over in great shape."
Chris says he will be spending the next three months working with Burgess in a consulting capacity to ensure a successful transition.
Burgess has been 'deeply' involved with the business for more than six years and Chris says he's confident 'he'll make the most of this excellent opportunity'.
Allan says while any such departure is bound to call into question the future of the team, 'I have advised the team… to consider carefully and positively how great an opportunity remains for every individual to rise within an organisation of this size'.
Adds Chris: "I'm going to miss the fantastic team we've developed, which is the best it's ever been, and many of the customers, but the time is right to let it go and move on to a new adventure."
However, Chris and Allan's won't be departing quietly, with a party scheduled for 27 November.
"If you are currently or historically involved with Maclean's and would like to celebrate this milestone with us, please let us know," Chris says.
Related stories
Top stories