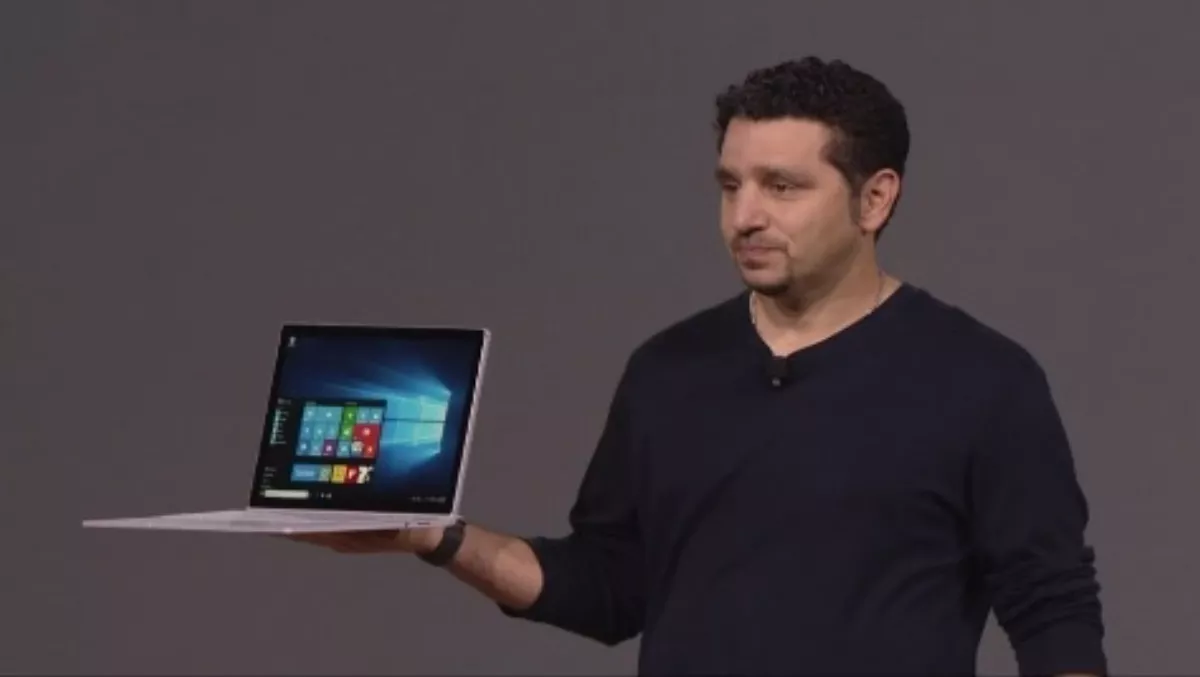 Meet the Surface Book, Microsoft's first ever laptop
FYI, this story is more than a year old
Microsoft has made the move into laptops, unveiling the Surface Book at an event in New York overnight.
The notebook was among a range of offerings unveiled, with new offerings across Microsoft's entire ecosystem, including new Surface tablets, Lumia smartphones, a new Band 2 wearable, HoloLens development edition and Xbox One updates.
The new notebook was something of a surprise announcement from the vendor and prompted plenty of cheers and claps at its unveiling.
"The Microsoft Surface Book is the ultimate laptop. It's the first laptop ever built by Microsoft and it redefines everything of what you expect in a laptop," says Microsoft's Panos Panay.
The device, which features a 13.5-inch, 267ppi screen, with 'the ultimate performance' Panay says.
He claims the Surface Book, which uses the latest Intel Core processors and has a dedicated graphics card system, is two times faster than a MacBook Pro.
"Ounce for ounce, pound for pound, this is the fastest 13-inch laptop ever made, anywhere," Panay says.
"This is for the gamer who is plays Legal Legends. This is for the architect who is building a building right now or designing a bridge and needs to compile and compress systems," he says.
The screen is removable, enabling the device to also be used as a tablet, with the Book offering 12 hours battery life.
Panay was also keen to stress the keyboard experience with the new device, claiming it is 'the perfect typing experience'.
Unsurprisingly, Microsoft's Surface Pen can also be used with the Surface Book. It also features a unique 'dynamic fulcrum' hinge that flexes as it bends.
Panay says the with the Surface Book Microsoft has 'pushed it further than Surface Pro 4'.
On the Surface Pro 4 front, Microsoft dubs the device 'the new tablet that can replace your laptop'. It features Windows 10 Pro, 6th Generation Intel Core m, Core i5 and Core i7 processors and a 12.3-inch PixelSense display.
The device runs full Windows 10 Pro, enabling the use of apps and desktop programmes like Microsoft Office to be run side-by-side and enterprise-level security.
The Surface Pro will debut in New Zealand and Australia on November 12.
Also in the new lineup was the 8.25mm thin Lumia 950, running Windows 10 and sporting a 5.2-inch quad HD display.
Microsoft's Terry Myerson says Microsoft sees the opportunity with Lumia as being like the the opportunity it had with Surface.
"We are going to reinvent the category and make people more productive in new ways," he says.
Microsoft also showcased the new Xbox One experience, 'a completely reimagined' interface integrating the speed of Windows 10 and Xbox One Backward compatibility, enabling users to play Xbox 360 games on the Xbox one for free with 100 games at launch.
A new Band was also showcased as was HoloLens.
Related stories
Top stories