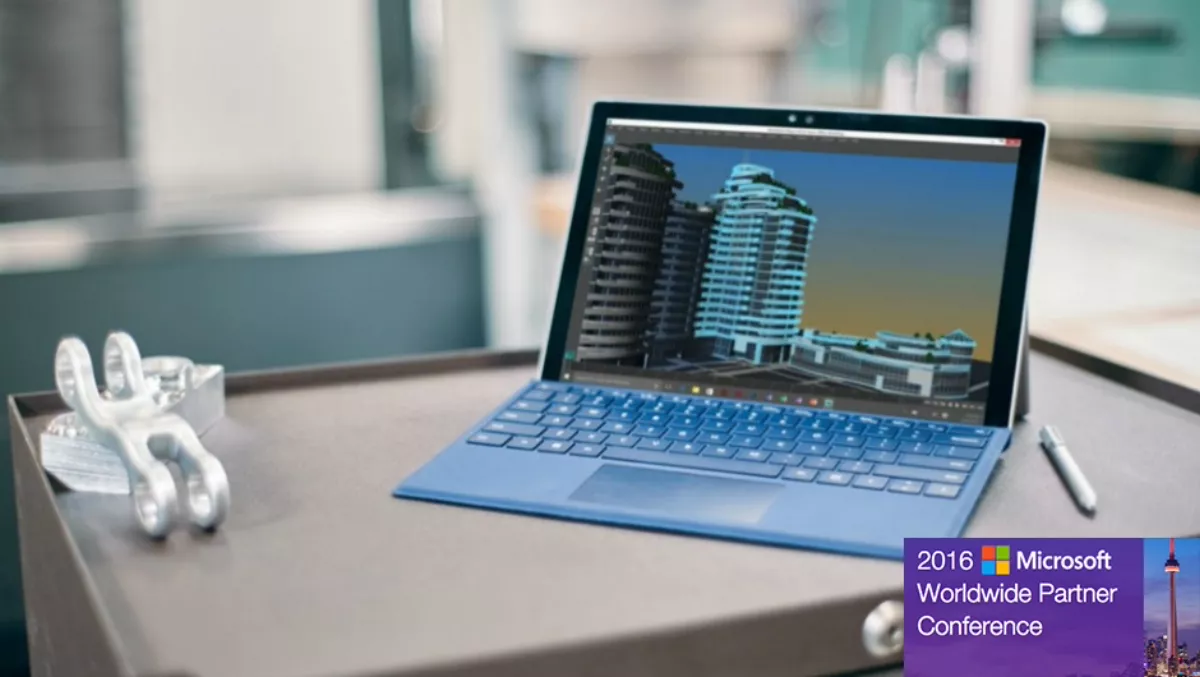 Microsoft announces new Surface Enterprise Initiative partners at WPC 2016
FYI, this story is more than a year old
Microsoft's Surface Enterprise Initiative was launched last year and Microsoft listened to feedback from its biggest global customers. During that time, the number of channel partners has skyrocketed from 200 to 10,000. As a result, the company has announced a new range of partners and programmes at the World Partner Conference in Toronto yesterday.
Microsoft has continued to invest in its Surface product family including the Surface Book and Surface Pro 4. The company believes in the innovative power of the devices, proven by revenue increases from $1 billion per year to $1 billion per quarter.
Expanding on its success, the new partnerships and programmes will 'empower' customers to transform their businesses. Partnerships with IBM and Booz Allen Hamilton will provide a range of benefits for Surface users in industries, government and the public sector.
IBM will use analytics and enterprise applications to help Microsoft build a range of solutions for financial services, retail and consumer packaged goods industries that use Surface devices. Back end infrastructure and Universal Windows applications will be fronted with an easy-to use and mobile platform that will service all needs such as product management, sales management, staffing decisions and demand forecasting.
"Many of our clients have requested mobile solutions for Surfaces that are tailored to their business needs. IBM will design Surface solutions that allow financial services and CPG employees to tap in to their company's information on-the-go. We'll apply experience of over 20 years as a Microsoft strategic partner to ensure the mobile apps blend with our client's existing infrastructures creating dynamic, new mobile experiences uniquely suited to the needs of their employees. IBM is a recognised leader in enterprise computing, sitting at the centre of a broad ecosystem of partners who, like Microsoft, aim to meet the needs of this market," says Murray Mitchell, global leader, Microsoft Services at IBM.
Booz Allen Hamilton will service government and public sector enterprises and healthcare organisations. Through Windows 10 and portable Surface devices. The company will work with clients with specific needs to develop solutions that ensure app compatibility, security, confidentiality and multiple credentials.
"Our goal is to deliver secure, end-to-end solutions to solve unique client challenges. Our partnership with Microsoft relationship will give our clients access to solutions built with the powerful and portable Surface devices and with the most secure and high-performing operating system available today, Windows 10," says Walton Smith, Booz Allen Vice President of Strategic Alliances and Solutions.
Microsoft has also announced two new programmes that will help partners deploy Surface devices: Surface as a Service and the Surface Multi-National Purchasing Program.
Surface as a Service will be delivered through Cloud Solution Providers who are also Surface Authorised Distributors. They will deliver the package as a managed service offering to resellers and customers, as well as cloud services, Office 365, Windows 10 and other ISV software. Microsoft says this will allow for faster device refresh and flexible purchasing options. Currently only launched in Europe, Microsoft plans to launch the programme globally.
Finally, the Surface Multi-National Purchasing Program will authorise four global resellers: CDW, Insight, SHI and Zones. The program will provide Surface devices to multi-national customers, which the company says will improve cross-country adoption for line of business environments. Resellers who want to join the Program should contact their local Partner Sales Executive.