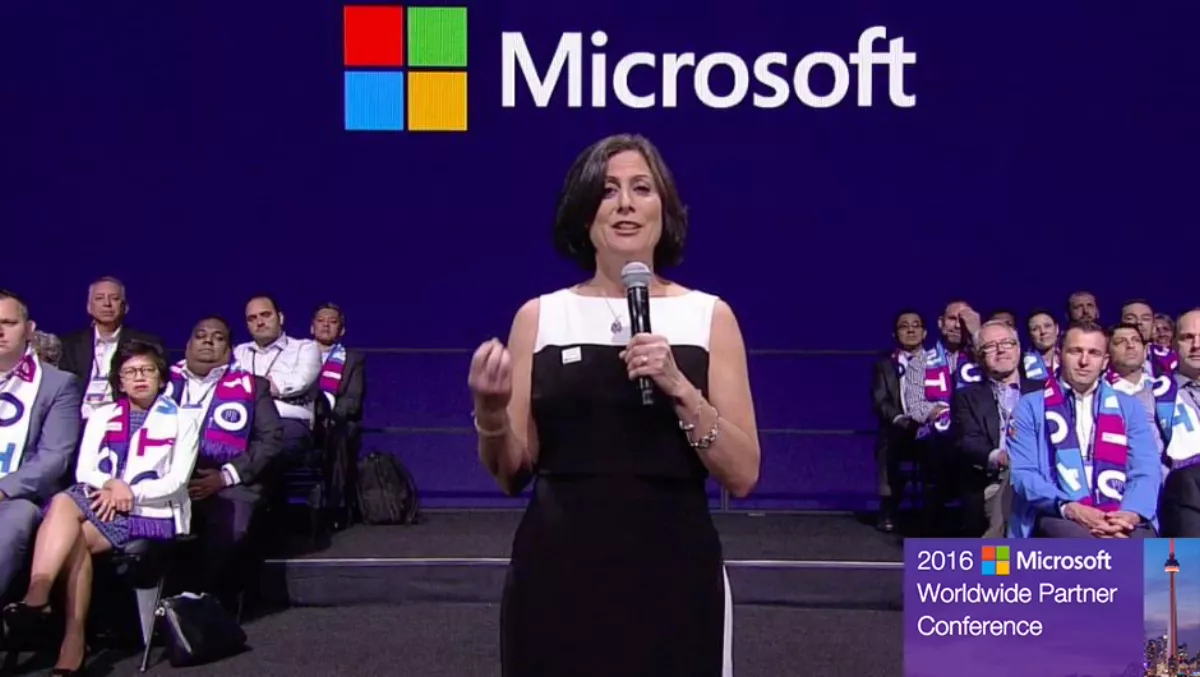 Microsoft WPC: Digital transformation bringing higher margins and growth
By Heather Wright,
Tue 12 Jul 2016
FYI, this story is more than a year old
Digital transformation is igniting higher margins and faster growth for Microsoft partners, the vendor's new channel boss, Gavriella Schuster, says.
Schuster, Microsoft Worldwide Partner Group corporate vice president, today welcomed partners to Microsoft's 2016 Worldwide Partner Conference in Toronto, thanking partners for their efforts.
"We have asked a lot of you through the past few years of transformation, and you have stepped up to this challenge to drive tremendous growth across the business," she said at the opening of WPC.
Meanwhile, in a blog, Schuster says the defining word of WPC for partners is opportunity.
"Today, opportunity means the cloud, which is driving digital transformation across industries and in businesses of all sizes," she says.
An IDC report, sponsored by Microsoft, shows cloud partners were outperforming their peers by 2.0 times on growth, 1.5 times on gross profit and 1.8 times on recurring revenue.
Schuster says demand for Microsoft's cloud services has 'exploded' over the past year and Microsoft partners are reaping the benefits.
"Microsoft partners with more than 50% of their revenue in the cloud are attaching $5.87 of their own services for every $1.0 of Microsoft cloud solutions sold," Schuster says. "And we're all just barely tapping into the potential," she adds referencing IDC forecasts that the greater cloud market will exceed US$500 billion by 2020.
"To capitalise on the opportunity ahead, we know our partners need both a technology partner and a business partner to help them succeed.
"This is a dual role we aim to excel at."
In the WPC opening, she lauded the 2016 Microsoft Partner of the Year award winners for their innovation, expertise and customer focus around the world and urged attendees at WPC to make a point of 'connecting' with the winners.
"The power of our channel network in helping us deliver on our promise to customers has also been tremendous," Schuster says. "Our partners drive creative implementations of our technologies and build partnerships with each other to deliver complementary services that power new revenue streams."
She says Microsoft is looking at ways to leverage its partner community to deliver enhanced experiences for mutual customers, and cites the example of the vendors moves to bring 'new, modern, enterprise-ready intelligent business apps' to customers with the introduction of Microsoft Dynamics 365 and Microsoft AppSource to 'reinvent' business processes.
Available in the Northern Fall, Dynamics 365 will unify Microsoft's current CRM and ERP cloud solutions into a single cloud service with new purpose-built apps for specific business functions including financials, sales, marketing, field service and customer service.