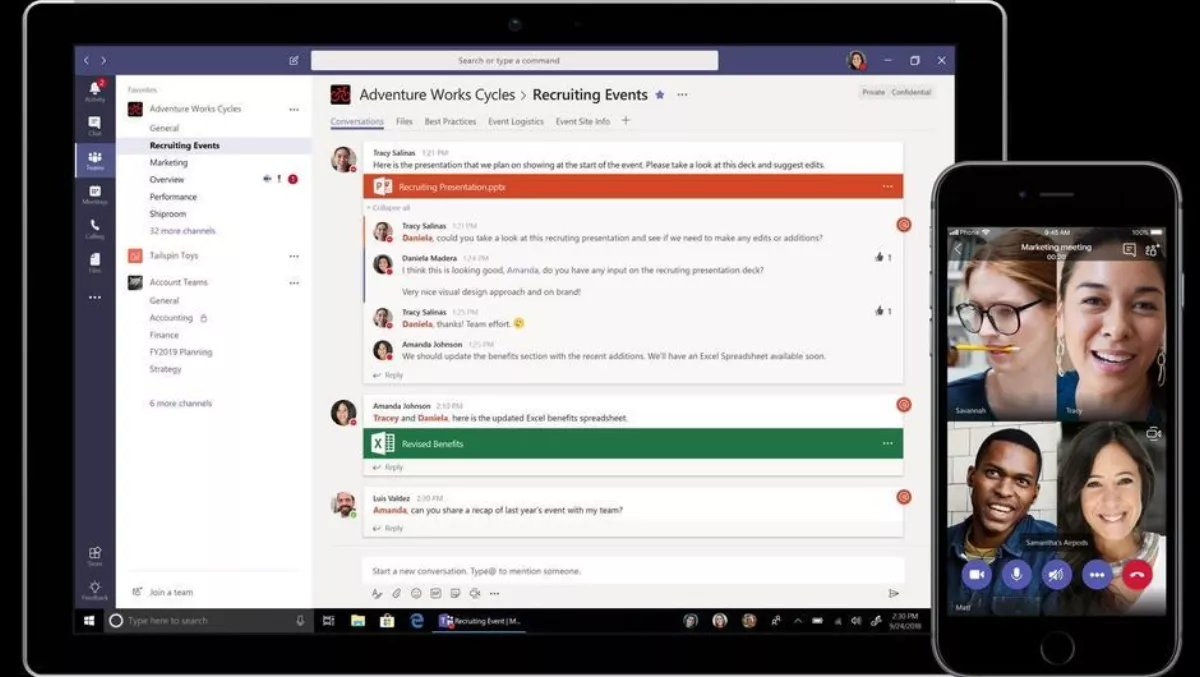 Microsoft intensifies efforts to fuel intuitive workplace collaboration
FYI, this story is more than a year old
Microsoft is leading the charge for teamwork and collaboration through a number of changes designed to fuel the modern workplace.
One year since the launch of workplace solution Microsoft 365, the company is now adding new features including the ability to create live and on-demand events, Workplace analytics, general availability of Whiteboard, and a free version of Microsoft Teams.
Microsoft Teams available free worldwide
The free version of Microsoft Teams is now available worldwide, including Australia and New Zealand.
According to Microsoft 365 Commercial director Evan Williams, more than 200,000 businesses across the globe use Microsoft Teams to collaborate.
The free version can provide up to 300 people in an organisation the ability to use:
Unlimited chat messages and search, including inline translation (available now), and background blur (coming soon)
Ability to communicate and collaborate with anyone inside or outside your organisation
Built-in audio and video calling for individuals, group, and full team meetups
10GB of team file storage plus additional 2GB per person for personal storage
Integrated real-time content creation with Office Online, including built in Word, Excel, PowerPoint, and OneNote
Unlimited app integrations with 140+ business apps to choose from, including Adobe, Evernote, Github and Trello
Whether you're a freelancer, a small business owner, or part of a team inside a large organisation, you can start using the free version of Teams today.
The full version of Microsoft Teams is part of the Microsoft 365 package and offers additional benefits including:
Additional storage, with plans starting at 1TB file storage per user
Rich, file collaboration in the Office desktop apps
Meeting scheduling and intelligent video capabilities like cloud recording and real-time transcription
Additional 1st & 3rd party app integrations
Advanced IT controls
Enterprise-level security and compliance
Microsoft 365 brings live and on-demand events to businesses everywhere
Users can create both live and on-demand events in high definition video and with interaction discussion. Built-in AI also provides:
A speaker timeline that uses facial detection to identify who is talking, so you can easily jump to a particular speaker in the event.
Speech-to-text transcription, timecoding, and transcript search, so you can quickly find moments that matter in a recording.
Closed captions, to make the event more accessible to all.
Analytics will help to form better collaboration
Workplace Analytics solution in public preview will provide collaboration insights such as time in email and meetings.
Organisations can also use aggregate data in Workplace Analytics to discover opportunities for improving collaboration, then deliver productivity insights to specific teams through MyAnalytics in Office 365.
Microsoft is also rolling out new nudges in Outlook powered by our personal fitness tracker for work, MyAnalytics. As you work in Office 365, MyAnalytics will surface tips right in Outlook on how to collaborate more effectively. We are releasing four types of nudges:
Meetings (ex: Could this meeting be 45 minutes? Build in some buffer time and save attendee's time. Switch to 45 minutes.)
Focus (ex: Looks like you have a lot of meetings this/next week. Would you like to reserve some time for focused work? See available times.)
Work/life balance (ex: Your colleagues have been responding to your mails outside typical working hours. Consider clarifying urgency.)
Email + to-do's (ex: You may have outstanding to-do's for John Smith. Would you like to review now? See my to-do's.)
Nudges will begin rolling out to all MyAnalytics customers this summer.
Microsoft Whiteboard generally available for Windows 10 and iOS
Currently available for Windows 10 and iOS, it is also available in preview mode for web. Microsoft says it is working on Whiteboard integration in Teams, and a separate app for Android.
The Whiteboard app is the digital reincarnation of the physical whiteboard everyone is familiar with, but better. It is a freeform intelligent canvas where teams and individuals can ideate, create, and collaborate visually, in real-time.
Using pen, touch, and keyboard, you can jot down notes, create tables and shapes, freeform drawings, and search and insert images from the web.
It enables people to ideate, iterate, and work together both in person and remotely, across multiple devices.
Starting July 13, the app will be available for download from the Windows Store on any Windows 10 or Windows 10S device, via the App Store on any iOS device, and via the web at https://whiteboard.microsoft.com.
Sign in with a free Microsoft Account or a paid Office 365 account to ink, ideate, and collaborate on Windows 10 devices. An Office 365 commercial account is required for the iOS and web experience at this time.
"As we advance our mission to empower every person and organisation on the planet to achieve more, what's most exciting are the stories of customers taking on big projects with a small workforce," Williams concludes.
Related stories
Top stories