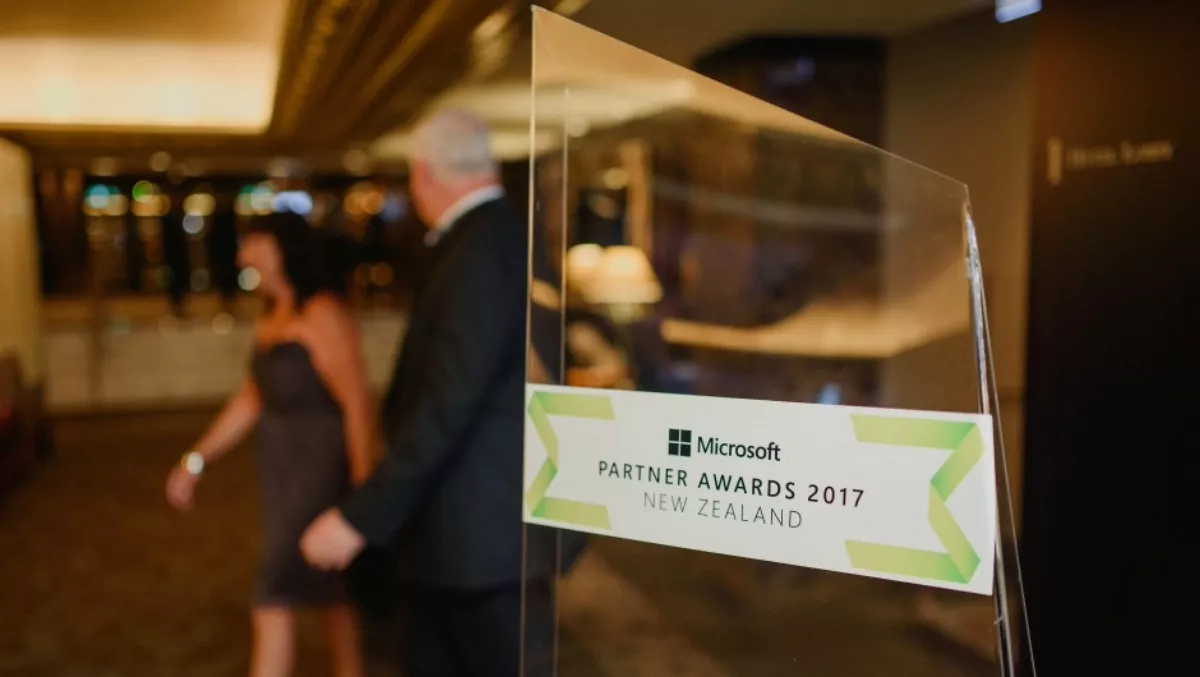 Microsoft New Zealand Partner Awards: And the winners are...
FYI, this story is more than a year old
Datacom, Provoke and Spark Digital were among the big winners at last night's 10th annual Microsoft New Zealand Partner Awards which saw partners praised for their contribution to accelerating digital transformation in New Zealand.
Twenty-two awards were presented, with Microsoft New Zealand's newly appointed director for small, midmarket solutions and partner group, Phil Goldie, noting the winners were high calibre technology companies who had demonstrated proactive and innovative forward-thinking to help Microsoft deliver on its mission of empowering people and organisations to adapt to digital transformation.
Datacom took out two of the five new or rescoped awards on offer this year, scooping up the Enterprise Mobility Solutions and Internet of Things awards, while Datacom's James David took out the individual award for Partner Seller.
Also taking out an individual award was Provoke's Nick Westbrook, who took home the Solution Sales Specialist award, with Provoke also winning the Cloud Platform award.
Double awards too, for Spark Digital, which took out the Communications and Licensing categories.
Meanwhile, it was double the winners for the Public Sector – Education category, with both PCMedia and New Era IT winning.
Intergen continued its winning run to claim the Modern Marketing award. The company has now won awards at nine of the 10 Microsoft New Zealand Partner Awards.
Inde Technology was named Rising Star.
Lucidity laid claim to one of the remaining new awards, winning the Managed Service category, which replaces the previous data center and hosting categories, while Information Leadership claimed the Public Sector, Government award.
The new categories reflect the changing technology arena and new areas of growth for Microsoft and its partners.
Ingram Micro took out the final new category, claiming the Market Development award, which replaces the distribution award of previous years in recognition that it is no longer just distributors working through a channel model, with partners 'of all kinds' are having their businesses scaled by partnership and employing their own partner programs.
Goldie says Microsoft's partner channel continues to demonstrate a high level of commitment, creativity and knowledge which is 'hugely' beneficial to New Zealand's IT sector as a whole.
"Whether it's addressing the day-to-day needs of customers with tailored hardware solutions or providing high level IT advice, partners play a critical role in our industry and ensuring businesses are able to operate at the cutting edge," Goldie says.
The full list of winners is:
Cloud CRM: Magnetism
Cloud Productivity: Kinetics
Communications: Spark Digital
ERP: Theta
Small and Midmarket Cloud Solutions: IT Engine
Cloud Platform: Provoke
Enterprise Mobility Solutions: Datacom
Managed Service: Lucidity
Windows and Devices Deployment: Fujitsu
Cloud Packaged Solution: Crossware
Data Platform and Analytics: UXC Eclipse
Internet of Things: Datacom
Learning: Ripped Orange
Licensing: Spark Digital
Market Development: Ingram Micro
Modern Marketing: Intergen
Partner Seller: James David, Datacom
Rising Star: Inde Technology
Solution Sales Specialist: Nick Westbrook, Provoke
Public Sector - Education: PC Media
Public Sector – Education: New Era IT
Public Sector – Government: Information Leadership
Technology for Good: Stellar Consulting
Check out our photo gallery of the awards for all the glitz, glamour - and kilts!
Related stories
Top stories