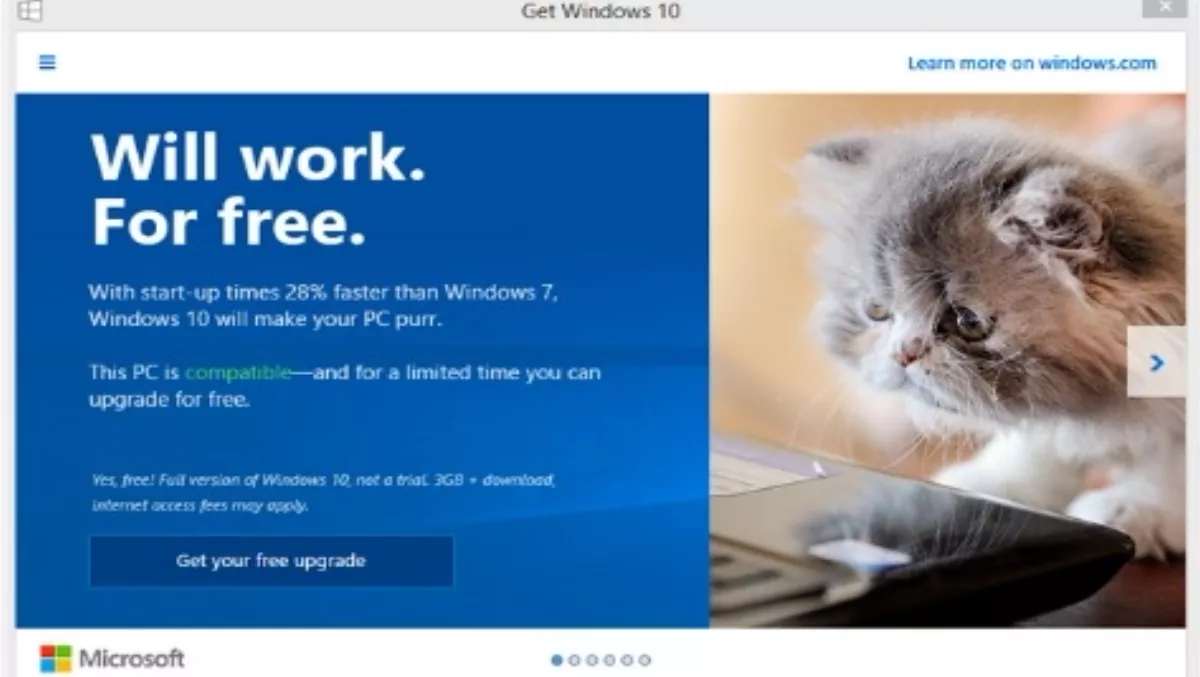 Microsoft ramps up Windows 10 upgrade push
FYI, this story is more than a year old
Microsoft is changing its approach to Windows 10 upgrades, with the vendor 're-categorising' Windows 10 as a recommended update from early next year in a move that will see the upgrade process automatically initiate on many Windows devices.
The change is one of several being rolled out by Microsoft as it continues its aggressive plans for one billion devices to be running Windows 10 within two to three years of its release.
Terry Myerson, Microsoft executive vice president of the Windows and Devices Group, shared a number of ways in which Microsoft 'is making it easier to upgrade to Windows 10' on a recent blog.
"Our aspiration is for customers to choose Windows and to love Windows," Myerson says.
With more than 110 devices now upgraded, he says the vendor is now 'implementing some of our learnings which make it easier for consumers to upgrade to Windows 10'.
Myerson says the move to re-categorise Windows 10 as a 'recommended update' may cause the upgrade process to automatically initiate on devices, depending on the Windows Update settings of the device.
However, he says customers will be 'clearly prompted' to choose whether to continue the upgrade and can roll back to their previous Windows within 31 days if they choose to.
The software behemoth is also doing away with the two-step upgrade process, which used to require users to reserve, then be notified when they could start the upgrade.
"While over 110 million devices have successfully upgraded to Windows 10, the two-step process is no longer relevant now that we are beyond the pre-order phase and Windows 10 is immediately available," Myerson says.
"In order to streamline the process, we will automatically kick off the upgrade process once you have made your reservation."
Myerson says users will be 'clearly prompted' to choose whether or not to continue with the upgrade. The option to roll back to the previous Windows version within 31 days if users don't 'love' Windows 10, will remain.
Windows 10 will be published as an 'optional update' in Windows Update for all Windows 7 and Windows 8.1 customers 'soon'.
Myerson says the company is also 'evolving' the notifications which have been used to notify Windows users that their upgrade is ready, 'to be more approachable and hopefully clear, and sometimes fun'.
He says the company 'strongly discourages' turning off automatic updates, given 'the constant risk of internet threats' but acknowledges that for those on metered connections, it is an option.
"If you choose to do so, we recommend manually checking Windows Update frequently, perhaps when you are on a non-metered network, and consider the installation of all 'Recommended' and 'Important' updates.
He says Windows 10 will not automatically download updates on a metered connection unless there is a security issue addressed within the update.
Related stories
Top stories