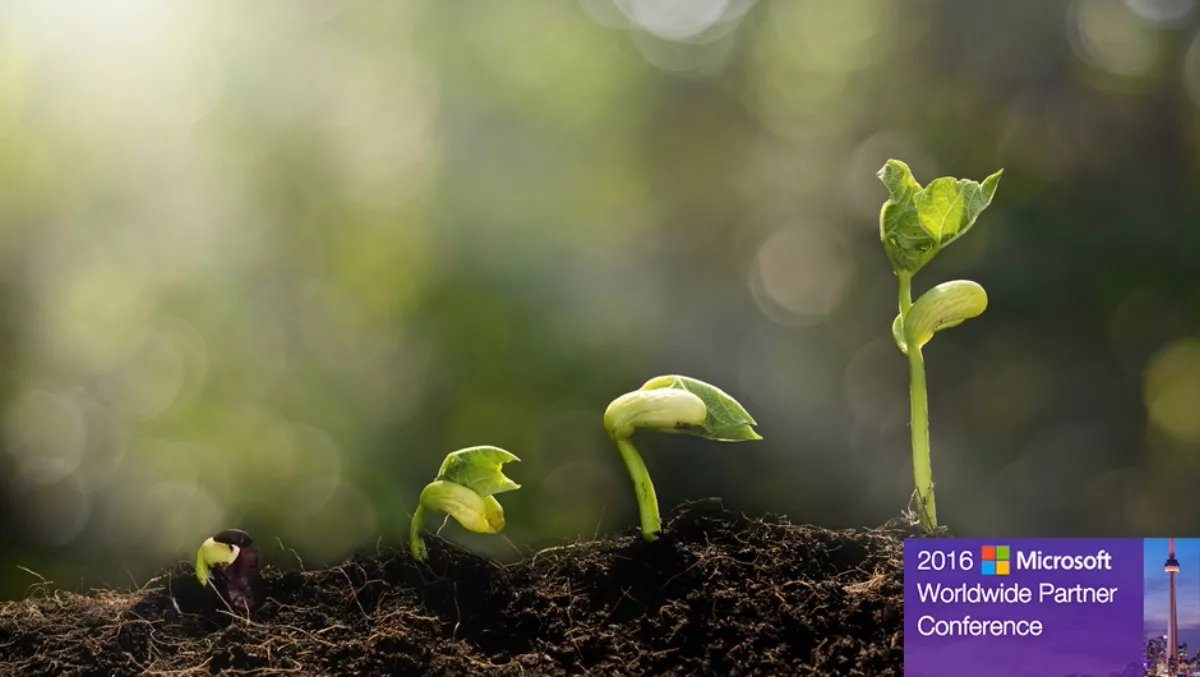 Microsoft WPC: New resources to help partners capitalise on the explosive demand
FYI, this story is more than a year old
As I discussed in my keynote during the 2016 Microsoft Worldwide Partner Conference, change is the dominant factor driving societies forward. Nowhere is this more evident today than when you look at the quest for digital transformation in organisations of all sizes.
To put it simply, the greater cloud market is changing how business gets done, and it presents a huge opportunity for our partners.
According to IDC research, greater cloud spending will exceed $500B by 2020, and nearly 80 percent of customers are deploying or fully embracing cloud technology today. Those numbers are only expected to grow. The cloud has passed the point of a trend in society. It is now the new norm.
This change is being driven by customers who are more educated and savvier than ever before, and who demand solutions that enrich their lives and solve problems—solutions that are simpler, smarter and faster.
With the shifts in customer demand, we are introducing new investments to help our partners maximise profitability in the cloud.
New resources for a changing cloud market
Many Microsoft partners have already embraced the changes in our industry, driving a rapid transformation of the IT landscape for our customers. This digital transformation is having a significant impact to their customers and their bottom line.
For example, in my keynote I talked about how nonprofit customer Water Mission is bringing safe water to people around the world with the support of our partner Blackbaud. After making a big bet on the cloud and Microsoft Azure, Blackbaud has enabled Water Mission to grow their prospective donor list and source nearly $1M in potential new funding to bring life-sustaining water to those who need it.
But the transformations we've seen in the market so far offer just a glimpse of what's possible, and we're here to help you seize this massive opportunity. If you weren't able to attend or stream the vision keynote this morning, it will be available on demand soon. Until then, I'd like to recap some of the new resources we've announced that will help partners meet these new customer needs:
Competency Logo Builder
Customers have told us that a partner's endorsement from Microsoft has value and builds trust, so we're making it easier than ever for potential customers to identify our best partners. We're rolling out updated competency badges and gold partners will be able to download new ones with the Microsoft logo as an endorsement.
Updated partner branding
In today's incredibly fast-paced digital environment, you may only have a few seconds to get customers' attention. To help customers more quickly identify trusted Microsoft partners, we're updating the competency badges to unify how partners show up with customers.
Plus, as we continue to strive to make it as easy and cost effective to do business with us as we possibly can, we've simplified the application certification process to enable more partners to get certified and take advantage of the program resources that come along with that. It's always our goal to strive for less hassle, simpler solutions, and more profitability.
Doubling our investment in free software, cloud services, and platforms
More than 90 percent of our revenues come through our partners, which is why their success is so important to us. We know that the innovative solutions you build on top of our technologies make our mutual customers' lives easier, and we couldn't achieve our company mission of empowering everyone in the world to do more if it wasn't for you.
To help accelerate the next generation of success for our partners, we're providing more access to free software and services via Internal Use Rights (IUR). In fact, we're doubling our investment in free software, cloud services, and platforms for our partners over the next year, giving you the tools needed to build innovative solutions on top of Microsoft technologies. When partners use IURs, their deals are approximately three times larger.
Enhancements for Cloud Service Provider (CSP) partners
Partner Center Software Development Kit (SDK)
To help support our 17 thousand+ partners selling through CSP, we now offer a click-to-deploy webstore to reduce time-to-market for partners. Because the webstore app is already integrated with Partner Center SDK, you can create and manage your own online webstore without any development effort or investment. Onboarding, transacting, subscription management are all streamlined to be quicker and easier for you and you customers.
New referral engine
As I said in my keynote, Microsoft delivers millions of referrals to partners every year, but we want to bring you to their attention sooner. We want every referral to be highly qualified and easy to process, so we've re-imagined our referral engine. Now, your solutions and profiles will be syndicated across our digital properties and communications so customers will find you and understand your offerings before they even engage with you.
Investing in more than 3,500 Microsoft field employees
Every single employee at Microsoft plays are part in supporting our customers, but to take it one step further, our global field teams are ready to help you build your cloud and hybrid practices, grow relationships with customers, and develop your go-to-market muscles in this digital world. We believe local engagement is critical to your growth, so we have more than 3,500 Microsoft field employees deployed globally who are dedicated to your success.
The Microsoft Professional Degree (MPD) course
I've spoken about closing the talent gap in the past and today we're excited to announce yet another way that Microsoft is helping partners to do that. Through the Open edX on Azure platform, we're providing a platform plus ready-made content and tools for you to establish a profit-generating Learning as a Service business. The Microsoft Professional Degree (MPD) program, created on this platform, provides curriculum and hands-on experience for professionals to grow their skills in critical fields, with an initial focus on data sciences. Now learning partners can offer Learning as a Service, which we know customers are hungry for.
Seize tomorrow's opportunity today
The opportunity is right here, right now.
IDC research has shown that while less than 10 percent of customers surveyed have reached the top level of cloud maturity today, 45% expect to be there in 2 years. And because you are part of the Microsoft Partner Network, you are uniquely positioned to help these customers with their digital transformation. Through a blind AMI-Partner survey, we found that Microsoft partners receive 19 percent higher margins for selling, deploying, and managing Microsoft cloud solutions than with our nearest competitor as compared to Amazon, Google and Salesforce. We remain dedicated to helping every partner sees those high returns on their investment in partnering with us.
By partnering together and embracing the changes in our industry, technology, and customers, we're ready to seize tomorrow's opportunities today, together.
Article by Gavriella Schuster, corporate VP, Worldwide Partner Group.
Related stories
Top stories