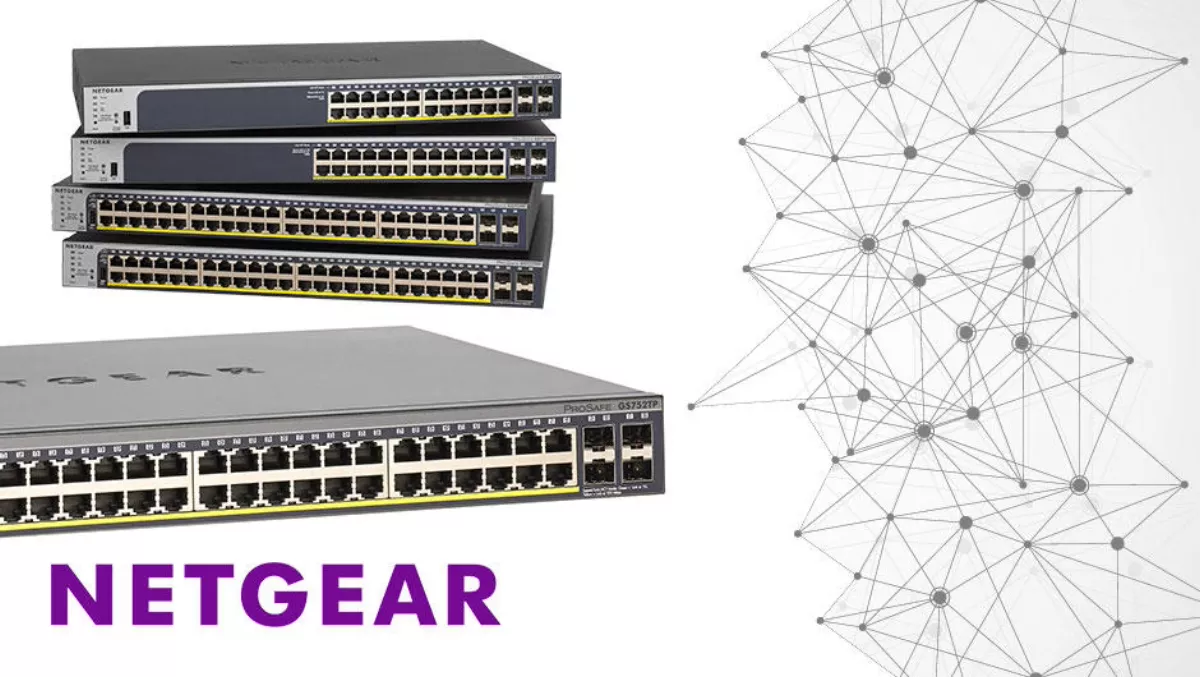 NETGEAR adds Power-over-Ethernet capability to Smart Managed Pro Switches
Fri, 15th Jun 2018
FYI, this story is more than a year old
NETGEAR has extended its range of Smart Managed Pro Switches with four new switches that support Power-over-Ethernet (PoE+) and SFP ports for fibre uplinks.
The four Gigabit switches and the larger Switch range are specially designed for converged networks where voice, video, data, and IoT are all carried on a single network platform with maximum security.
According to NETGEAR, the idea is to help small and medium businesses (SMBs) such as those operating in retail, hospitality, catering and education. A number of these industries are adopting VoIP phones, IP security cameras, proximity sensors, secure access door locks, and a range of other IoT devices.
However as businesses deploy these devices, they face the issue of power-hungry devices that need PoE support. Behind the scenes, 802.11ac Wave 2 wireless access points and HD surveillance camera that use night vision and motion tracking require PoE+ power.
NETGEAR designed its switches to support PoE+ so devices can use a single wire for power and connectivity.
Advanced network tools
Full line-rate Gigabit connectivity - for highly efficient and fast networking for bandwidth-hungry businesses
Traffic priority setting - for optimized voice, data and video convergence (DiffServ QoS)
Intuitive configuration of Media Streaming and Audio-Visual over Internet Protocol (AV-over-IP) with multicast capabilities - AV over IP significantly increases flexibility by overcoming limits to number of sources and destinations as well as by conquering distance limits.
Registration (MVR) - IGMP Snooping allows switches to listen to IGMP report and leave messages to determine what hosts if any are interested in receiving multicast traffic on a given VLAN to limit unnecessary flooding of multicast traffic to switch ports that do not have hosts interested in receiving multicast traffic.
Multicast VLAN Registration (MVR) – enables multicast traffic to be dedicated to a specific VLAN across a multicast domain so that receivers in other VLANs can join the sources in the dedicated VLAN and received multicast traffic.
Full IPv6 Support – Reduces network limitations imposed by IPv4 restrictions
A real power engine - all ports PoE+ enabled with the perfect choice of PoE budgets for the installation of the most power-hungry environments for demanding Small and Medium businesses.
Secure by design
The switches also support increased security, particularly as IoT devices become increasingly vulnerable to cyber attacks.
The four new Smart Managed Pro switches are equipped with security features that can stop 'man in the middle attacks', which is when attackers can intercept and divert communication between two devices on a network.
Dynamic Host Configuration Protocol (DHCP) Snooping – which monitors for and allows only authorized DHCP servers to respond to DHCP requests and to pass network data to clients. It also provides the ability to control the rate of traffic sent of DHCP requests on client ports, thereby mitigating the effect of DHCP Denial of Service (DoS) attacks from an individual client or access port.
Dynamic Address Resolution Protocol (ARP) Inspection (DAI) – DAI inspects ARP packets on the Local Area Network (LAN) and uses the information in the DHCP snooping database on a switch to validate ARP packets and to protect against ARP spoofing/poisoning/cache poisoning.
According to NETGEAR's VP of product line management for SMB products, Richard Jonker, the company's long history of working with SMBs helped to shape their customised solutions.
"NETGEAR launched our fantastic four new Gigabit Smart Managed Pro Switches with PoE+ across ALL ports to support SMB switching needs for wireless converged networks, IP surveillance, IP telephony and IoT. When you add in our industry-leading warranty policy and lifetime support options, these switches present an attractive, enterprise-class package at an SMB budget.
The NETGEAR GS728TPv2, GS728TPPv2, GS752TPv2 and GS752TPP Gigabit Smart Managed Pro Switches offer 190W, 380W or 760W PoE budget across 24 or 48 ports and 4 dedicated SFP ports for Wireless converged networks, IP surveillance and Video-over-IP deployments.
Advanced features such as IPv4/IPv6 Layer 3 static routing, DiffServ QoS, LACP bonding and Spanning Tree will satisfy even the most advanced small and medium business networks.
New Zealand pricing is below.
NETGEAR 24-Port 190W Gigabit PoE+ Ethernet Smart Managed Pro Switch with 4 SFP Ports (GS728TPv2): $859 RRP inc. GST
NETGEAR 24-Port 380W Gigabit PoE+ Ethernet Smart Managed Pro Switch with 4 SFP Ports (GS728TPPv2): $1,129 RRP inc. GST
NETGEAR 48-Port 380W Gigabit PoE+ Ethernet Smart Managed Pro Switch with 4 SFP Ports (GS752TPv2): $1,359 RRP inc. GST
NETGEAR 48-Port 760W Gigabit PoE+ Ethernet Smart Managed Pro Switch with 4 SFP Ports (GS752TPP): $1,809 RRP inc. GST