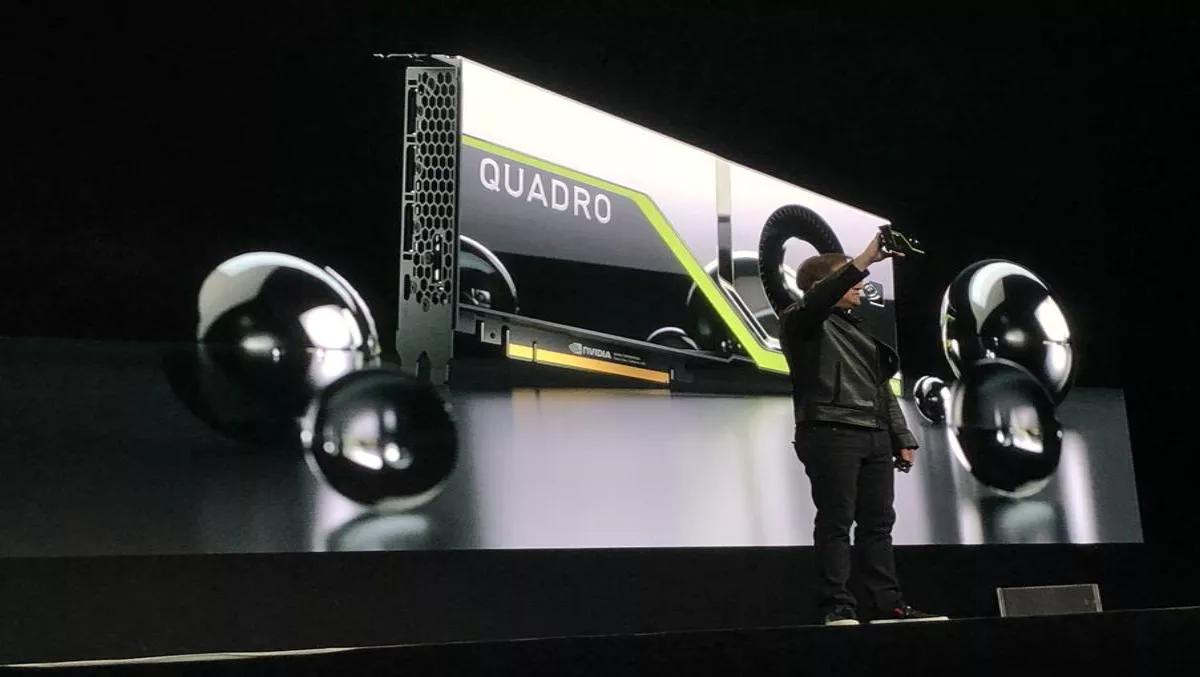 NVIDIA unveils Quadro RTX, world's first ray-tracing GPU
FYI, this story is more than a year old
NVIDIA has released its first Turing architecture-based GPUs, allowing designers and artists to render photorealistic scenes in real time, add new AI-based capabilities to their workflows, and enjoy fluid interactivity with complex models and scenes.
Unveiled by NVIDIA founder and CEO Jensen Huang at the annual SIGGRAPH conference, the NVIDIA Quadro RTXTM 8000, Quadro RTX 6000 and Quadro RTX 5000 bring hardware- accelerated ray tracing, AI, advanced shading and simulation to creative professionals.
Also announced was the Quadro RTX Server, a reference architecture for highly configurable, on-demand rendering and virtual workstation solutions from the data center.
"Quadro RTX marks the launch of a new era for the global computer graphics industry," says NVIDIA professional visualisation vice president Bob Pette.
"Users can now enjoy powerful capabilities that weren't expected to be available for at least five more years. Designers and artists can interact in real time with their complex designs and visual effects in ray-traced photo-realistic detail. And film studios and production houses can now realize increased throughput with their rendering workloads, leading to significant time and cost savings."
Quadro RTX GPUs are designed for the most demanding visual computing workloads, such as those used in film and video content creation; automotive and architectural design; and scientific visualisation.
They far surpass the previous generation with groundbreaking technologies, including:
New RT Cores to enable real-time ray tracing of objects and environments with physically accurate shadows, reflections, refractions and global illumination.
Turing Tensor Cores to accelerate deep neural network training and inference, which are critical to powering AI-enhanced rendering, products and services.
New Turing Streaming Multiprocessor architecture, featuring up to 4,608 CUDA® cores, delivers up to 16 trillion floating point operations in parallel with 16 trillion integer operations per second to accelerate complex simulation of real-world physics.
Advanced programmable shading technologies to improve the performance of complex visual effects and graphics-intensive experiences.
First implementation of ultra-fast Samsung 16Gb GDDR6 memory to support more complex designs, massive architectural datasets, 8K movie content and more.
NVIDIA NVLink to combine two GPUs with a high-speed link to scale memory capacity up to 96GB and drive higher performance with up to 100GB/s of data transfer.
Hardware support for USB Type-CTM and VirtualLink, a new open industry standard being developed to meet the power, display and bandwidth demands of next-generation VR headsets through a single USB-CTM connector.
New and enhanced technologies to improve the performance of VR applications, including Variable Rate Shading, Multi-View Rendering and VRWorks Audio.
The Quadro RTX Server defines a new standard for on-demand rendering in the data center, enabling easy configuration of on-demand render nodes for batch and interactive rendering.
It combines Quadro RTX GPUs with new Quadro Infinity software (available in the first quarter of 2019) to deliver a powerful and flexible architecture to meet the demands of creative professionals.
Quadro Infinity will enable multiple users to access a single GPU through virtual workstations, dramatically increasing the density of the data center.
Related stories
Top stories