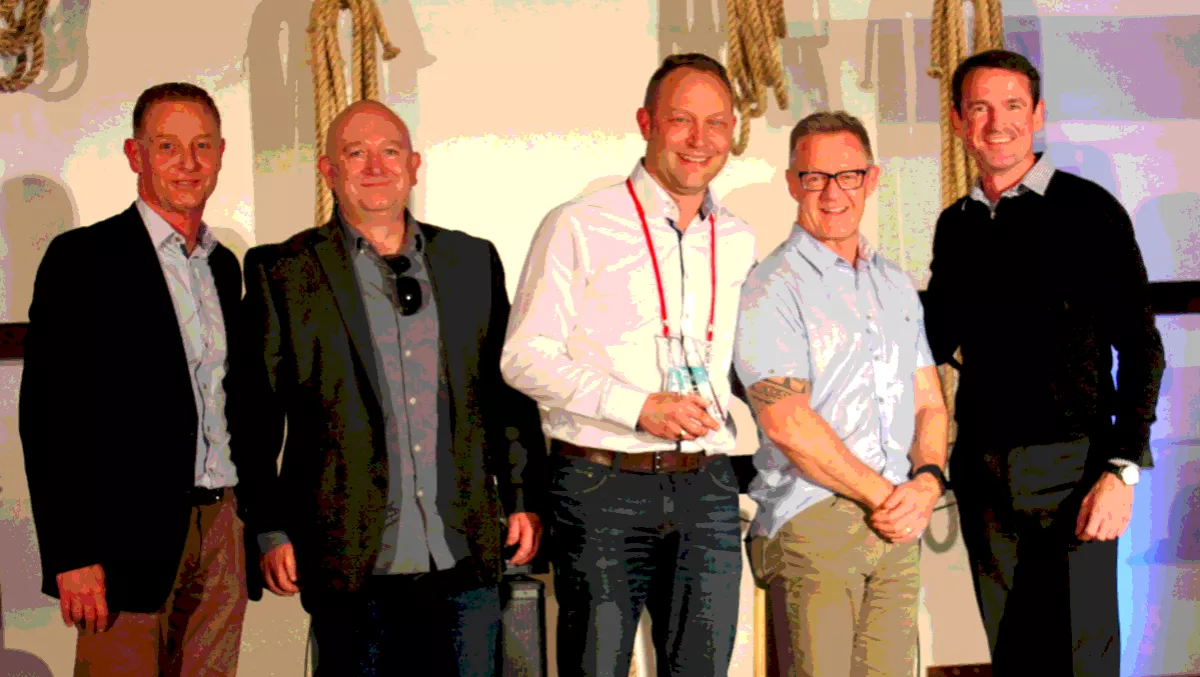 Photo gallery: Hitachi Vantara honours Australian and Kiwi winners
FYI, this story is more than a year old
​New Zealand's Revera has taken top honours in this year's Hitachi Vantara Australian and New Zealand 2017 Partner Awards, winning Partner of the Year.
The awards, held in Hobart, also saw Perfekt pick up Solution Partner of the Year while Brisbane's SureBridge IT was named Regional Partner of the Year.
DXC – previously CSC – took out the award for Global System Integrator of the Year, with GCOMM named New Partner of the Year.
The awards are the first since Hitachi Data Systems, Hitachi Insight Group and Pentaho became Hitachi Vantara.
Nathan McGregor, Hitachi Vantara Australia and New Zealand vice presdiient and general manager, says data is the foundation for innovation and transpformation – but many companies are still not able to realise the power of their data.
McGregor says the vendor's OT experience and IoT leadership along with a long IT track record, have given it 'a better understanding of data than most'.
"Our partner ecosystem has complementary skills, expertise, market knowledge and offerings that can deliver even greater value," McGregor says.
"Collaboration and strategic alignment with these partners results in teh ability to tap the true power of customer data and deliver a path to intelligent innovation," he says.
Hitachi Vantara says Revera's award came for its strategic alignment initiatives, continuous investment in services expansion and development of innovative solutiosn offerings.
"These efforts support rapidly changing customer requirements, particularly in New Zealand's enterprise and government markets," Hitachi Vantara says, noting that the Kiwi company was also recognised as HDS ANZ Solution Partner of the Year in 2016.
Troy Myer, Revera general manager of business development, says Hitachi has always been a key building block in the Revera stack.
"We now see Hitachi Vantara, with its combination of HDS, Pentaho and Hitachi Consulting group as a key strategic partner in the deliver of Revera services to customer in both the private and public sectors," Myer says.
Meanwhile last year's HDS ANZ Partner of the Year, Perfekt won this year's Solution Partner award on the back of its 'impressive' revenue contribution and its ability to position end to end integrated enterprise solutions, helping Australian organisations transform and innovate with data-driven insights.
"The Perfekt team invested in skills and expertise to develop new mobility, cloud and big data offerings by using Hitachi Content Platform and Pentaho data integration and analytics software," Hitachi Vantara says.
Mark Sakajiou, Perfekt sales director and co-founder, says "Perfekt are excited to deliver and execute on the new Hitachi Vantara initiatives with our specialised capabilities around social innovation, analytics and associated managed and professional services.
"The new company vision around Lumada and Pentaho fosters an exciting environment for co-creation and development between Perfekt and Hitachi Vantara to deliver together to our customers, new business outcomes which this modern day landscape demands."
SureBridge IT's award was its second Regional Partner award from the vendor in two years.
"The award acknowledges the deep, local engagement with the Hitachi Vantara team, which translated to an impressive business development and financial performance track record," Hitachi Vantara says.
"SureBridge IT successfully used Hitachi solutions and services to help customers maximise the return on their hybrid cloud investment."
Hitachi Vantara says DXC's win – CSC won the award last year – honours the company's commitment and effort to drive 'true digital innovation' in joint customer accounts.
The two companies have been working to develop new strategies and solutiosn for the enterprise market, particularly around cloud and IT.
Meanwhile, IT managed services provider GCOMM, which joined the Hitachi TrueNorth Partner program recently as a reseller and cloud services provider, was recognised for its focus on working with Hitachi to drive success around as-a-service offerings, ranging from infrastructure-as-a-service and backup-as-a-service to archive-as-a-service.
Phil Teague, Hitachi Vantara Australia and New Zealand industry and alliances solutions director, congratulated the winners, adding "As we move forward as Hitachi Vantara in this IoT erra, partners like DXC, GCOMM, Perfekt, Revera and SureBridge IT – who are aligned with our vision and who are interested in driving meaningul business outcomes for customers – are more critical than ever."
Related stories
Top stories