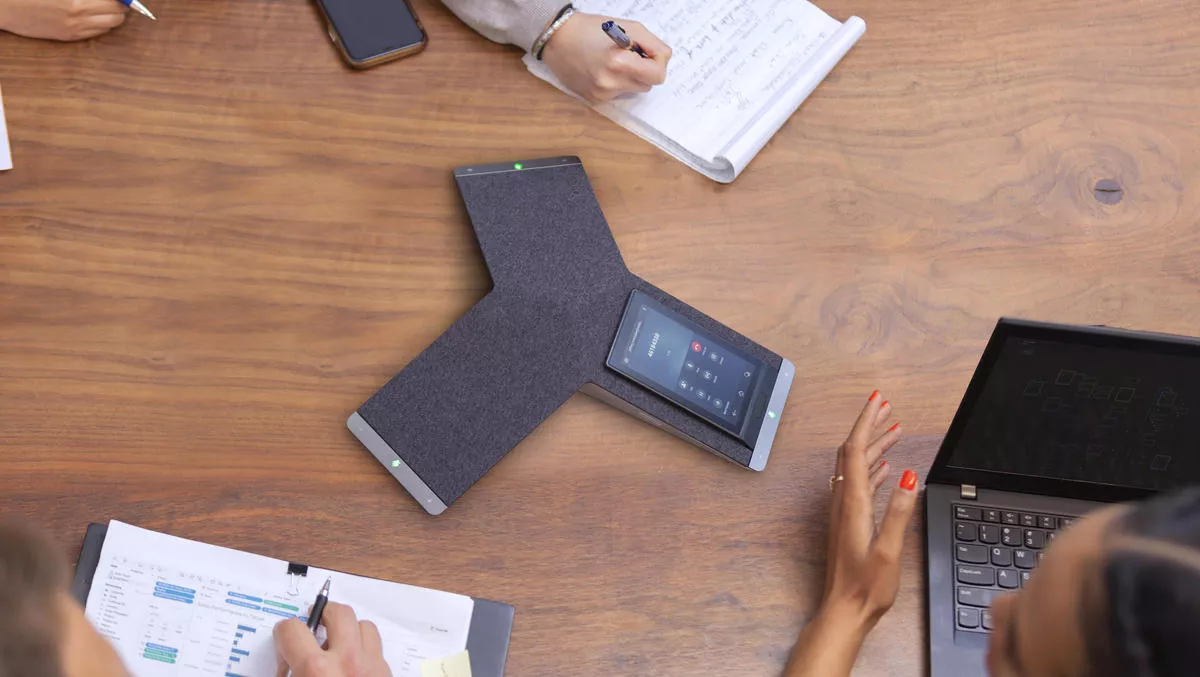 Poly announces new Trio device and new personal speaker
Mon 6 Jul 2020
FYI, this story is more than a year old
Poly, formerly Plantronics and Polycom, has announced the Poly Trio C60, a smart conferencing device; and the Calisto 5300, a portable, personal speakerphone for PC and mobile devices – both of which are Microsoft Teams enabled.
The company also announced that the Poly Studio X30 and Poly Studio X50 video bars now run Microsoft Teams natively.
"While the majority of office workers will start resuming their normal office routines, businesses have seen the effectiveness of remote working and there will be an uptick in remote or flex-workers where their time is split between the home and the office," says Poly A/NZ managing director Andy Hurt.
"Investing in powerful collaboration tools will no longer be a good-to-have but a must-have, and businesses will need to ensure a consistent, secure, easy-to-install and easy-to-manage communications and collaboration experience, whether for workers in the office, or remote."
Trio C60
The Trio C60 can stand on its own as a high-quality conference phone, or be used to control other communications endpoints like the Poly Studio X Family or G7500.
It is also equipped with Poly NoiseBlockAI technology, as well as three microphones for 360-degree mic pick up.
The C60 works with most leading SIP providers for audio conferencing and supports native platform experiences for both Zoom and Microsoft Teams environments, allowing for flexibility of platforms without the need for multiple endpoints.
For wireless deployments, the C60 features 2.4-5GHz WIFI with multiple-in multiple-out (MIMO) — a technique for sending and receiving more than one data signal simultaneously to ensure a more reliable meeting experience over Wi-Fi.
Calisto 5300
The Calisto 5300 comes equipped with a dedicated Microsoft Teams button for instant access to the application.
A 360-degree microphone provides audio pick-up at up to 3m away.
The speakerphone is built with simple touch-sensitive controls and visual indicators, together with voice prompts and dynamic mute alerts to provide immediate feedback of call status.
It also comes with a carrying case and can connect to smartphone devices via Bluetooth with up to 16 hours of listening.
The 5300 is also compatible with Plantronics Manager Pro, Plantronics' cloud solution for IT professionals. This software-as-a-service allows enterprise IT managers to administer and support audio devices from a central location, and provides insights that ensure consistent communication and audio performance on the device.
Plantronics Manager Pro is sold separately.
Microsoft Teams on Poly Studio X
Poly Studio X30 and Poly Studio X50 are available for order with native Teams running out of the box.
Organisations that have already purchased and/or deployed the Poly Studio X and would like to run the native Teams app can install the Poly Video OS Software 3.1.1 update and select Teams as the preferred collaboration platform.
The 3.1.1 update is available now via Poly's cloud management tool.
The Poly Trio C60 and Calisto 5300 are available from July 2020, via authorised distributors and resellers.
The Poly Studio X family is available with Microsoft Teams now.