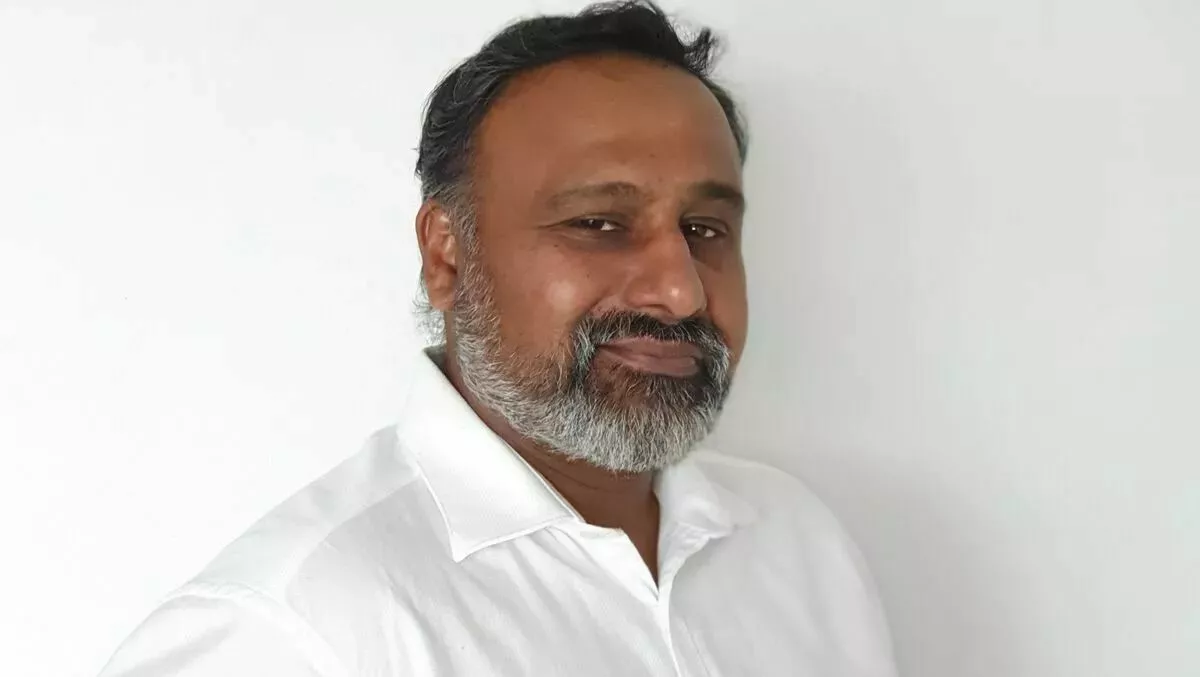 Q&A: Green Light Worldwide's Vinny Narain chats about the company's plans for NZ
FYI, this story is more than a year old
Green Light Worldwide recently established a firm boots-on-the-ground presence in New Zealand with new hires and a reinvigorated commitment to bringing its specialised skillset of workforce-as-a-service (WaaS), consulting services, professional services, managed services and advisory services.
We spoke to Green Light's New Zealand business development manager Vinny Narain about the company, its Workforce-as-a-Service (WaaS) offering, and its presence in the New Zealand market.
Why did you choose to work for Green Light?
Their partner-only model sets them apart from anyone else in the local market. Being part of the team that is building this in New Zealand was an extremely exciting prospect. I saw this as a natural extension of my previous roles managing various engineering and service delivery teams over the last 20 years. I could see significant growth potential for both Green Light, their partners, and myself.
Why do you think their business model works in New Zealand?
To get ahead you must stand out from the competition. Green Light's unique go-to-market strategy alongside its focus on delivering tailored client solutions. This allows our partners to build revenue quickly without the need to incur the cost of onboarding additional staff.
Green Light has the systems and teams in place to quickly find appropriate resources and will work with Partners directly to ensure Projects can be delivered on time and within budget. We also have access to a large pool of resources to assist with any other remedial activities they may have.
What does Green Light offer that makes them different from other IT service providers out there?
Green Light is primarily an outcome-focused service provider, which means they have skin in the game when it comes to delivery milestones. We have also heavily invested in our internal PMO and Service Delivery teams to ensure we can effectively deliver what we set out to.
We operate on a partner-only model and are vendor-neutral, this means that we white label our services, enabling our customers to grow their revenue streams without diluting their brand.
Green Light will also work with our customers' sales and pre-sales teams to uncover and successfully win new business opportunities for them.
What is your most effective service?
Green Light has five main service lines however we are seeing real traction in New Zealand with one particular service. Workforce as a Service, or WaaS, is Green Light's short-term, task-based resourcing service that enables customers to supplement their workforce at short notice. This is done by providing skilled, experienced IT professionals to complete ad-hoc work on a temporary basis. We ensure the right resources with the right skills and equipment are ready for our clients to manage and direct.
Charges are based on effort undertaken which can be anywhere from a minimum 2.5-hour engagement up to 30 days. It is a very effective way to put task-based work in safe hands.
Where, specifically, can clients see value in using your WaaS service?
There are four main areas where we are mainly seeing traction with our WaaS offering: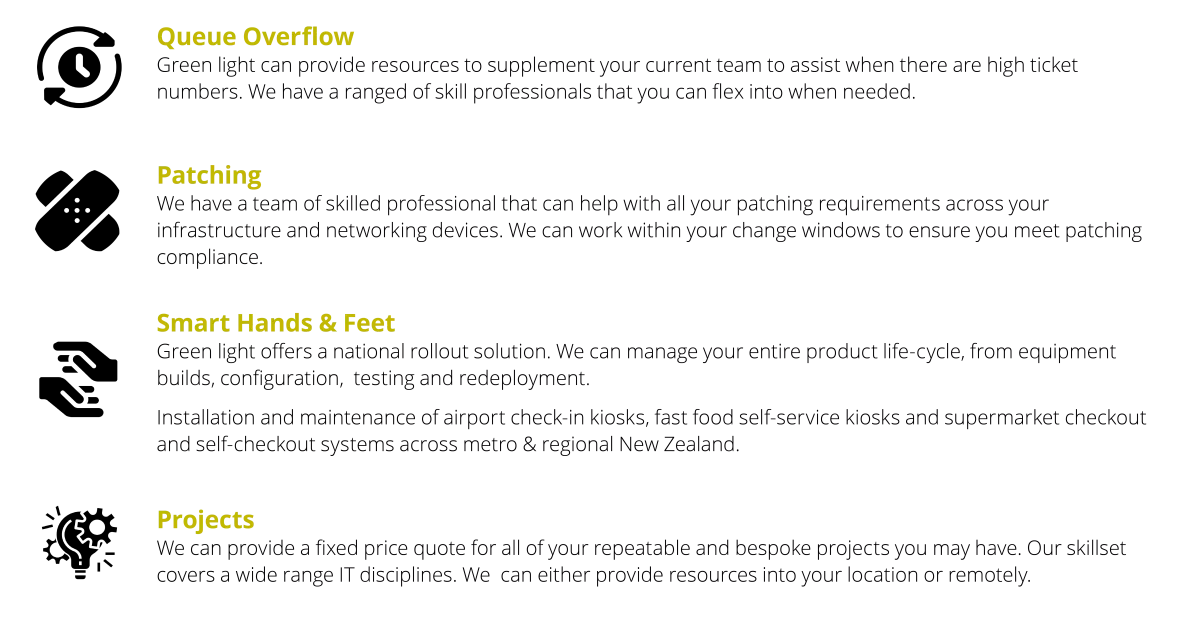 As above, the first area is queue overflow. Green Light can provide resources to supplement a client's current team to assist when there are high ticket numbers. We have a range of skilled professionals that our partners can flex into when needed.

We provide this service to some New Zealand systems integrators, where we augment their teams in the main centres when their ticket numbers become unmanageable, and in more remote areas we are often the sole provider. Whether it's installing, maintaining, or break-fix of supermarket checkouts and POS systems, or kiosks for ordering burgers, or checking in at the airport, our team has it covered.

The second area is patching. We have a team of skilled professionals that can help with requirements across infrastructure and networking devices. Green Light can also work within a client's change windows to ensure they meet patching compliance.

Laptop or PC build and deployments is the third most popular area. We have a build factory that can build and deploy PCs and laptops with the client's image. We can receive the equipment, unbox, build, and send it to the intended recipients.

And lastly is projects. We can provide a fixed price quote for repeatable and bespoke projects. Our skillset covers a wide range of ICT disciplines and we can provide resources into a specific location or work remotely. Our teams of engineers are spread across the regions from Northland to Invercargill.
What infrastructure or resources do you have in the ANZ market?
Green Light has more than 14 years of experience and has built an impressive team of resources. We currently have more than 137,000 resources on our virtual bench, with over 30,000 of those based in New Zealand.
We have resources placed in most regional and remote areas of both the North and South Islands so we are often called upon to pick up spill-over tickets in those areas.
If a partner or enterprise end-user wanted to engage with you, what is the best way?
Contact me via email at vinnyn@greenlightworldwide.com, on LinkedIn, and learn more about Green Light here.