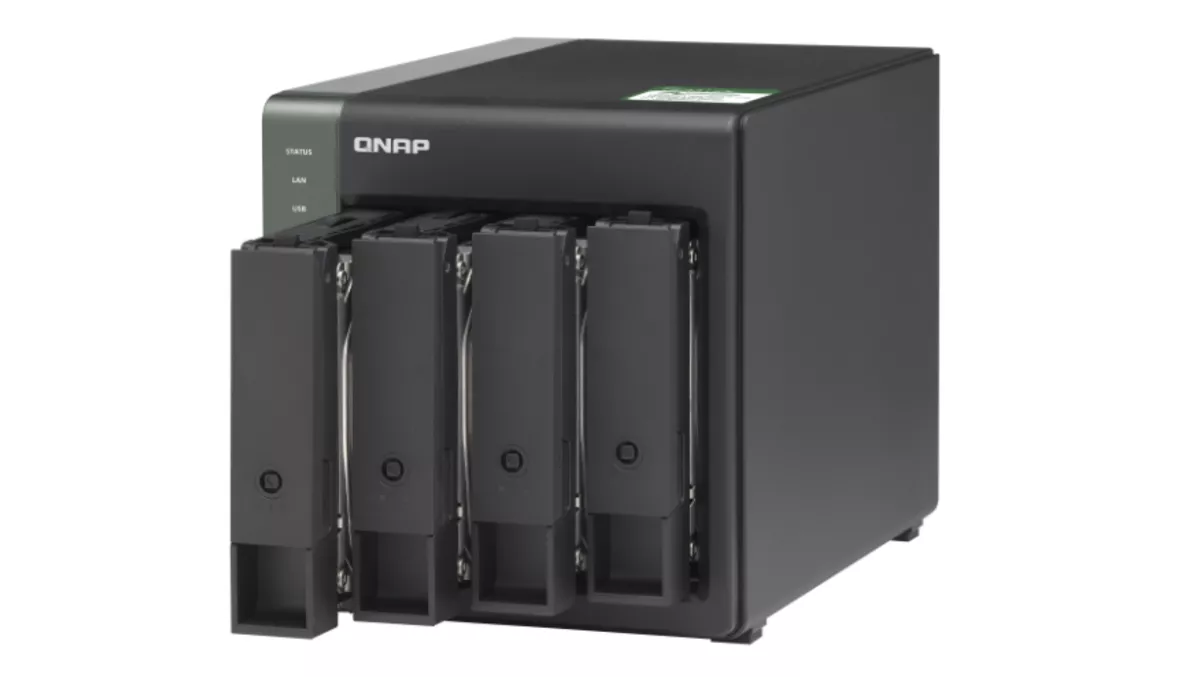 QNAP releases quad-core NAS SMBs and startups
Tue, 26th May 2020
FYI, this story is more than a year old
QNAP Systems, a computing, networking and storage solution provider, has released a startup and SMB-focused quad-core 1.7 GHz NAS.
The TS-431KX NAS includes 10GbE SFP+ connectivity to provide high bandwidth for intensive data transmission.
The TS-431KX supports Snapshot technology and HBS (Hybrid Backup Sync) local, offsite and cloud backup that enables a well-rounded disaster recovery plan to ensure uninterrupted services.
The quad-core 1.7 GHz processor comes with 2GB RAM and is upgradable to 8 GB, with one 10GbE SFP+ and two 1GbE network ports.
Coupled with a QNAP QSW series 10GbE/NBASE-T network switch, users can easily build a high-speed 10GbE network environment.
Tool-less and lockable drive bays allow for simpler installation easier while also ensuring the drives are safe and secure.
"The TS-431KX is a quad-core 10GbE NAS that is ideal for streamlining collaborative workflows in SMB IT environments," says QNAP product manager Jason Hsu.
"Not only can it facilitate centralised data storage, backup, sharing, and disaster recovery, but the TS-431KX can also be used as an IoT (Internet of Things) platform and run a wide range of productivity-boosting apps to enhance organizational performance.
The new NAS's Notification Center consolidates all QTS system events and alerts to provides users with a single-app notification solution.
Security Counselor evaluates and recommends security settings to improve NAS security.
HBS allows users to back up NAS data to another NAS or to cloud storage for an off-site copy to ensure higher data security.
Snapshots are also supported to assist users in mitigating the threat of ransomware and accidental deletion/modification of files.
The built-in QTS App Center provides a wide range of useful applications:
Surveillance Station allows for building a secure surveillance system;
Qsync automatically synchronizes files between NAS, mobile devices and computers;
Container Station allows importing or exporting LXC and Docker apps;
QmailAgent enables centralised management of multiple email accounts;
Qfiling automates file organization; and
Qsirch quickly finds needed files.
Users can also download companion mobile apps to remotely access their NAS to improve work efficiency.
Specifications
TS-431KX: Tower model; 4-bay, AnnapurnaLabs AL-214 quad-core 1.7 GHz processor, 2GB RAM (single memory slot, expandable to 8 GB); hot-swappable 3.5-inch SATA 6Gbps bays; 1 x 10GbE SFP+ port and 2 x GbE RJ45 ports, 3 x USB 3.2 Gen 1 ports.
This new model complements the personal-use focused NAS QNAP released last month.
The TS-x31K series NAS is designed for home and personal cloud storage for users who wish to build their own private clouds.
The TS-x31K NAS comes in 1-bay, 2,bay, and 4-bay models, all of which are powered by a quad-core 1.7 GHz processor. They also feature 1 gigabyte (GB) of RAM, SATA 6 Gb/s, and AES-256 bit encryption.