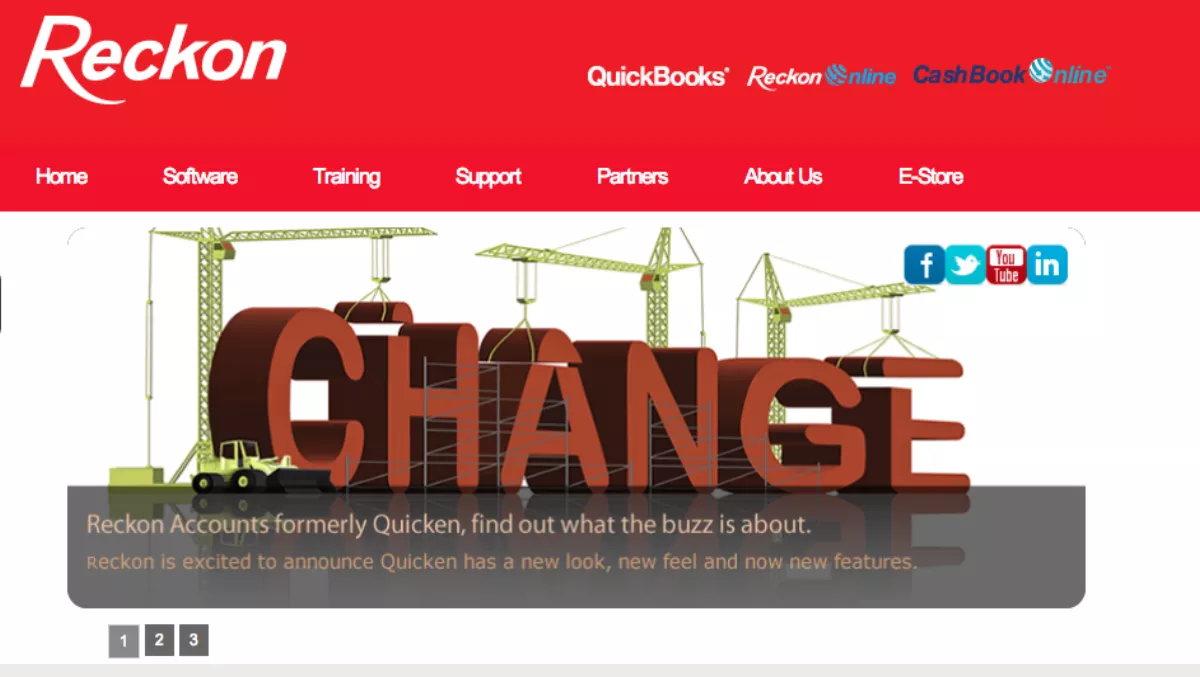 Quicken has a new name, look and feel
Mon 19 Nov 2012
FYI, this story is more than a year old
Reckon New Zealand's company-wide rebrand has officially kicked off with the rebranding of its market-leading suite of personal software, Reckon Accounts.
Formerly known as the Quicken range, the newly-named Reckon Accounts personal range of software is the first step in a major rebranding exercise for the online accounting software specialist.
Over the next 12 months, Reckon will be rebranding its entire product suite – from Quicken, QuickBooks and Reckon Online – to one single recognisable brand name, Reckon.
The first cab-off-the-rank in the rebrand, the Reckon Accounts product suite, is Reckon's range of personal software solutions aimed at individuals, sole proprietors and small business owners.
"These are essentially people who need tools to manage their general and business finances, GST, investments, KiwiSaver contributions and also their household assets," says Catie Cotcher, General Manager for Reckon New Zealand.
"It's designed to give those customers a complete picture of their financial health and/or the health of their small business in one place."
Along with the new name, Reckon Accounts, the personal software range has added new functionality and enhanced features, such as job tracking tools that make it easier for Reckon customers to manage all their financial records in once place; the ability to analyse ongoing performance in a graphical format; and a single compressed back-up file for safe storage and easy transfer.
"Reckon is known for safe and secure storage of data," says Cotcher. "As well as providing our customers with excellent customer service and top notch products, we've always focused on ensuring we can upgrade our customers' software and migrate data safely at every juncture as their individual business and personal needs change."
The wider Reckon rebrand signals the first step in a major growth strategy for the Reckon business both here in New Zealand and in Australia.
"Absolutely, it's a key initiative for our business," says Cotcher. "We have over 30,000 customers in New Zealand, both business and personal users, so it made sense to bring all our products under one highly recognisable brand name, Reckon.
"Essentially, Reckon is on a major growth path both here and in Australia. We are constantly expanding the functionality of the product range and adding new software solutions, so we wanted to bring all our market-leading brands under the one brand name and provide an even stronger offering to all our customers."
The new software solutions earmarked for the wider Reckon business in 2013 include the launch of a new raft of Cloud solutions.
"The Cloud is key for Reckon and our industry, and more importantly, to our customers," says Cotcher. "We know it is the way forward and our business owner and software customers have indicated to us that this is something that will be of huge interest and huge value to their businesses. They want us to work with them to harness the possibilities that the Cloud offers."
But Cotcher is quick to point out that Reckon's role is not only to provide Cloud solutions but to provide Cloud solutions that continue to be both innovative and allow for ease of upgrade and enhanced functionality.
"We understand our customers need to be mobile and able to manage the day-to-day running of their businesses, but we also understand that they want to know that those solutions are secure, reliable and innovative so that they are ultimately successful for their bottom line.
"Reckon is known for excellent products and proven product delivery – and that will never change."
To celebrate the new Reckon Accounts product suite, Reckon is giving away 10 copies of Reckon Accounts Personal Plus 2013 (RRP: $229). To enter the draw, click here