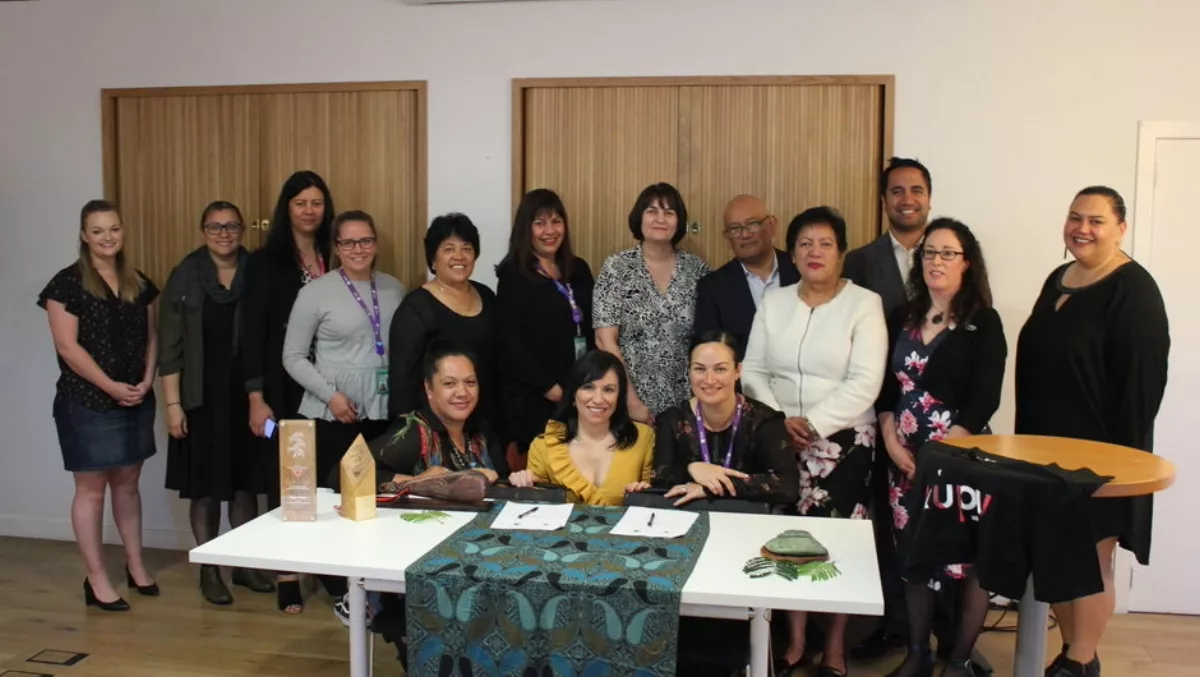 Spark strengthen ties with Māori Language Commission
FYI, this story is more than a year old
Spark NZ and Te Taura Whiri i te Reo Māori (The Māori Language Commision) have signed a mahi tahi Memorandum of Understanding to promote and revitalise te reo Māori.
The signing of the mahi tahi agreement follows on from Spark's success at this year's Māori Language Awards where the digital services provider received the Supreme award for their mobile app 'Kupu' which translates objects in pictures into te reo Māori.
The mutual arrangement will see Spark work closer with Te Taura Whiri i te Reo Māori, building on an already valuable relationship between the two organisations that has grown over the past 19 months.
Spark's Māori strategy lead Lisa Paraku says the signing of the mahi tahi agreement is a milestone the company's proud of as it represents the work that has been done and what will continue to be achieved with the help of Te Taura Whiri i te Reo Māori.
"With meaningful partnerships like this, we truly believe our national treasure - te reo Māori - will continue to be revitalised and show up as an everyday language which resonates throughout New Zealand.
"We're looking forward to continuing working alongside Te Taura Whiri i te Reo Māori who will consult on a strategic vision and plan that will underpin a number of our policies and strategies moving forward.
"Earlier this year we launched Kupu which has proven to play an innovative role in the space. Within a week we saw over 130,000 New Zealanders using the app with over 1.8 million pictures translated into te reo Māori, with those numbers still climbing.
"Using technology and digital platforms is a great way to encourage the use and learning of te reo Māori. Kupu is an evolution of the resources that are already out there so it's been heartening to see Aotearoa embracing the tool."
Moving forward Spark and Te Taura Whiri i te Reo Māori will set in place a relationship which benefits each organisation's goals. This will include the commission providing regular advice and planning support at the strategic level to support Spark, the design and implementation of a te reo Māori language plan, plus more initiatives that will have te reo Māori at the forefront.
"Spark - or Kora Aotearoa as we call it when speaking Māori - shows a deep commitment to Aotearoa by supporting the revitalisation of the Māori language," says Te Taura Whiri i te Reo Māori tumuaki (chief executive) Ngahiwi Apanui says.
"Spark's initiatives show revitalisation is about more than individuals' learning – it is also about organisations using their strengths in support of our indigenous language.
"The Māori language brings options and advantages to business in marketing, in the communication of values and in building staff cohesion across many different backgrounds. No matter who you are, if you are in New Zealand, the Māori language is for you and says: 'Nō Aotearoa ahau: I am a New Zealander.'
"This is not a new thing for te reo Māori. It was New Zealand's first language of business and trade. Spark and other companies are restoring te reo Māori to its place in the commercial world".
Related stories
Top stories