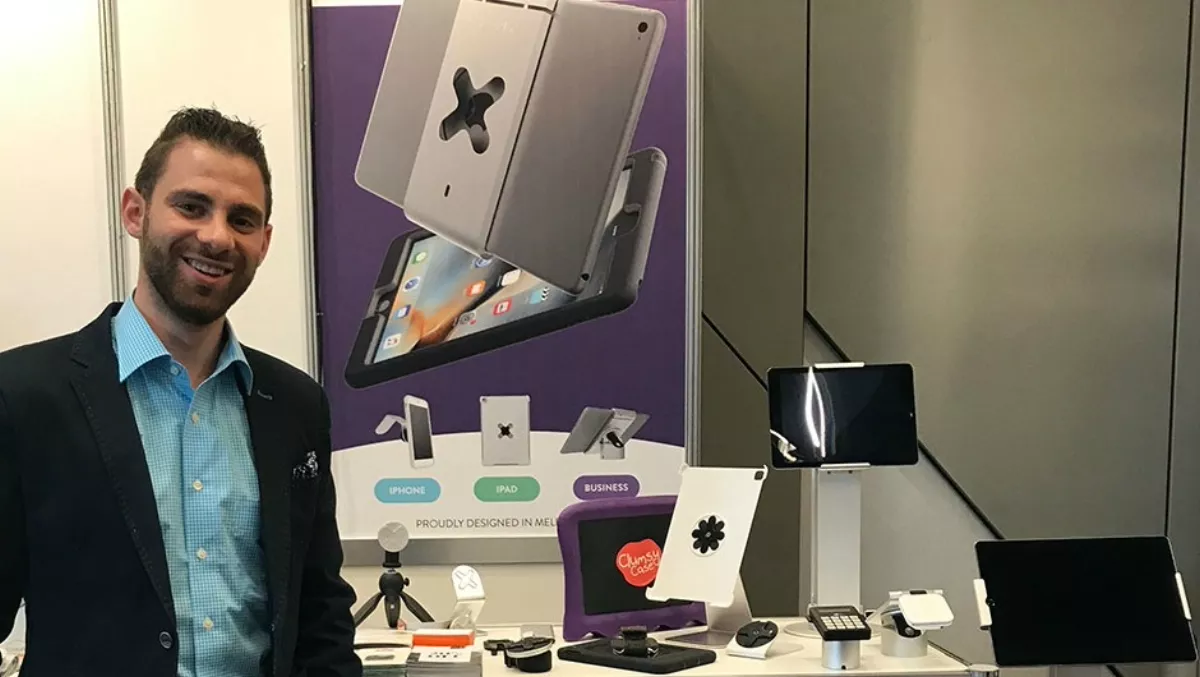 Studio Proper eyes commercial retail and education as it ups local push
By Heather Wright,
Mon 17 Jul 2017
FYI, this story is more than a year old
Studio Proper, the Australian developer of modular accessories and cases for Apple offerings, is eyeing aggressive growth in commercial sales within large retailers, along with the education market locally.
The company offers a range of modular accessories, including mounts and stands, along with cases for the iPad, iPhone and Apple Watch.
In April it signed a New Zealand distribution deal with Ingram Micro New Zealand.
Speaking at last week's Ingram Micro Showcase 2017, Eli Vayn, Studio Proper business development manager, says both the retail commercial sales and education segments are potential areas for big growth for the vendor.
StudioProper says it has a 'unique' approach to designing premium accessories that are high on function, and suggests there aren't many brands taking this approach to the large addressable markets of education and health.
With iPads the leading tablet of choice for schools, many of whom require their students to purchase the device, insuring the device by way of protection is 'an absolute necessity', the company says. StudioProper offers protection but says it goes a lot further by providing value through an ecosystem of accessories that are designed to provide great experiences to the end use.
However, the company isn't just eyeing the education, health and commercial retail sales, with Vayn pushing the company's broad range as a key selling point for the brand.
"We have identified New Zealand as a great opportunity [for Studio Proper. Currently available options are limited and no other brand can provide a broad spectrum of solutions within a single range like we can" he says.
"Our product ecosystem crosses personal use, right through to retail, education, hospitality and enterprise solutions.
"The modularity of our products allows users to blend, swap, interchange in a way that means they are never wasting money on replacing hardware with every iPad model launch. Our accessories are universal, meaning you'll only ever need to purchase an upgraded iPad case, all accessories will remain compatible."
Vayn is also pushing the company's focus on listening closely to what customers want and says StudioProper sees their partnership with resellers as a key feedback loop, enabling them to quickly iterate and position solutions that the customer needs.
"We're constantly listening to our partners and end users, if there is a request for an accessory we haven't made yet we are uniquely positioned to move quickly and provide a best of breed solution."
He's eyeing potential opportunities in the medical and healthcare markets, and says StudioProper is always excited by the specific needs of each customer, and the opportunities to put in place solution reflecting those unique needs.
"StudioProper is capable of delivering solutions into these typically complex markets, while retaining our award winning focus on aesthetics and convenient functionality" he says.
Last year the company did a deal with Myer for 700 rugged iPad cases requiring specific features for the retailer.
Looking to the future Vayn says the vendor is currently undertaking a substantial design review and upgrade across its iPhone range – though the new offerings will continue to work with current offerings, something that's a key focus for the company.
"Everything will continue to be both forwards and backwards compatible," Vayn says of the new iPhone offerings, "but we've worked hard to improve the experience through tweaks and people will recognise these enhancements straight away."
A big iPad range announcent is also on the cards, he says, however, he's remaining tight-lipped on the details – at least for now.