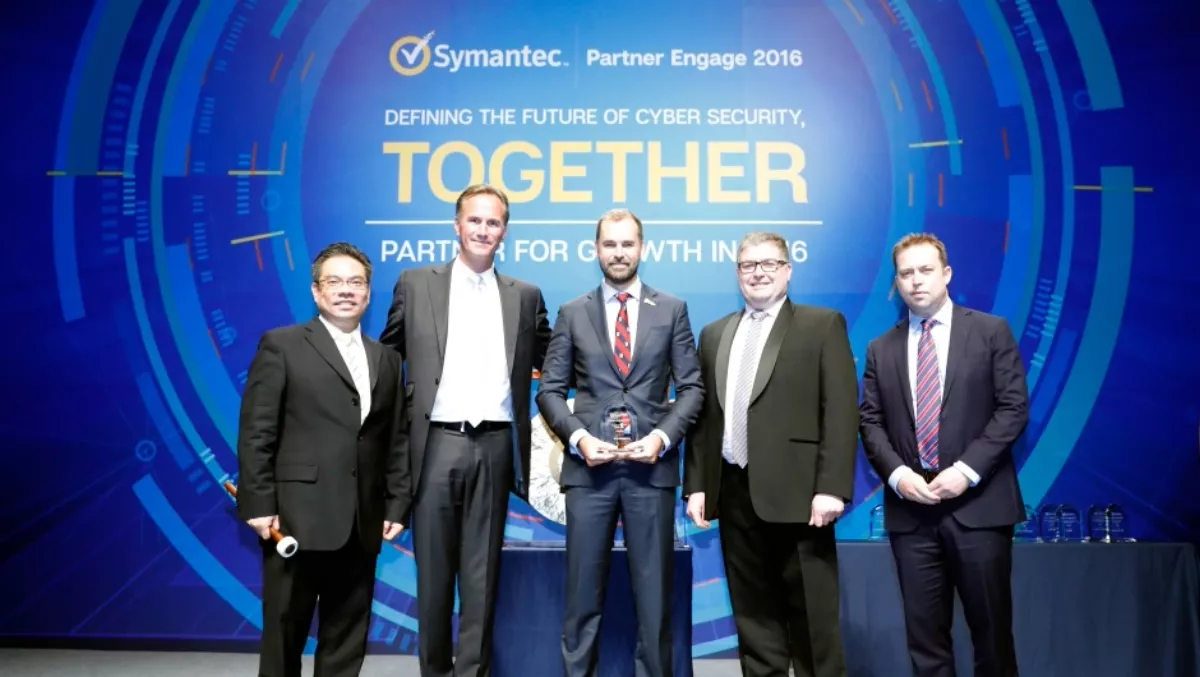 Symantec Partner Engage 2016: Regional partner award winners
FYI, this story is more than a year old
​The Asia Pacific edition of Symantec Partner Engage 2016 took place this week in Tokyo.
The main theme of the event seemed to be about assuring partners of the future and the still very recent Blue Coat acquisition – this was the company's first appearance as a combine organisation in the area.
Approximately 200 partners from around Asia Pacific and Japan attended the event to find out more about the new era for Symantec.
Symantec senior vice president for Asia Pacific and Japan, Sanjay Rohatgi says the Symantec and Blue Coat combination presents an exciting opportunity for the security industry and their partners.
"We are the industry's largest pure play cyber security company," Rohatgi says. "With our increased scale, portfolio and resources, partners can now look to Symantec as a single strategic source for integrated solutions across endpoints, cloud and infrastructure to help defend against sophisticated attacks and create a stronger, more cost-efficient security posture."
While there was a lot of focus on the Blue Coat acquisition, another highlight was the Partner awards, which recognise and honour the commitment and dedication of both Symantec and Blue Coat partners. The winners were selected based on criteria such as innovation, overall performance in revenue, deal registration, technical and marketing investments, customer service excellence and certification.
The Symantec APJ Partner Awards include three Asia Pacific and Japan (APJ) award categories and six regional awards. The winners for 2016 include:
Symantec
APJ GSI Partner of the Year: Hewlett Packard Enterprise
APJ Distributor of the Year: Ingram Micro Asia Pacific
APJ Partner of the Year- Innovation: HCL Technologies
Regional Partner of the Year:
ASG Group, Pacific; Amidas Hong Kong Limited, Greater China Region; Imperium Solutions Pte Ltd., ASEAN; ESCARE, Korea; Fuji Xerox Co., Ltd, Japan, and Softcell Technologies, India.
Blue Coat
APJ GSI Partner of the Year: Dimension Data APJ
APJ Distributor of the Year: MTech Holdings Pte Ltd.
APJ MSP of the Year: Telstra Australia
Regional Partner of the Year:
Arrow ECS Australia, Pacific; Beijing JN TASS Information Technology Co Ltd, Greater China Region; Nexus Technology, ASEAN; EDEN T&S, Korea; Macnica Networks, Japan, and Meta Infotech, India.
ASG Group, New World Services general manager, Michael Simkovic says ASG made strategic investments in Symantec last year and experienced a whopping 222 percent year-on-year growth across all competencies.
"In addition, the company achieved Platinum status from Silver within six months," Simkovic says. "ASG is delighted to realise significant growth with Symantec and is planning the next phase of its significant investment with Symantec to deliver the same results in the next year and beyond. It is a strong and effective partnership."
Ingram Micro executive vice president and group president for Asia Pacifc, Michael Zills shares Simkovic's sentiments.
"Symantec has always been an important security vendor for us and our partnership has grown from strength to strength over the years," Zills says. "I have no doubt that with the combined strength of Symantec and Bluecoat, we have exciting times ahead."
Symantec vice president of channels and commercial for Asia Pacific and Japan, Edwin Yeo affirms that their partners play a critical role in driving business success and contributing positively to customers across the region.
"Many congratulations to all our award winning partners. I am confident the new Symantec will provide our partners with more opportunities to innovate and accelerate growth in 2017 and beyond," Yeo concludes.
Related stories
Top stories