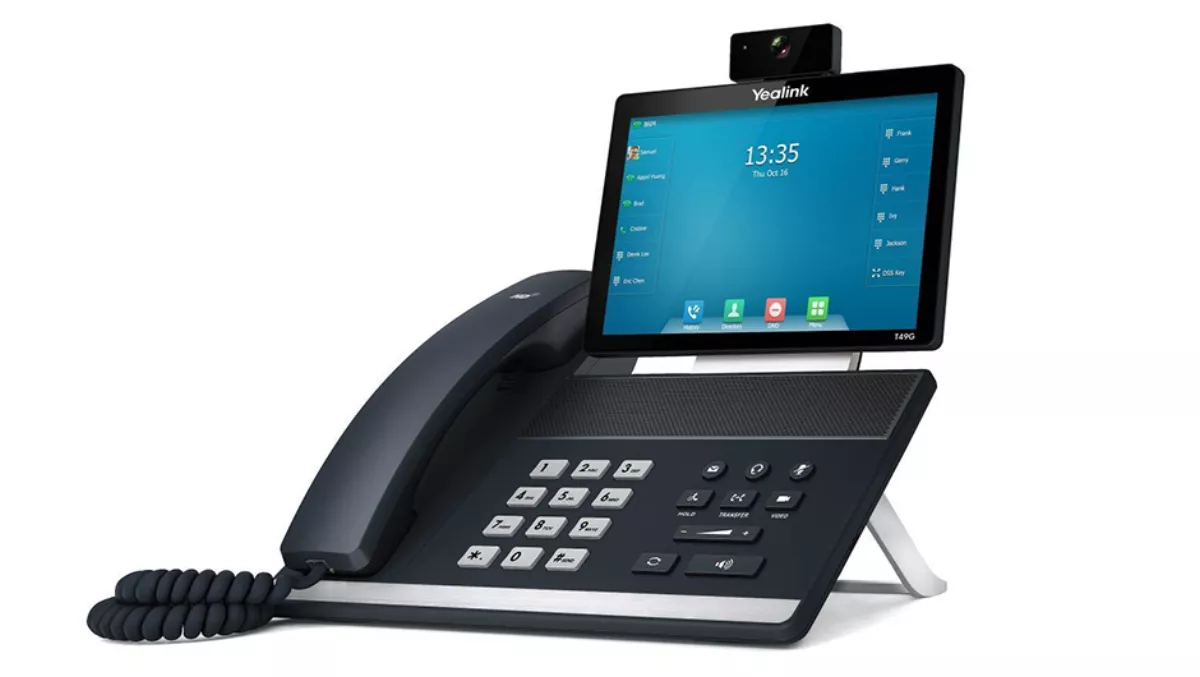 Is this the best video phone money can buy? Yealink T49G reviewed
By Ashton Young,
Thu 6 Oct 2016
FYI, this story is more than a year old
The Yealink T49G is a flagship video phone, tailored to the needs of executives, small businesses and teleworkers. Yealink released the product early this year, and it has been making waves ever since.
Here are my thoughts on this leading desktop-based video collaboration solution.
First impressions
Out of the box, it is clear that this is a quality device with a top-level design to serve as a complete voice and video solution. The T49G is very stylish and would look great on any desk with a very professional and elegant appearance.
It is a solid and sturdy device with an aluminium alloy frame, a beautifully big 8" LCD touch screen, a discreet camera and seemingly endless flexibility. The camera and screen both fit onto the base and are separately adjustable to easily enable users to adjust both pieces to an appropriate angle for video calls. Even with all the tech packed in, it the T49G still seems to only take up a small portion of desk space.
Features
As aforementioned, the T49G is packed with features and functions. Some of these include:
Large 8" 1280 x 800 capacitive touch screen
Full-HD 1080p30 video call quality
2-megapixel HD camera with privacy shutter
Built-in Bluetooth 4.0+ EDR for headsets and pairing mobile devices
Built-in Wi-Fi
HDMI output
USB ports (2.0 compliant) for media and storage
Dual-port Gigabit Ethernet
Supports up to 16 SIP accounts
3-way video conferencing
5-way mixed audio/video conferencing
When the T49G advertises HD video, they certainly mean it. With the 1080px resolution, it rivals Netflix streams in terms of quality.
The camera is reasonable, and the privacy shutter is a nice touch, as is the built-in WiFi. A lot of phones these days tend to be wired ports only, and this can be a problem in the increasingly wireless world we live in. The Bluetooth 4.0 is also a very handy feature for using headsets or pairing with your smartphone.
The user interface is very intuitive. Almost everything that you could possibly need can be done on the phone without having to fire up a web browser to log in to the phone portal and access the full range of options.
There are a number of USB ports for further memory and a USB 3.0 port if you want to connect a camera with a higher resolution (the standard camera is easily sufficient though).
In terms of voice quality, the T49G is almost in a league of its own. The microphone is situated on the top to enable 360-degree pickup, it has a Harman Kardon speaker solution with enhanced echo cancellation and it supports all of the standard audio codecs.
One of the most notable features of the T49G is its ability to hold a quality 3-way simultaneous video conference – certainly much better than a Skype conference call. The mixed conference feature means both video and audio-only participants can be in the same call.
While the video features are the main draw of the T49G, even without the screen the device would still easily compete with best voice phones on the market. It can register up to 16 SIP accounts, meaning it could easily power call centre operators, managers and employees all with multiple roles.
All in all, the T49G is an outstanding video phone. Well done Yealink on another great product.