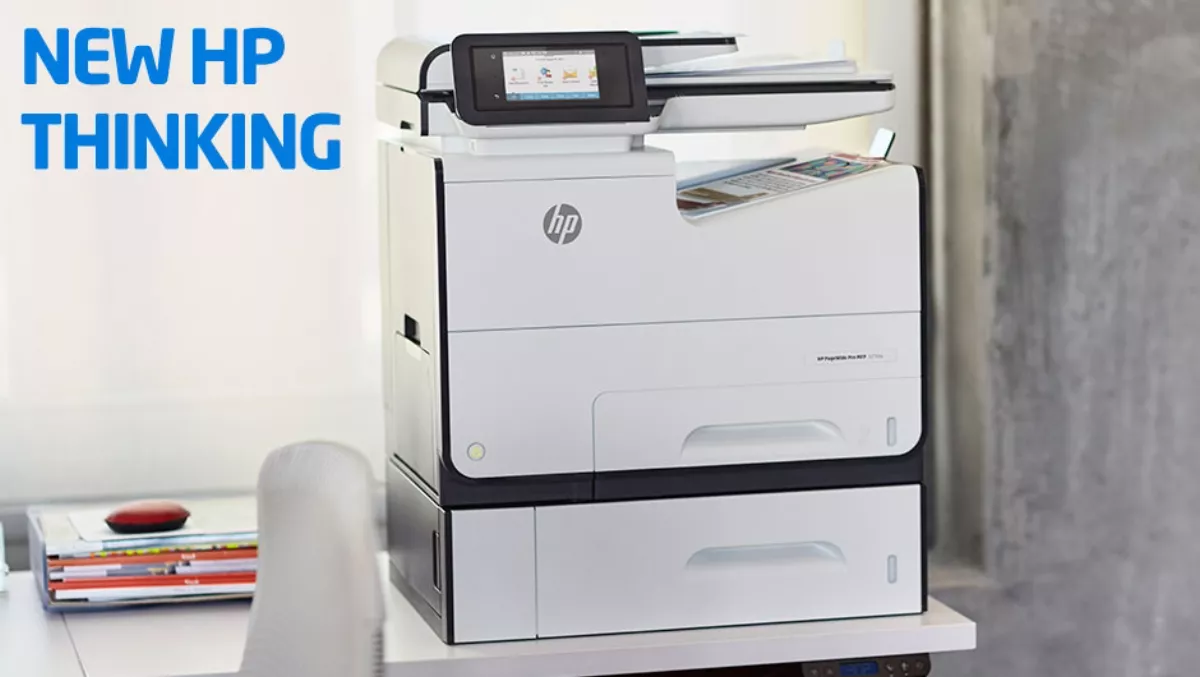 Transformative business printers launched by the new HP
FYI, this story is more than a year old
HP invented the inkjet printer nearly 30 years ago. Over the decades, they've refined the technology and entered into the laser printer market.
Nowadays, HP has DeskJet and Envy printers for consumers, OfficeJet and LaserJet for businesses and a specialist range of wide-format printers called the DesignJet.
A transformative new range has just been added to this, called HP PageWide.
The prices of inkjet printers and the costs to run them have plummeted in recent years. The limitation for business users of inkjet printers has been the small cartridge sizes and the speed. With typical inkjet printers, the print heads have to run back and forth hundreds of times to produce an A4 printed page, thus limiting its speed and requiring a lot of moving parts.
On the other hand laser printers are great for speed but with so many moving parts and often expensive consumables like toner, fusers and transfer belts, they have been expensive to run - especially with colour prints.
HP's new PageWide printers are a beautiful balance of both. It's actually an inkjet printer range, but it has a bar of print heads which are wide enough to cover the whole A4 page, so don't need to run back and forth. This means no moving parts apart from a few rollers and the paper running through them.
This allows PageWide to keep the fast speeds of laser printers but without the expensive consumables.
This technology is well proven with over 140 million pages printed in HP's DesignJet printer range, but this is the first time it's come down to business and corporate level products.
Over 40,000 individual droplets of ink can be squirted onto the paper instantaneously, meaning up to 75 pages per minute (depending upon the model) can be printed. The new technology is the same speed when printing colour or monochrome.
Also, the cartridges are much higher capacity than consumer grade inkjet while being much smaller than laser supplies.
With a three-year print head warranty, the ink will not smear, smudge or run and is fade and water resistant.
The PageWide range includes both printers and multi-function devices. Those with scanners built in now have double-sided scanning with speeds up to 75 pages per minute.
The range includes six models:
HP PageWide Enterprise Color 556 and MFP 586
Small businesses and medium sized workgroups
Monthly duty cycle of 15,000 pages a month
Print speeds of up to 75 pages per minute
HP PageWide Pro 552dw and the MFP 577dw
Small business and smaller workgroups
Monthly duty cycle of 6,000 pages a month
Print speeds of up to 70 pages per minute
HP PageWide Pro 452dw and the MFP 477dw
Small businesses and small workgroups
Monthly duty cycle of 4,500 pages a month
Print speeds of up to 55 pages per minute
Like any inkjet printer, using the right paper is essential as the droplets have to be absorbed into the paper. You can still print great photos and awesome colours with an HP PageWide printer, but to get the most vibrant colours it's advised to use higher quality paper without coatings.
This is unlike laser printers which are more versatile with the paper as they simply place a layer of ink over the top of the paper. Laser printers will also be better for organisations doing large volumes of monochrome printing, but for almost every other use or organisation the PageWide technology is the faster, cheaper option and will require less maintenance.
At this stage HP has no plans to bring the PageWide technology to consumers.
Related stories
Top stories