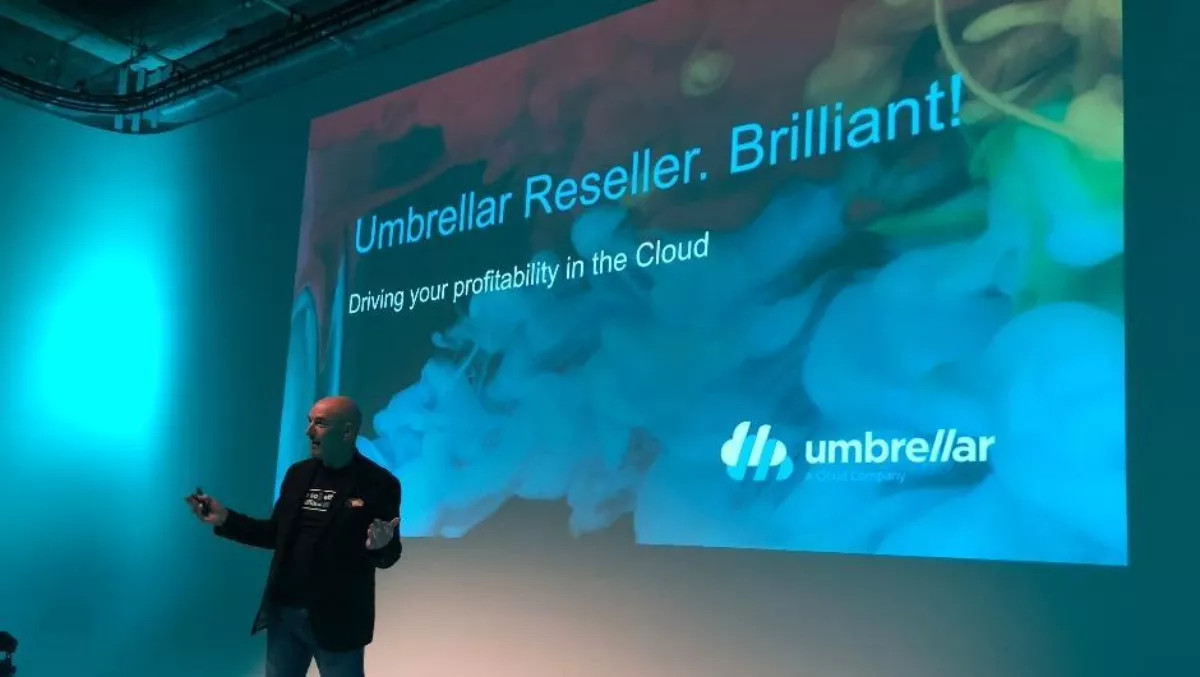 Umbrellar opens up to channel with new reseller programme
By Ben Moore,
Mon 9 Jul 2018
FYI, this story is more than a year old
​Umbrellar continues to expand its position as a rising star in the Kiwi channel with the announcement of its Reseller Programme, unveiled at a launch event on Thursday last week.
Aside from being the largest domain manager in the country, Umbrellar also manage over 3000 virtual machines, providing virtualised infrastructure to organisations across New Zealand.
The development of Umbrellar's partner programme was framed by its position as a company with a narrow but deep approach, focusing on driving digital transformation (DX) across New Zealand through the adoption of their public cloud offerings.
During the presentation at the launch event, Umbrellar head of cloud Dave Howden is open about the fact that reseller partners have a vital role to play if the company want to continue growing in the DX and cloud space.
"The single biggest statement we make going forward as a business is that we do not compete with the channel - we can't achieve our mission if we do that," Howden says.
"Therefore, we are a partner-led organisation driving the channel to support you in the co-selling, the co-marketing, and the co-creation of great IP to drive the transformation of New Zealand."
The programme itself is split into two tiers, Silver for partners bringing in up to 10k/months and Black for those who surpass that.
All partners will be eligible for the usual rebates and support, but also support for billing, subscription management including single bill options and built-in analytics, and a discount of 5% on all Umbrellar services consumed directly by the partner.
For Black tier partners, that discount rises to 7.5% plus they will receive market development funds to the value of 2% of its Umbrellar revenue, given clear proof of execution and planning for RoI.
There will also be quarterly training sessions made available plus a distilled version of Microsoft's white label marketing content that is Kiwi-centric and curated by a dedicated team.
Umbrellar will even be monitoring the incentives that are available in order to pass on those savings to reseller partners and give every chance for maximum profitability.
Microsoft provides the backbone of Umbrellar's solutions, with Azure Stack and the range of 365 offerings.
"We have had amazing air cover right up to (Microsoft CEO Satya) Nadella's table as a tiny little company in New Zealand, which has been enabled by the local team here," says Umbrellar chief executive Michael Foley of the companies' relationship.
"Our engineers and developers have direct relationships with the folks who run the Azure and Azure Stack programme. The Azure Stack innovation itself is really the thing we used as a catalyst to go - we can push the edge of the cloud out to New Zealand, not just as a SKU on a shelf but something that is going to wrap around it as a true enabler of digital transformation."
Microsoft New Zealand managing director Barrie Sheers backed up Foley's comments, speaking to the attendees of the event about their aligning mission statements.
"If you marry our mission statements together you get, 'Microsoft empowers people and organisations to achieve more,' and, 'Umbrellar strives to help New Zealand businesses become brilliant," Sheers says.
"I sometimes think that we are in the business of the future, or at least that we are moulding parts of what the future will look like. Many of us forget, perhaps because we are too close to the coalface, just how big an impact technology is having on business and society. I'm certainly very proud to be part of that industry, the progress that we are making, and of working alongside Umbrellar and our partner ecosystem to make NZ businesses just a little bit more brilliant."