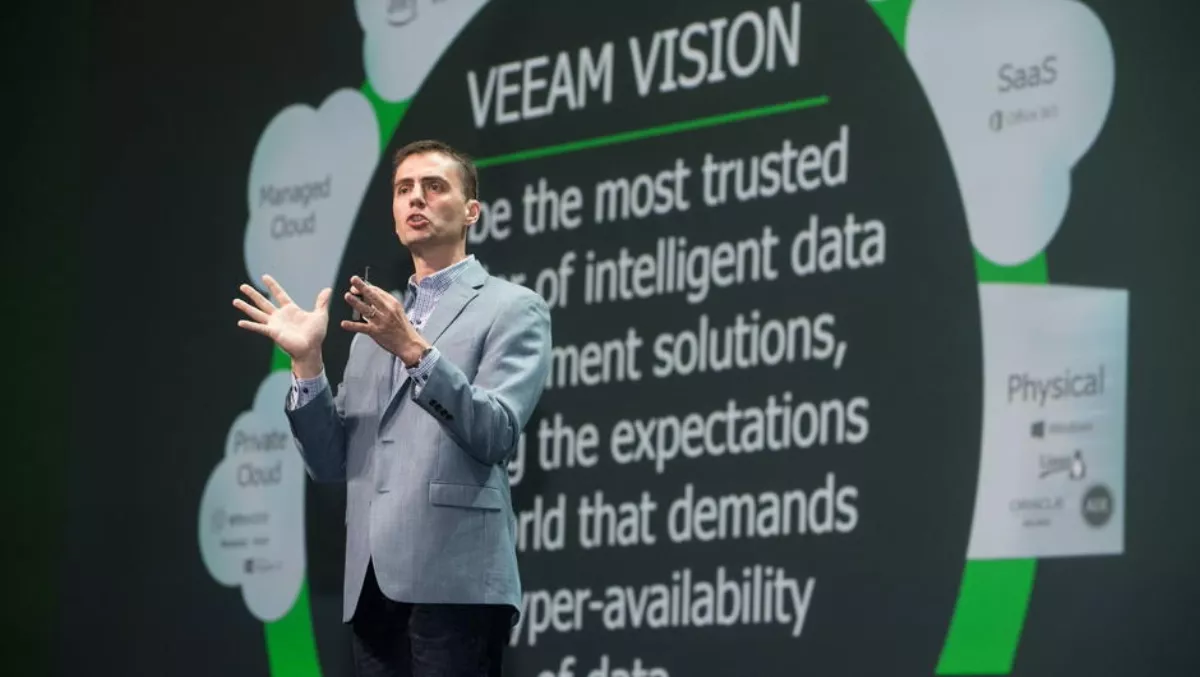 VeeamON: How A/NZ helped make Veeam what it is today
By Ben Moore,
Wed 23 May 2018
FYI, this story is more than a year old
It's not a secret that Australia and New Zealand are early adopters of new technologies amongst OECD countries.
Today, we are known as global leaders in cloud and IoT - 10 years ago, we were leading the charge with virtulisation.
Considering this position, it is no surprise that our corner of the world has had a major impact on Veeam's approach to the market since day one.
"We realised that A/NZ was ahead in terms of innovation, particularly virtualisation and now cloud, and invested in that market from the early days 8 years ago," says Veeam co-founder Ratmir Timashev.
"We invested early and now we are doubling down on A/NZ with our new leader in charge of APJ, Shaun McLagan, who came on board a year ago. The service providers business model is ahead in A/NZ and many are using Veeam as a technology."
That was a common theme in conversation with the senior leadership team - the Australia and New Zealand IT market is advanced, mature and will be seen more globally in the future.
"Our A/NZ presence is growing at around 40% year-over-year and we can leverage the learnings from the highly virtualised, highly cloud-adopted market in A/NZ to help others in APJ," Veeam APJ senior vice president Shaun McLagan says.
"The region is a great exporter of knowledge. There are very good architects from across Australia and New Zealand who get to engage in the marketplace that is competitive. The learnings we've had from the marketplace is how to have those outcomes based conversations, driving end-user affinity to Veeam so that we can move to a conversation around consumption. The requirement in the A/NZ market is driving those conversations."
This is not only an historical truth - as Veeam continues its rapid global expansion, taking its cues from the leading edge of technology and now widening their focus to include enterprise customers, it continues to look to the A/NZ region to refine their approach.
"In Australia and New Zealand specifically there are two characteristics that I would say differentiate us from the rest of the world - a high penetration of cloud uptake, and a high penetration, or market share, of managed services provider-led initiatives," says Veeam A/NZ vice president Gary Mitchell.
"Where that leads for Veeam is a leverage of that managed service provider approach. We'll see more growth with shared services type organisations. You'll see us partnering with those kinds of organisations on a more platform-based approach."
What this means, Veeam product strategy vice-president Danny Allen says, is that Australia and particularly New Zealand give Veeam a solid foundation for experimenting and seeing how their strategies will play out as the MSP approach is expanding.
"It's a lab - we can test ideas there. We did $827 million in bookings, not recurring revenue, so we might say 'what's going to happen if we switch to an entirely subscription model?' Going to a place that is already very in tune with the cloud is a very good way to test subscription billing. From a technical aspect, we've been toying with this intelligent automation for disaster recovery, you can look at Wellington and think, 'If I have sensors that can see if an earthquake's about to happen and use that to trigger a failover from Wellington to Sydney…'
"It's a great place to test technology, ideas and capabilities that are going to help us be ready for the global market. It's not that you don't matter so we can mess it up there - A/NZ's on the cutting edge. You're leading the world."