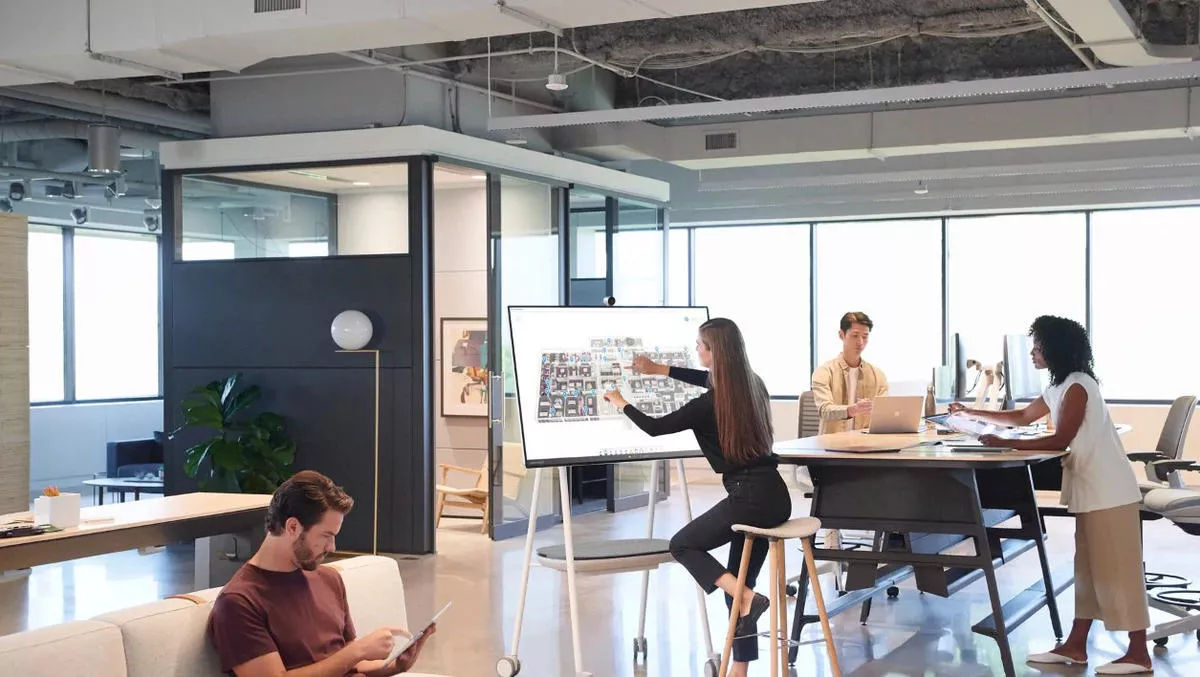 Video: The channel partners' guide to AV installation for Teams
FYI, this story is more than a year old
In the last months, video conferencing has solidified itself as a permanent fixture in workplaces. Enabling the best experience for organisations of all shapes and sizes has now become a major part of many reseller and integrator partners' worlds.
As Microsoft partner development manager Ben Brown explains, "you can have the best software platform in the world but, if you don't have the devices or audio equipment to wrap around that platform, you'll have a terrible user experience."
Brown spared some time to talk us through what needs to be considered when designing a solution to support Microsoft Teams.
The importance of knowing Teams
Teams went from over 13 million daily active users in July 2019 to over 75 million at the end of April.
Brown refers to Satya Nadella's observation that organisations across the world have gone through two years of digital transformation in two months thanks to COVID-19.
Time, budget and resource restrictions have faded away, driven by external sources with companies moving from having no remote capabilities to 10,000+ people all working from home.
To understand these changes and the opportunities they bring, consider that:
80% of employee time is spent collaborating,
each employee works across twice as many teams or business units as 5 years ago,
pre-COVID, 72% of employees were expected to work remotely by 2020,
56% of meetings have at least one remote attendee, and
just 15% of meeting rooms are currently equipped for video.
Brown explains that when designing the Teams platform, consistency across devices from iPhones to desktops was paramount.
The ability to walk into a room and be able to launch or join a meeting in a way that is familiar and simple prevents the loss of productivity that comes with an employee having to switch between platforms or juggle a half a dozen cables and stalling the meeting starting when they can't get a mic to work.
There are three core types of Teams devices:
Rooms – traditional meeting experience with Teams consistency.

These solutions provide a tabletop interface augmented with external mics, speakers, screens etc.
Built by Microsoft partners including Creston, HP, Logitech, Lenovo and Yealink.

Collaborations bar – a lower-cost, drop-in all in one system for small meeting rooms.

Quickly enable customers without any A/V collaboration tools.
Different solutions provide a different user experience. For example, the Poly offering includes a touch screen panel while others come with a more traditional remote control.

Surface Hub 2S – a Microsoft-built room system with a display, speakers and camera built-in, on a rolling cart

Also, a digital whiteboard and can run universal windows application platforms and will soon have more compatibility for web apps.
Selecting the right solution
In conversation with your customer, the usual discussion points are as important as ever like budget and existing tech stack, but Brown explains that just as important is considering the physical specifics, such as room size, furniture and meeting behaviours.
Is the table flush against the wall? Then they won't be able to digitally ink on a Surface Hub mounted on above it.
Are the meetings formal or informal collaborative spaces? Does it have transparent windows? An existing whiteboard?
Gaining an understanding of where they are now and where they will be in the months or years to come will help you and your customer make the right hardware choices.
Brown provides a fantastic matrix that can help you begin this discussion:
This starting point can help you have a fully informed conversation with your customer. It's not the end state, just a reference to help you bring agility to your sales cycle.
For more detail, you can watch the full video below.
Ben Brown encourages partners to look into the Teams certifications to gain a deeper understanding of the platform, and to reach out to him if they are looking for more information.
Partners who are wanting to include the Surface Hub 2S in their portfolio will need to become part of the restricted Surface channel and should contact Ingram Micro specialty brands business manager James Harwood.
Related stories
Top stories