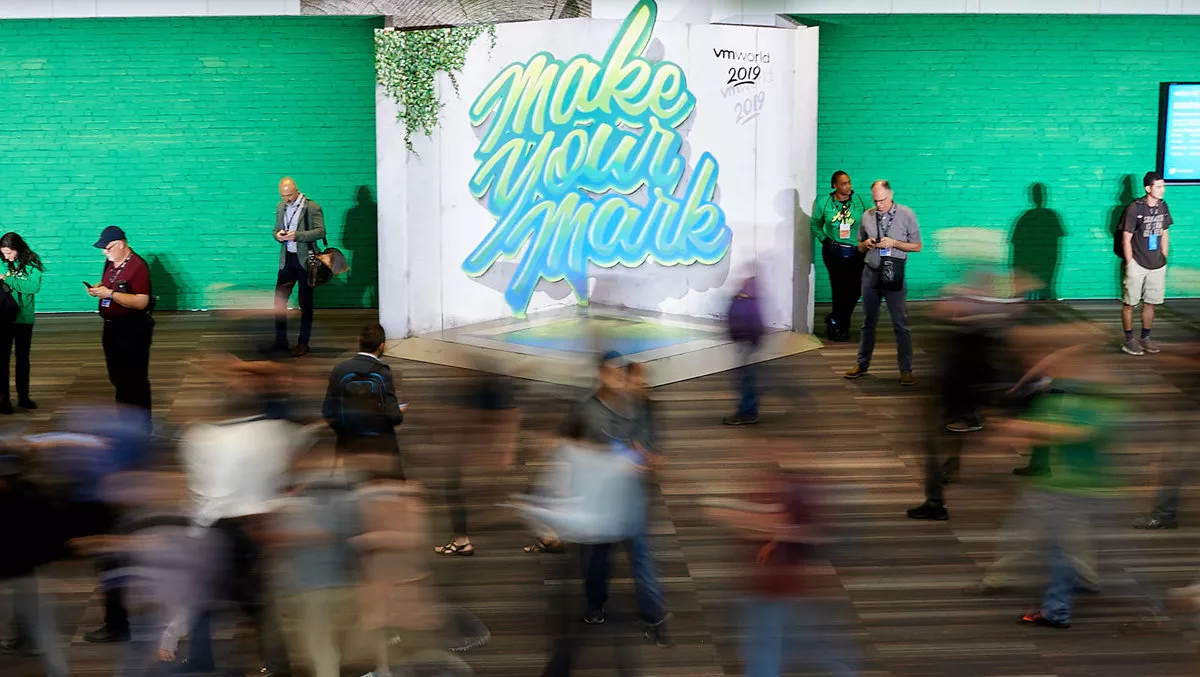 VMware's open pledge to help partners and customers make their mark
FYI, this story is more than a year old
Article by VMware APJ solutions product marketing manager, Brad Engstrom.
Following a successful VMworld 2019, I've been reflecting on what a great week it was. The passion, innovation and excitement that runs through this event always exceeds my expectations, and this year was no different.
As digital innovation is redefining the rules of business, this year we explored how to accelerate the journey to the hybrid cloud, transform networking and security, deliver digital workspaces, and ultimately how to empower our partners to make their mark and take their business to the next level with new technologies.
We made a number of game-changing announcements that will be able to help customers and partners speed-up and simplify their transformation journey. The announcements fit into three key areas:
1. Modern applications
We unveiled VMware Tanzu, a new portfolio of products and services to transform the way enterprises build, run and manage software on Kubernetes. This includes Project Pacific, which is focused on transforming vSphere into a Kubernetes native platform and VMware Tanzu Mission Control – a single point of control from which customers can manage all their Kubernetes clusters, regardless of where they run.
We recently announced our intent to acquire Pivotal, we expect VMware will be a comprehensive enterprise-grade Kubernetes-based portfolio for modern applications after the deal closes.
2. Networking and security
A broad set of networking and security innovations advance VMware's vision of the Virtual Cloud Network. Now deployed by 13,000 customers, reaching more than 150,000 branch offices via VMware SD-WAN by VeloCloud, VMware virtual cloud networking provides an average of 59 percent reduction in capital expenditure and 55 percent reduction in operational expenditure.
Wherever your apps run, our software-based networking and security can go with it. Simply, the full networking stack is now available as software.
From a security perspective, VMware provides unique visibility into what's happening in the data center. We announced our intent to acquire Carbon Black, whose tools provide customers advanced threat detection and in-depth application behaviour insight to stop sophisticated attacks and accelerate responses.
We've also expanded our telco and edge portfolio, enabling better 5G and IoT automation and security for communication service providers and enterprises.
3. Hybrid and multi-cloud
Our new and expanded cloud offerings mean we can provide customers with a complete portfolio for their cloud journey. This delivers a consistent development experience, consistent infrastructure and consistent operations, making it easier for customers to build, run and manage workloads across the data center, public cloud or edge infrastructure of their choice.
It also allows customers to modernise and migrate their applications while simplifying planning, deployment, costs and ongoing operations. With consistent infrastructure, business can now run workloads where they need to, move workloads seamlessly, tap into resources globally and deliver capabilities needed for new and existing applications, all without the costs and risks of refactoring.
Beyond this, our CEO Pat Gelsinger pledged to continue to evolve and invest in VMware's programs for channel partners as new technologies and initiatives become generally available.
We expect to really see this come to life in February 2020, through the new VMware Partner Connect Program. Built with flexibility in mind, the program will comprise three tiers spanning Partner, Advanced Partner and Principal Partner, all aligned to the way our partners want to build their business in the future.
With more than 20,000 visitors to VMworld, there was a variety of interests and specialisations:
174 Meet the Experts with 889 attendees
9,080 Hands-On Labs
79,127 virtual machines were provisioned
10,827 NSX networks
5,896,034 GB of vSAN storage used.
Finally, the event theme - 'Make Your Mark' – really shone through. As Pat explained, "Technology is neither good nor bad, but it's often how we shape it. Will technology shape the world we want to live in? Or will it create a world we're afraid to live in? As technologists, we can't afford to think of tech as someone's problem to think through its implications."
The incredible sharing of ideas, innovation and passion from our partners, customers and guests personified this, bringing together all that we are doing to help customers, and truly use technology for good.
Forward-Looking Statements
This press release contains forward-looking statements including, among other things, statements regarding the proposed acquisitions of Carbon Black and Pivotal Software by VMware, such as: the growth opportunities and expansion of VMware's offerings associated with each acquisition and potential benefits to VMware and its customers and partners. These forward-looking statements are subject to applicable safe harbor provisions under federal securities laws, such as the Private Securities Litigation Reform Act of 1995. Actual results could differ materially from those projected in the forward-looking statements as a result of certain risk factors, including but not limited to: (1) the satisfaction or waiver of the conditions to closing the proposed acquisitions (including the failure to obtain necessary regulatory approvals) in the anticipated timeframe or at all; (2) uncertainties as to how many of Carbon Black's stockholders will tender their shares in the tender offer and the outcome of the vote by Pivotal stockholders to approve the Pivotal acquisition; (3) the possibility that either or both acquisitions do not close; (4) the possibility that competing offers may be made; (5) risks related to obtaining the requisite consents to each acquisition, including, without limitation, the timing (including possible delays) and receipt of regulatory approvals from various governmental entities (including any conditions, limitations or restrictions placed on these approvals and the risk that one or more governmental entities may deny approval); (6) the possibility that the expected benefits from the proposed acquisitions will not be realized or will not be realized within the expected time period; (7) the risk that the businesses will not be integrated successfully; (8) the risk of litigation and regulatory actions related to the proposed acquisitions; (9) other business effects, including the effects of industry, market, economic, political or regulatory conditions; and (10) other unexpected costs or delays in connection with the acquisitions. These forward-looking statements are made as of the date of this press release, are based on current expectations and are subject to uncertainties and changes in condition, significance, value and effect as well as other risks detailed in documents filed with the Securities and Exchange Commission, including VMware's most recent reports on Form 10-K and Form 10-Q and current reports on Form 8-K that we may file from time to time, which could cause actual results to vary from expectations. VMware assumes no obligation to, and does not currently intend to, update any such forward-looking statements after the date of this release.
Additional Information about the Pivotal Acquisition and Where to Find It
This communication may be deemed to be solicitation material in respect of the proposed merger with Pivotal (the "Pivotal Merger"). This communication does not constitute an offer to sell or the solicitation of an offer to buy VMware securities or the solicitation of any vote or approval. The proposed Pivotal Merger will be submitted to Pivotal's stockholders for their consideration. In connection with the proposed transaction, Pivotal intends to file a proxy statement and other relevant materials with the Securities and Exchange Commission (the "SEC") in connection with the solicitation of proxies by Pivotal, the Company and Dell Technologies in connection with the proposed transaction. The definitive proxy statement will be mailed to Pivotal's stockholders.
BEFORE MAKING ANY VOTING OR INVESTMENT DECISION WITH RESPECT TO THE PROPOSED TRANSACTION, INVESTORS AND STOCKHOLDERS OF PIVOTAL ARE URGED TO READ THE DEFINITIVE PROXY STATEMENT REGARDING THE PROPOSED TRANSACTION (INCLUDING ANY AMENDMENTS OR SUPPLEMENTS THERETO) AND OTHER RELEVANT MATERIALS CAREFULLY AND IN THEIR ENTIRETY WHEN THEY BECOME AVAILABLE BECAUSE THEY WILL CONTAIN IMPORTANT INFORMATION ABOUT THE PROPOSED TRANSACTION. The proxy statement, any amendments or supplements thereto and other relevant materials, and any other documents filed by Pivotal with the SEC, may be obtained once such documents are filed with the SEC free of charge at the SEC's website at www.sec.gov.
In addition, Pivotal's stockholders may obtain free copies of the documents filed with the SEC through the Investors portion of Pivotal's website at pivotal.io/investors or by contacting Pivotal's Investor Relations Department via e-mail at ir@pivotal.io.
Pivotal, VMware, Dell Technologies Inc. and certain of their respective executive officers, directors, other members of management and employees, may under the rules of the SEC, be deemed to be "participants" in the solicitation of proxies from Pivotal's stockholders in connection with the proposed transaction. Information regarding the persons who may be considered "participants" in the solicitation of proxies will be set forth in Pivotal's preliminary and definitive proxy statements when filed with the SEC and other relevant documents to be filed with the SEC in connection with the proposed transaction, each of which can be obtained free of charge from the sources indicated above when they become available. Information regarding certain of these persons and their beneficial ownership of Pivotal's common stock is also set forth in Pivotal's proxy statement for its 2019 annual meeting of stockholders filed on May 3, 2019 with the SEC, which may be obtained free of charge from the sources indicated above.
Additional Information about the Carbon Black Tender Offer and Where to Find It
This communication is for informational purposes only and is neither an offer to purchase nor a solicitation of an offer to sell Carbon Black securities, nor is it a substitute for the tender offer materials that VMware and its acquisition subsidiary have filed with the SEC. The solicitation and offer to buy Carbon Black stock is being made only pursuant to the Offer to Purchase and related tender offer materials on Schedule TO. THE TENDER OFFER MATERIALS (INCLUDING AN OFFER TO PURCHASE, A RELATED LETTER OF TRANSMITTAL AND CERTAIN OTHER TENDER OFFER DOCUMENTS) AND THE SOLICITATION/RECOMMENDATION STATEMENT ON SCHEDULE 14D-9 CONTAIN IMPORTANT INFORMATION. CARBON BLACK STOCKHOLDERS ARE URGED TO READ THESE DOCUMENTS CAREFULLY BECAUSE THEY CONTAIN IMPORTANT INFORMATION THAT HOLDERS OF CARBON BLACK SECURITIES SHOULD CONSIDER BEFORE MAKING ANY DECISION REGARDING TENDERING THEIR SECURITIES. The Offer to Purchase, the related Letter of Transmittal and certain other tender offer documents, as well as the Solicitation/Recommendation Statement, are available to all holders of Carbon Black stock at no expense to them. The tender offer materials and the Solicitation/Recommendation Statement are available for free at the SEC's website at www.sec.gov. Additional copies may be obtained for free by contacting VMware or Carbon Black. Copies of the documents filed with the SEC by Carbon Black are available free of charge on Carbon Black internet website at https://investors.carbonblack.com/financial-information/sec-filings or by contacting Carbon Black's Investor Relations Department at 646-277-1251.Copies of the documents filed with the SEC by VMware are available free of charge on VMware's internet website athttps://ir.vmware.com/overview/sec-filings/default.aspx or by contacting VMware's Investor Relations Department at (650) 427-4631.
In addition to the Offer to Purchase, the related Letter of Transmittal and certain other tender offer documents, as well as the Solicitation/Recommendation Statement, VMware and Carbon Black each file annual, quarterly and current reports and other information with the SEC. VMware's and Carbon Black's filings with the SEC are available to the public on the SEC's website at http://www.sec.gov.
Related stories
Top stories