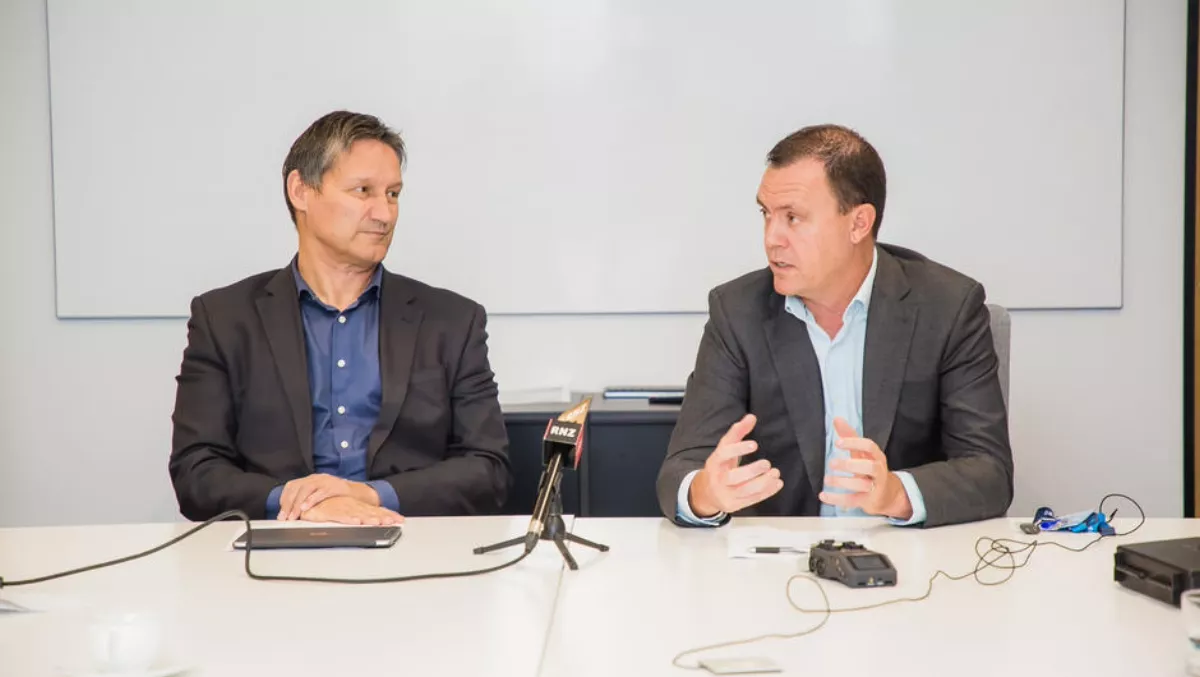 Vocus Group and Vodafone partner to unbundle UFB services
FYI, this story is more than a year old
Vocus Group and Vodafone have announced a joint venture to unbundle New Zealand's government-backed Ultra-Fast Broadband (UFB) fibre network. The move will allow Vocus, Vodafone and other RSPs to start providing telecommunications services over the UFB network, reducing their dependence on Chorus and other local fibre companies (LFCs).
The two companies say that unbundling will accelerating broadband innovation and wholesale price competition by allowing greater investment in the technology that powers the tens of thousands of kilometres of fibre optic cables spread throughout New Zealand.
They say allowing third parties access to the UFB network is the next step in the evolution of UFB, and will see New Zealand broadband speeds and quality skyrocket.
Vodafone chief executive Russell Stanners says, "We are excited to work with Vocus on this project as it will result in faster innovation, more choice and competitive wholesale pricing for Kiwis. We don't see any reason to delay now that the Government has given the green light for unbundling to get underway from 2020.
"After six years the four LFCs have delivered a small number of retail fibre products to consumers, compare that to unbundled markets like Singapore where retailers are able to fully customise their products to meet the needs of different consumers. This level of innovation and competition is what we want to see in New Zealand."
The recent select committee recommendation to confirm unbundling by 2020 was seen as a big green light for Vodafone and Vocus, who say the decision will 'finally' allow them to proceed with their plans to launch new fibre services for consumers and businesses from January 2020. The new joint venture will involve scoping, designing and investing in unbundling the fibre local loops of the four local fibre companies (LFCs), with a view to providing wholesale fibre products to the retail market in competition with LFCs.
The companies have today issued an RFP to local fibre companies for 'Layer One' wholesale services and pricing.
According to Vodafone and Vocus, examples of these future fibre products could include retail plans with speeds up to 10Gbps (which is already happening in Singapore and Switzerland), more 'business class' products for customers wanting premium service options, low latency options for gamers and more reliable throughput speeds generally. Vocus New Zealand chief executive Mark Callander says, "We have already seen the huge benefits of copper unbundling in New Zealand and it's time now to turn our focus to fibre as markets overseas are already doing. "Our brands Slingshot and Orcon invested heavily in copper unbundling, as did Vodafone, and it dramatically changed the broadband market in New Zealand. It brought real competition, innovation and price savings to Kiwi consumers. Unbundling fibre is exciting, and will bring about tangible change. "Partnering with Vodafone is a natural fit for Vocus, bringing to the table their global fibre experience and capabilities to complement our leadership in unbundling fixed networks here and in Australia. The combined scale and market share we both bring will be a key enabler of the initiative," Callander concludes.
Related stories
Top stories