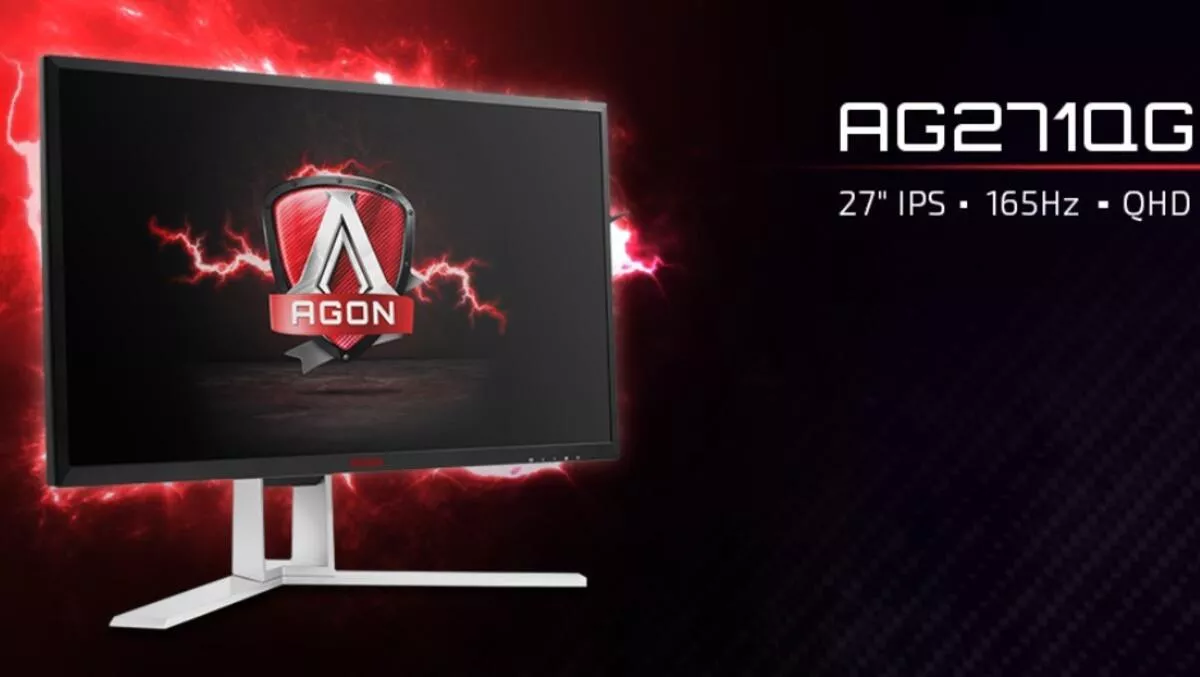 AOC introduces the AG271QG - the newest weapon in the AGON arsenal
By Ashton Young,
Mon 14 Nov 2016
FYI, this story is more than a year old
AOC recently revealed their all new AGON Premium Gaming Monitor series, and the AG271QG with NVIDIA G-Sync technology is the latest model to be released.
Essentially, NVIDIA G-Sync technology seamlessly synchronises the GPU and the monitor, eliminating the problem of 'screen tearing' which has plagued 3D gaming since the beginning.
When the graphics card outputs frames at a speed that doesn't match the monitor's refresh rate, it's not uncommon to see the monitor struggle to keep up, resulting in a noticeable visual 'shimmering' during animation. It's been a problem for so long that the majority of people have become used to it – the AOC AGON AG271QG puts an end to this, with much smoother animation and an enhanced gaming experience.
The AG27QG puts out a speedy 165Hz refresh rate. If you're used to gaming on a standard 60Hz display, the jump to the higher refresh rate can be mind-blowing. When combined with G-Sync, it offers a complete and immersive gaming experience.
Rapid and endless gaming sessions
The secret behind AOC's continued success is that they listen to their users. The AOC AG271QG is the manifestation of the AGON series core value – to understand the needs of the user by providing flexibility, excellence and ease of use.
The AOC Flicker-Free technology is ideal for long gaming sessions as it eliminates screen flicker and reduces eye-strain. Discomfort and fatigue are no longer a problem, ensuring that your in-game aiming skills are maintained throughout hours of gaming. This is all combined with a low response time and minimal input lag to ensure your commands are met swiftly and with precision.
Flexibility and refinement
Believe it or not, staying in one spot for an extended period of time can be hard on your body.
While ergonomic gaming chairs are crucial for any successful gamer these days, in order to be comfortable and keep your body healthy it is also vital that your monitor can adjust to your needs too.
The AG271QG has an extremely solid metal stand, with a large hole at the bottom for cable management. Where this monitor excels is in its incredible range of movement. It can be raised, lowered, rotated, pivoted around to be used in portrait mode and tilted backwards and forwards.
What's more, there's even a scale on the side of the stand (which AOC calls an Ergo Dial) to enable you to remember the exact height and angle you prefer to keep the display at.
The lower bezel is a textured matte black plastic, while the screen itself is also matte to reduce any screen glare. The rear of the display is also plastic, but it's covered with a deep red backing plate with an embossed AOC logo on top, which looks very suave indeed.
The AG271QG is a fantastic monitor, a testament to the quality work at AOC and a secret weapon for any gamer that uses it.