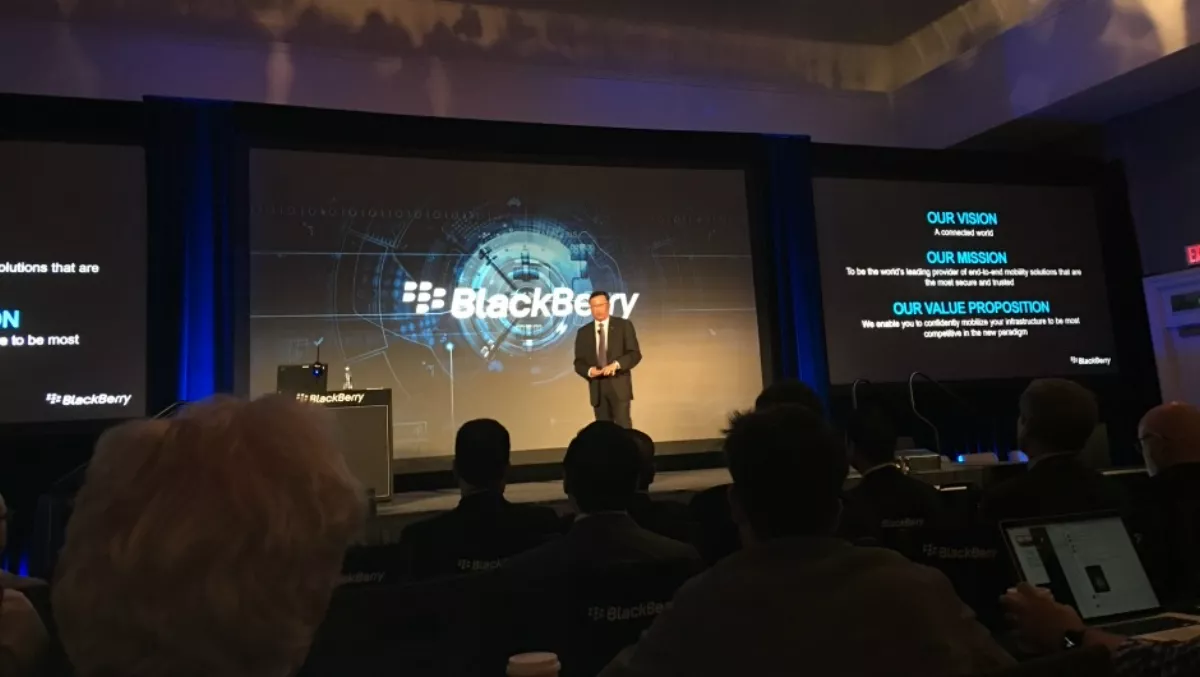 BlackBerry Security Summit: New strategies for the communication firm
By Shannon Williams,
Wed 20 Jul 2016
FYI, this story is more than a year old
The BlackBerry Security Summit 2016 kicked off this morning, taking place in a packed banquet hall at the Grand Hyatt Hotel in New York City.
The summit schedule is packed full, with more than 20 sessions featuring interactive panels with industry thought leaders.
BlackBerry expects more than 450 security, mobility and IT professionals in attendance. Big-name sponsors for the event include Samsung, Microsoft and Google, as well as several other companies including Symphony, Check Point and Acronis.
BlackBerry's chairman and CEO John Chen opened the day, delivery the company's strategy of delivering the 'only end-to-end x-platform mobility platform, as well as its professional service strategy involving cybersecurity consulting, implementation services and customer support'.
In the past 12 months, Chen says BlackBerry has reached financial stability, reporting positive operating income for Q1, including record software and services revenue of 131% year on year growth
According to Chen, the company's channel network is now made up of 1500 partners, up from 366 in Q4FY16.
At BlackBerry's 2015 Security Summit, BlackBerry acquired crisis communications company AtHoc. Since then, it has acquired cybersecurity services company Encription and mobile security provider Good Technology.
So why security?
Chen says cyber attacks are a costly business, with estimated global cost of cyber attacks reaching $400 billion annually.
According to BlackBerry, 50% of CEOs of companies with $500m+ of annual revenues say they feel unprepared for a cyber attack.
Cyber security has an increased focus for company boards, with 82% of boards worldwide concerned or very concerned about cyber security.
"Cyber security is at the top of CEOs' mismanagement list," Chen says. "We have a lot of know how."
He says BlackBerry has the heritage and know-how to deliver secure mobile solutions. The company is creating secure applications, ensuring data management rights, and provide controlled access to the cloud.
The BlackBerry Security Summit 2016 agenda today features numerous breakout sessions, including an address from David Kleidermacher, chief security officer for BlackBerry, on the company's security strategy, as well as a product strategy session from Blackberry's executive product management team.
Stay tuned, we're live from the event.