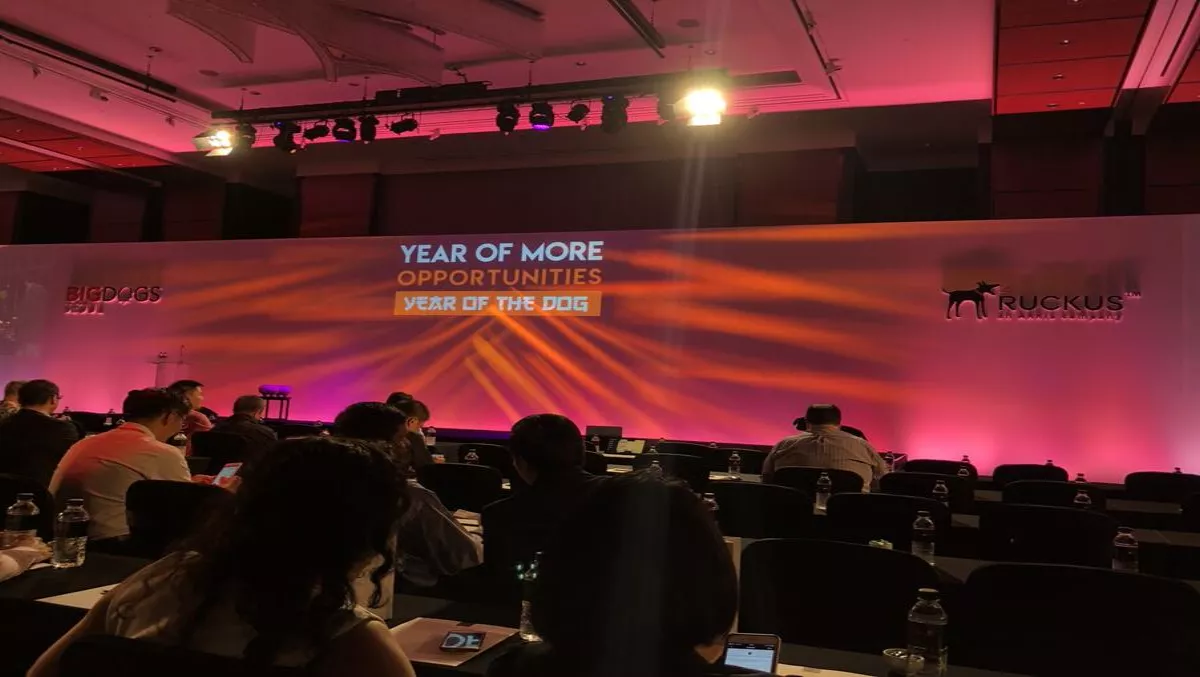 Causing a Ruckus - The next networking Big Dog
FYI, this story is more than a year old
"APAC is on a roll," says Ruckus Networks president Ian Whiting to the partners gathered at the opening session for the 2018 Big Dogs partner event in Seoul yesterday.
"APAC is now 20% of our business, thanks to our APAC team, and it's not just a hot market, but also a centre of innovation."
To highlight his point, he refers to the Bangalore Ruckus development centre that opened last week and now has 300 people working to develop new products that incorporate and improve on the latest in wired and wireless technologies.
Innovation, expansion and potential come up repeatedly throughout the session, linking into the theme 'The Year of More', and underscored by an association with the Year of the Dog on the Chinese Zodiac.
It is no secret that over the last 18 months or so Ruckus has gone through some disruption as it was acquired by Brocade, then Broadcom, then finally ARRIS and so, it makes sense that the focus this year would be on the loyalty and dedication that the dog represents.
Whiting, who stepped up from CCO to president less than a month ago, outlines the progress that Ruckus has made since settling into their new home at ARRIS.
They have developed their own switches, IoT compatibility modules and data analytics packages - they are getting ready to take on the networking infrastructure market in a big way.
Whiting, and later ARRIS CEO Bruce McClelland, both reinforce the place that wifi has and will continue to have in the market, pointing to the rise of video streaming, both up and down, and the ever-increasing expectations of quality as one piece of evidence.
With 40% of internet traffic coming through wired connections and just 20% via cell tower, and as wired internet remains far cheaper than its cellular counterpart, it is hard to argue with the leadership's confidence in the continued need for faster, more reliable wifi in the foreseeable future.
The statistics do seem to support this confidence - today, the average APAC home contains 20 connected devices and in the next three years, this is set to rise to 50 with the growing popularity of IoT and smart homes - that's not even getting to the rise of Industrial-IoT.
This brings us to Ruckus' latest offering, the R370, announced Tuesday evening and explained in depth by Ruckus product management senior director Rishi Grover.
Wifi is Ruckus' lifeblood and continues to inform the company's strategy as they move toward their goal of becoming a billion-dollar company "in the next several years".
However, Whiting says that those reseller partners who bring Ruckus' wired offerings into their portfolio and expand their scope to offer end-to-end solutions for network infrastructure are becoming the most profitable.
In a later session, Ruckus director of marketing Aravind Vasudevan gives a sneak-peak into a study to be released within the next few weeks on the state of wifi in APAC.
It will reveal some interesting facts about the way business leaders are thinking about and using wifi including just how severe the impact of wifi downtime can be on a business' bottom line.
The leadership are clearly looking forward and have their eyes focused on responding to what the world wants when it comes to internet coverage - not just the major metropolitans but everywhere.
This is evidenced by a case study in which Ruckus provided wide range coverage for small communities in mountainous Taiwan as part of the Government's i-Tribe initiative.
Ruckus Networks certainly seems to be hitting its stride, looking to disrupt not just the networking market but how the internet itself is consumed and developed in the future.
Related stories
Top stories