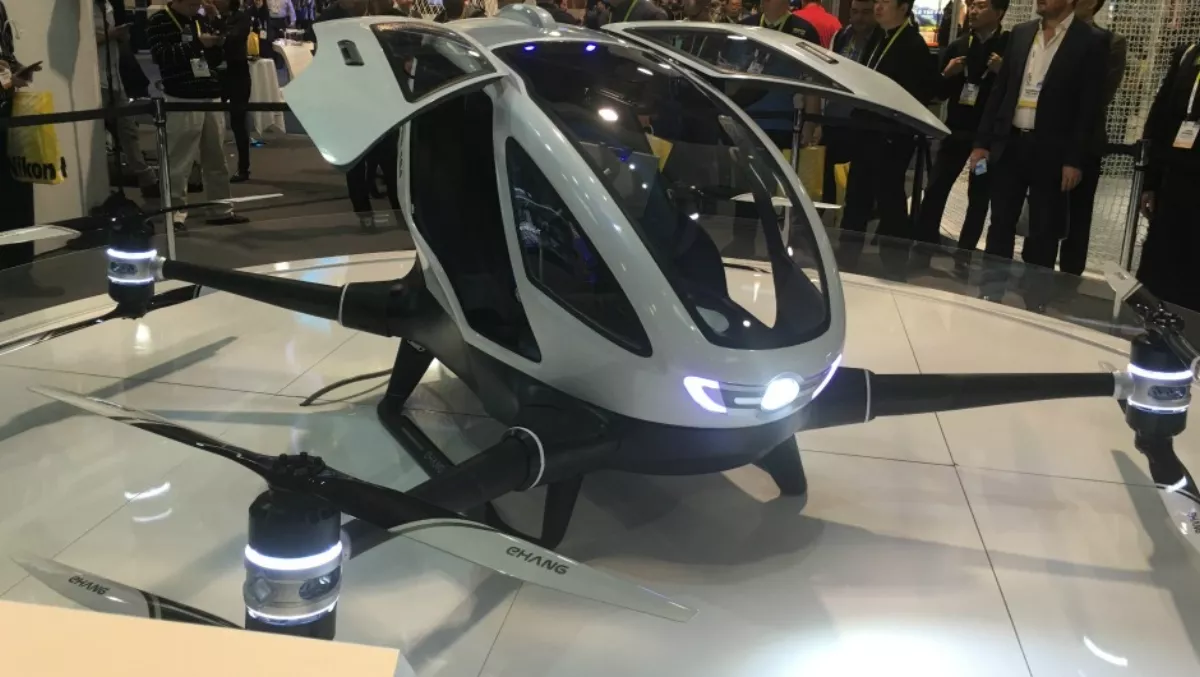 CES 2016: What's coming to New Zealand?
By Heather Wright,
13 Jan 2016
FYI, this story is more than a year old
From drones capable of carrying humans to clothes with built in technology, pet activity trackers to self driving cars, CES 2016 delivered a plethora of products from the seriously cool, to the, well, just a little wacky.
Jason Bell, Noel Leeming executive general manager of merchandise, says while this year's event lacked the usual onslaught of major new releases, with many of the offerings this year new iterations of offerings previously seen, it marked a turning point with many devices now closer to being genuine consumer purchases.
"This was sort of the watershed year, where I think you will see a lot of [these devices] come through as a real consumer option, certainly globally, but in New Zealand as well," he says.
Bell attended the show along with several other Noel Leeming staff, to check out potential new offerings for Noel Leeming to stock.
He says drones were a key trend.
"It's one of those categories we see having the opportunity to be quite a significant category in the New Zealand market over the next few years," he says. "It's probably more advanced at this stage than most people thought it would be."
Noel Leeming already stocks a range of drones, from the 'toy' drones, and higher end $1500+ models and Bell says the retailer saw 'great demand' for them over Christmas, with the premium end of the market hottest.
"It's probably a bit of a novelty at the moment, but people are buying them and then realising the value they can get out of them."
This year's CES saw drones going bigger – and smaller – at the same time, with prototypes ranging from personal drones to drones capable of carrying a single passenger at speeds of up to 65 miles an hour.
"There was a lot of talk around having literally a portable drone that you carry around. You go on a hike, pull it out of the backpack and throw it up in the air so it can circle you and take a selfie for you."
Bell says that offering isn't likely to hit the New Zealand market this year, but selfie fans rejoice, come 2017, it could well be a goer.
Parrot meanwhile showcased a prototype it expects to release this year, which will be the first fixed wing drone – looking more like a mini plane than drone – which once thrown, literally, in the air, will hover until the user takes control of it.
Bell says that simplicity was another key trend, with the advances in technology making drones very easy to use, and he expects Noel Leeming to stock the Parot drone 'absolutely in 2016.' "It could be a key consumer product."
Meanwhile the Ehang 184 drone, capable of carrying a passenger, is a working prototype which is ready to go into production. For now, however, the company is working through civil aviation regulation in the United States.
"It's one of those things where technology is ahead of legislation and the rules around personal flying devices," Bell says.
"But it was certainly a star of the show," he adds.
"Drones are a big opportunity. It could be a nice natural fit to the consumer electronics category and a good growth opportunity for the future."
Wearables and biometrics also caught the eyes of the Noel Leeming team.
Fitbit's Blaze, due in March and adding fashionability to the line and some added functionality, was on show and Bell says he expects Blaze and some other new releases in the coming months to be key in driving the category forward.
However, wearables wasn't just about activity trackers, with wearable clothes and biometrics making a play for attention, with a smart shoe from UnderArmor tracking heart rate and stride, and from another company, a 'smart bra' tracking heartrate.
The area wasn't solely fitness based however. Wade Booth, Noel Leeming technology merchandise manager, says one vendor offered up a modular band, which could have different pieces, with different functionalities, added and removed as desired.
"And you could program those pieces to do different things such as open your garage door or open your house."
The connected homes category saw 'tangible' products coming through, Bell says.
One in particular attracted Bell's attention: the Samsung Family Hub fridge featuring a 21-inch connected touch screen, enabling music playing, movie streaming, use of 'lots' of apps.
"But one really useful thing was that every time you opened the door and took something out or put something in, it took a photo of every shelf," Bell say.
"So you could be at the supermarket, wonder if you needed a product and literally go and see an image from inside your fridge.
"And it was a pretty clear image. You could see everything in there. It is a little bit novelty, but you certainly see a practical use for it as well."
Noel Leeming is currently working with Samsung to see if the fridge will hit the local market, though Bell admits it's 'up there in price' – at US$5000. US release is due this year.
Home security featured big, with one vendor offering a wireless deadlock solution which was solar powered but could be powered by both the sun and ambient light and a lithium battery, enabling users to unlock their door, via their cellphone, from anywhere. A keypad provided an override, but Bell says there was no chance of the battery running flat because of the way the system worked.
Bell says virtual reality also got a boost with new products coming through including an integrated offering from Oculus Rift, the company behind the technology used by Samsung's Gear VR.
"We're waiting to find out what will happen with that in New Zealand, but it's launching in the US this year at US$599," Bell says.
Samsung's VR headset has proved a winner for Noel Leeming, which launched the product exclusively locally last year. The first – albeit limited – shipment sold before it arrived, and the second shipment quickly sold out.
"I don't think anyone still really knows where virtual reality will go," Bell adds.
Check out the photo gallery of some of the devices which captured the Noel Leeming team's attention here.