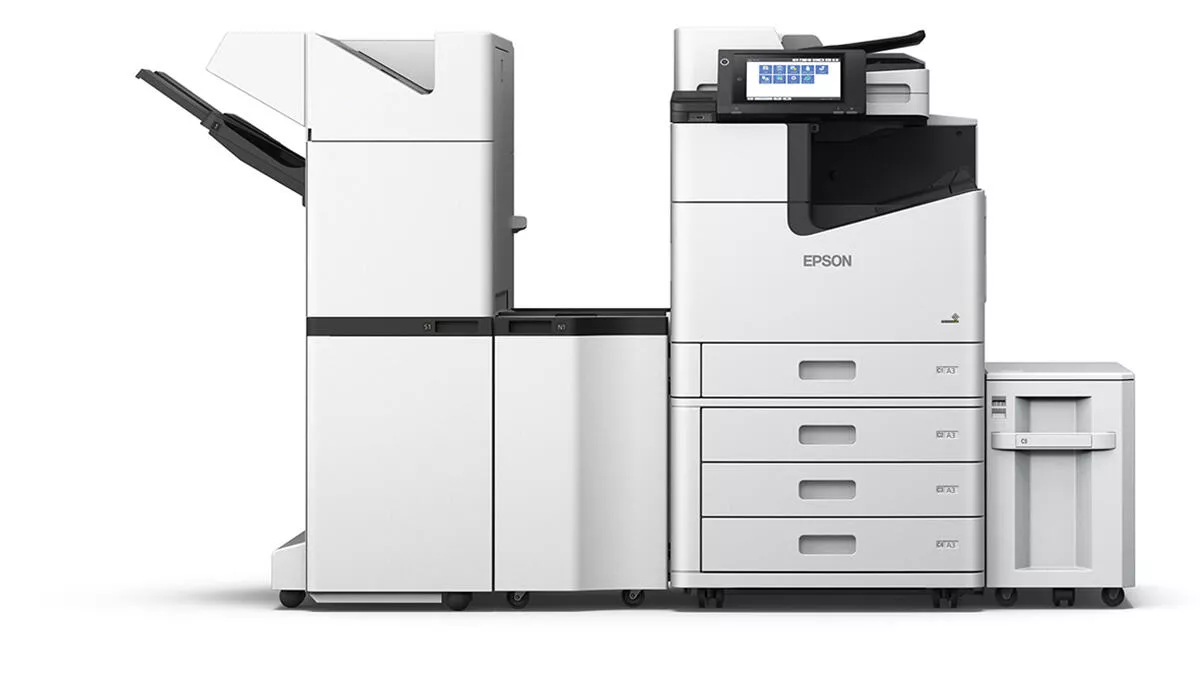 Epson NZ launches business printers for the commercial office market
Epson New Zealand has entered the commercial office printing market launching a full range of A4 and A3 business printers. Epson says that these new printers are designed to increase efficiencies and productivity while helping SMBs and SMEs to lower their impact on the environment.
Epson NZ is introducing eleven new models in their new business printing portfolio, starting with the entry-level WorkForce Pro WF-C579R, mid-level WorkForce Pro WF-C879RTC and high-end WorkForce WF-C21000. The new models are supported by a cloud-based printer fleet management tool to improve service support and operational efficiencies.
The printers are designed for busy offices with low environmental impact, low intervention and high productivity. All of the printers are powered by Epson's heat-free PrecisionCore inkjet technology. They are aimed to meet the needs of corporate and government enterprises as well as organisations looking to reduce their carbon footprint, meet their corporate social responsibility objectives, or just play their part in reducing CO2 emissions.
Epson Australia and New Zealand managing director, Craig Heckenberg, says, "Epson is a trusted brand that is recognised globally as a sustainable company with a strong commitment to creating value for our customers and society. One way in which Epson is helping to create a sustainable future for all of us is through our patented Heat-Free technology which uses up to 94% less energy when compared to an equivalent laser printer or copier."
According to the Australian Energy Efficiency Council, office equipment, which includes printers and copiers, represents about 48% of the total energy bill for a typical office. This is a significant operational cost and burden on the environment. Epson is confident that its heat-free office printing technology can help its customers move towards a more sustainable future.
Epson NZ hopes that this new commercial printer line-up will provide its business partners with cutting edge solutions that help future-proof businesses and differentiate themselves in the marketplace. Epson NZ general manager, Kaden McCaffery, adds: "Businesses demand simple, reliable and economical solutions and we strive to provide the resources and support that our partners require to stay competitive."
Spearheading Epson NZ's drive into the office printing market is Fadi Nannis who joins the company as business development manager for the newly created Document Solutions team. Nannis said, "The introduction of these new printers demonstrates the commitment Epson NZ has to the growth and success of our channel partners. I am looking forward to building new, long-term business partnerships with companies that share a similar vision and similar values for a sustainable future."
The three printers offer business customers a flexible range of specifications depending on intended usage.
The WorkForce Pro WF-C579R has a replaceable ink pack system with extra high-capacity packs that can print up to 50,000 ISO pages black/20,000 ISO colour without changing the ink. It has a paper capacity of up to 1,330 pages with optional trays. With no warm-up time, the printer can output 24 ISO ppm, plus a fast first page option. The 50-page ADF allows for auto 2-sided printing, copying, scanning and faxing and scan to email. The printer has seamless integration with enterprise applications such as PaperCut MF and other ISV solutions.
The mid-range printer, the WorkForce Pro WF-C879RTC, features a replaceable ink pack system. The ink pack can print up to 86,000 ISO black pages and up to 50,000 ISO colour pages. The prints speeds are 26 ISO ppm for black and 25 ISO ppm for colour again, with the option of fast first page out. The scanner can scan up to 100 images per minute, based on 200 dpi, A4-size, in black and white or colour.
The flagship WorkForce Enterprise WF-C21000 can print 100 ISO ppm black or colour, which Epson says is the fastest print speed in its class. The printers maximum power consumption of 320W is 87% less than the average of 22 equivalent colour laser printers. A full suite of advanced security features is provided with the printer. It is also compatible with Epson Solutions Suite and industry-leading third-party solutions seamless workflow integration. The versatile printer provides solutions for stacking, stapling, creating booklets, and hole-punch finishing, as well as fax and multi-network options.
All the above Epson business printers will be available exclusively through authorised Epson NZ dealers.
Related stories
Top stories