Partner content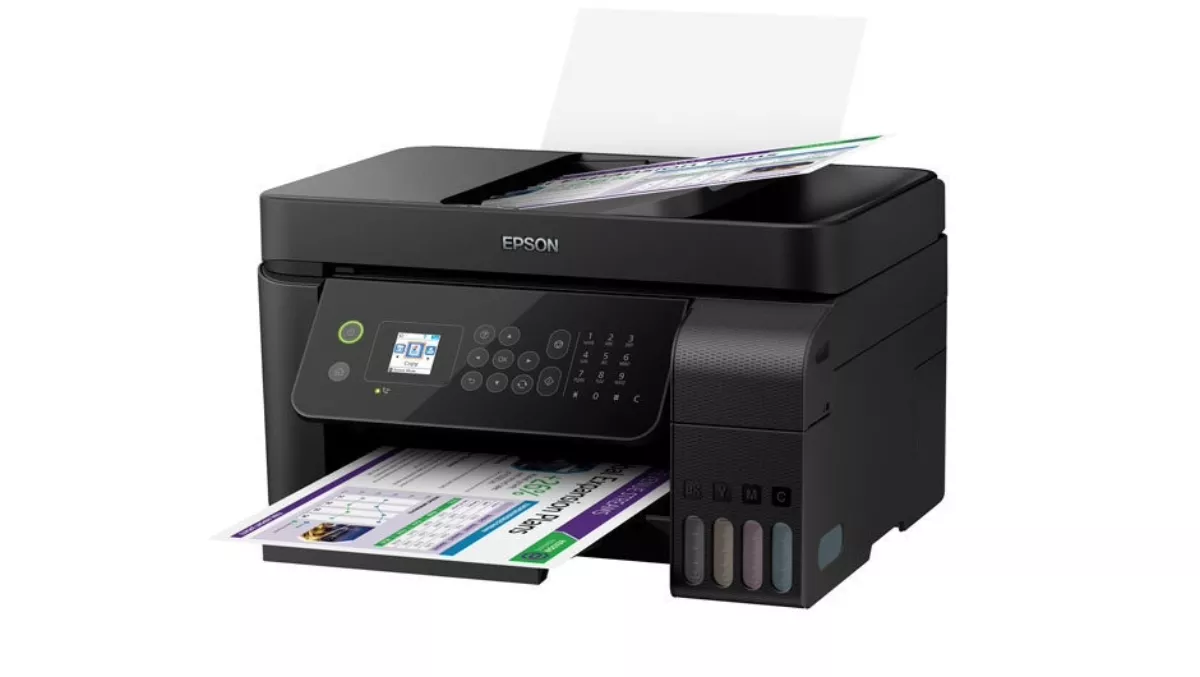 Hands-on review: Epson ET-4700 EcoTank Workforce Printer
FYI, this story is more than a year old
I'm a happy chap. Epson's ET-4700 is to blame for this, and for the past week I've had a permanent grin plastered on my face. This EcoTank iteration is made with the small-to-medium business or home user in mind. Besides all the usual printing functions, it will also operate as a fax machine.
The interface options allow the users to work with the printer even when on the road. Miserly ink consumption and the EcoTank technology will have both you and your accountant rejoicing. From its modest footprint and easy-to-use buttons, to the stylish design, Epson have excelled in their thinking and design with their ET-4700 EcoTank Workforce.
We know from experience that consumables are the most expensive part of running a printer. Epson know this too, and they've done something about it. You are not going to have to worry about ink replacements for a couple of years. When the inevitable happens, your four replacement inks will cost $19.99 each, and the ink will last you for about two years. Black and white printing will give you around 3600 copies, and colour printing will give you around 6500 copies. The replacement bottles give you 4500 and 7500 copies respectively.
Phone ET at Home: There is a lot to like about the ET-4700, and the interface is just one of them. The adjustable keypad includes a 1.44" LCD display and an ergonomic keypad that fumble-fingers all over the world will delight in.
You can connect to the printer in a variety of ways, and sometimes you don't even need to connect to a device. I've used Epson Connect from my iPhone and that's just one option for mobile printing. Yes, you can phone ET at home! Epson Connect give you a handy printout page that includes your email address and scannable QR code for your mobile devices.
My office has an ancient ink stain, caused by leakage when changing a print cartridge in a long-gone inkjet printer. Those days, fraught with matrimonial discord and angry looks, are long behind me thanks to Epson because it's now a painless procedure. Follow the simple instructions, and you'll not lose a drop. The ink-bottle moulds to the nozzle, and as long as you don't go crazy squeezing the bottle, loading ink is quick and clean.
Variable Sized Droplet Technology: To understand this technology, think in terms of painting a room. For the big bits you use a large brush. For the small fiddly bits, you'll use finer brushes. Epson says, "Ultra MicroDots are between 3 and 6 picolitres in size resulting in a dot diameter up to 4 times smaller than the diameter of a human hair and close to the limit of resolution for the human eye. These new incredibly small dots lead to much finer detail with less graininess and even smoother gradations. Print quality is considerably enhanced."
By the way, one picolitre is equivalent to 0.000 000 000 001 of a litre. I've printed several pages with a range of graphics, and all have printed crisp and clear. The quality is sure to please the small business owner, who doesn't need a paper feed of more than 30 pages at a time.
The box contained a CD, which I cheerfully ignored, choosing to download the drivers from Epson's website. In less time than it took to type ultra-fast fibre, I had registered the product, printed out a test page, and emailed myself a test print document. I also chose to download the scanner software, as I often use it to move paper files to those stored in the cloud.
The instruction sheets are easy to follow, and the instructions are numbered sequentially. As a baby boomer, I appreciated this, and the just-enough written instructions to keep me on the straight and narrow.
Epson must have a secret profile on me because their keypad is everything I could have asked for. My fat fingers have unerringly hit the target 100% of the time. Don't be put off by the rather small LCD screen, because it's only there to display information. The keypad arrows make it easy to navigate the menus. I also have the option of doing everything from my laptop, having chosen to download all the software that drives this printer.
I've noted that many businesses still use the fax system to communicate and to broadcast faxes. As part of Epson's Workforce range, the ET-4700 has a fax function. Simply connect to your phone line and get started.
There are so many superlatives when it comes to describing the ET-4700. Those of us with lower back problems will love the light weight and the nice square footprint. Epson has kindly included some photo paper, and I can't wait to see what the results will be. Those of you who have more ambitious printing requirements will be pleased to know that the big brother for the ET-4700 has a 250-page paper tray and offers duplex printing.
This is a printer designed for the occasional print job. It will happily handle the occasional presentations where you have a few colour handouts for your employees. It will keep any small office with modest printing requirements very happy.
And here's the best part: your accountant is going to love the miserly nature of this printer. Remember that miserly consumption is linked to amazingly sharp print quality. The ET-4700 will keep you smiling as broadly as I am.
Related stories
Top stories