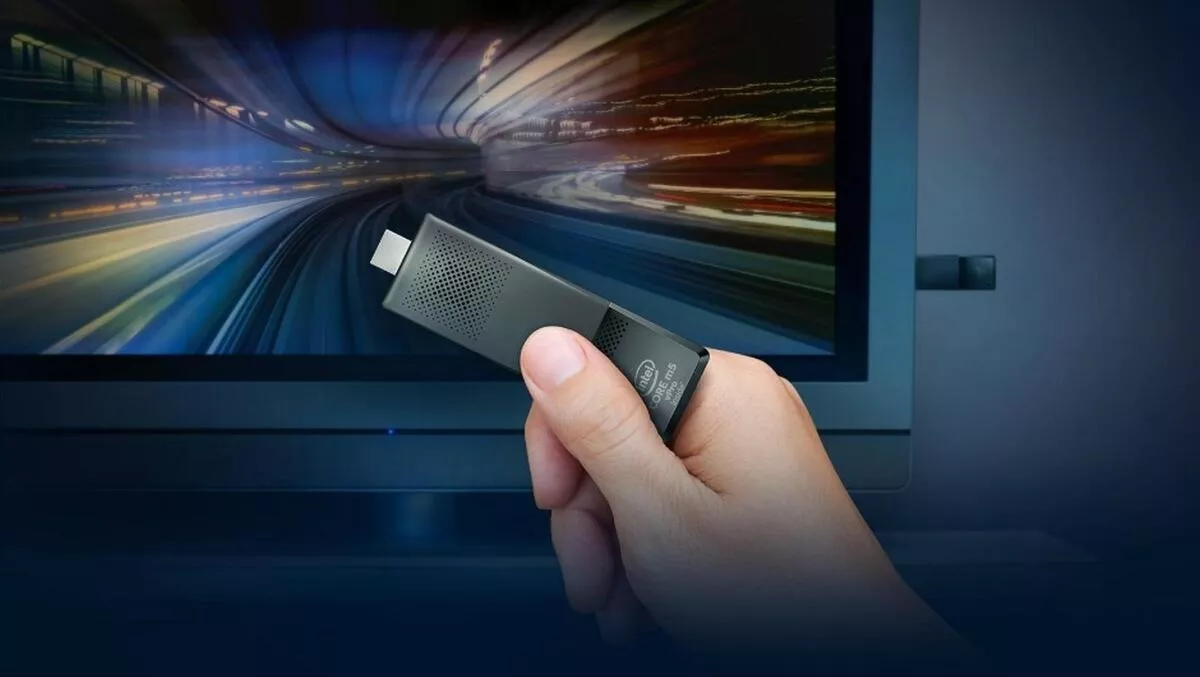 Hands-on review: Intel Compute Stick STK1AW32SC
FYI, this story is more than a year old
Last year Intel released its very first Intel Compute Stick. Fast-foward to 2016 and its newest version has upped its specs. It's slightly bigger (but still not much bigger than your standard USB stick), with an extra USB port, more processing power and faster RAM speed. This small device has 32GB of onboard storage, 2GB RAM, Wi-Fi capability, an Intel Atom Processor and still has room for two USB ports and MicroSDXC slot.
For those who've never heard of the Compute Stick before, this is a portable mini computer that plugs directly into the HDMI port of your TV or monitor. It's a fully-loaded computer with an operating system and full capability as a tiny laptop. Slightly bigger than the original, this Compute Stick has an Intel Atom x5-Z8300 processor, 1.44GHz CPU speed and 1600 MHZ RAM speed.
It comes loaded with Windows 10, which works very well considering the Compute Stick's size and RAM. Essentially, it has the same computing power as a low range netbook, but you provide your own mouse and keyboard. The USB 2.0 and USB 3.0 ports on the side make it easier for you to connect USB devices, wireless dongles or a multi-port. There's always the Bluetooth 4.0 connection for Bluetooth-enabled peripherals.
Despite the entry-level Atom processor, you can edit video footage and process photos on this - if you're patient. Some of the apps through Microsoft's store might look fantastic, but they can be slightly beyond the Compute Stick's power. Photoshop Express will lag, but some of the simpler games will run smoothly. Intel's graphics are superb, but how well they show up depends entirely on your TV/monitor's specs. HDTVs can maximise graphics output and give you more bang for your buck. Even for standard TVs, the Compute Stick is a superior and more flexible option than a Chromecast or some other complicated method of converting your monitor or TV into a smart TV.
Just as the original Compute Stick pioneered, there are plenty of uses for this in your home and business: as a presentation device, a streaming/web access device, a storage device, you name it.
The Compute Stick STK1AW32SC is an improvement on its first model, which shows that Intel might be on to a winner. If you enjoyed Intel's original Compute Stick, you will definitely enjoy this one too. If you like small portable devices or having a simple computer you can plug straight in and use, this may be for you.
Related stories
Top stories