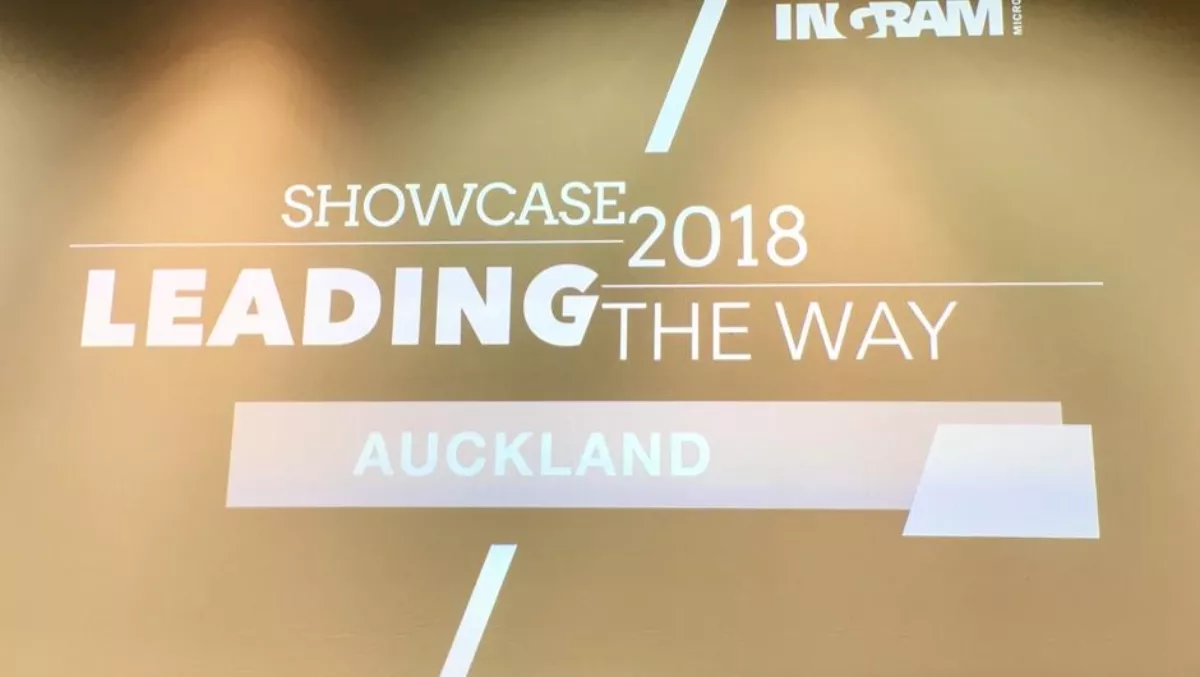 IM Showcase 2018 keynotes - Staring into NZ's future
FYI, this story is more than a year old
Ingram Micro's final Showcase event for the year was held at the SkyCity Convention Centre in Auckland, with NZ's biggest distributor and its vendors exhibiting a huge range of offerings, as well a handful of forward-thinking keynote speakers.
The opening keynote speaker was PHD strategy director Gareth O'Connor who spoke to the results of a survey that focused on looking at a future where IT and people merge.
O'Connor himself kept away from making any value judgements about this future, describing it as leading to either a kind of technological utopia or a "horrible, horrible, horrible dystopia", depending on your point of view.
However, he made it clear that no matter what your perspective, it is becoming an inevitability.
The five stages of the journey to the human/tech merge were outlined: Surfacing, organising, extracting, anticipating, and elevating.
Currently we are in stage 3 - the tech has arisen, it has been organised, we are currently extracting value from it, soon it will be anticipating our needs and desires, and then finally we will find it literally integrated with us - the example given is nanobots that enter our bloodstream to tell us when we are sick.
For the second half of his time, O'Connor outlines the 8 pieces of tech that he says the survey revealed as those that will shape the next few years.
Briefly, they are:
Chatbots - which are already redefining CX in many areas,
Messenger Concierge - a Facebook extension that can use user data to source and book experiences that suit them,
Next-gen VPAs (virtual personal assistants) - that will be capable of learning and fitting in with the user's personality,
Ambient AI - already a huge growth area,
Next-wave wearables - smart rings, for example, that will follow the user around and interact with locks, organisations and other people, as well as providing bio-feedback,
Hearables - that could soon provide live aural translation and allow phone-free calling, and
Mixed reality - at least a year away from consumer readiness but a huge potential for changing how people interact with the world.
Whether leading us to a world of equity and peace or widening the gap between the haves and have-nots, this tech is coming and provides huge opportunities for those in the right place at the right time.
Keynote three of the day (two was missed due to exhibition hall exploration) was delivered by IDC digital strategies and insight research director Louise Francis.
Francis gave some insightful information about how partners can make sure they are talking to the right people in businesses as their IT management and implementation structures change due to the growth of digital transformation strategies.
There were many statistics displayed to back up the information, but the synthesis of it is that the IT budget is no longer in the hands of just CIOs.
With every aspect of business ready for an IT upgrade and the CEO at the head of it all, partners need to be looking at an organisation's complete roadmap and making sure they are establishing relationships throughout the team in order to be offering the support that is needed.
The other key point made was that in today's market, the key is to focus on business outcomes in your discussions with those who are not tech-minded - how will what you are offering create value? Especially when it comes to the hot topics - security, simplification for customers, and productivity.
The final keynote of the day was Punakaiki Fund independent director Mandy Simpson on Blockchain.
The majority of the talk was covering the basics - cryptocurrencies and a very quick outline of how blockchain tech works.
Simpson went on to refute the idea that blockchain is just a flash in the pan, by referring to uses in healthcare, education and agri-tech that are already showing its versatility, and even pointing to how it could be the killer of middlemen apps like Airbnb.
She rounded out the discussion out by talking about how governments are already looking at using blockchain for identity management, including the collection of Kiwi banks, telcos, IT companies and Government, working together on something known as Kauri ID - a sovereign identity management platform for New Zealanders.
The three speakers gave a nice cross-section of what is coming down the line for the New Zealand IT industry and how it will operate with businesses as tech becomes an integral part of Aotearoa and its citizens.
Related stories
Top stories