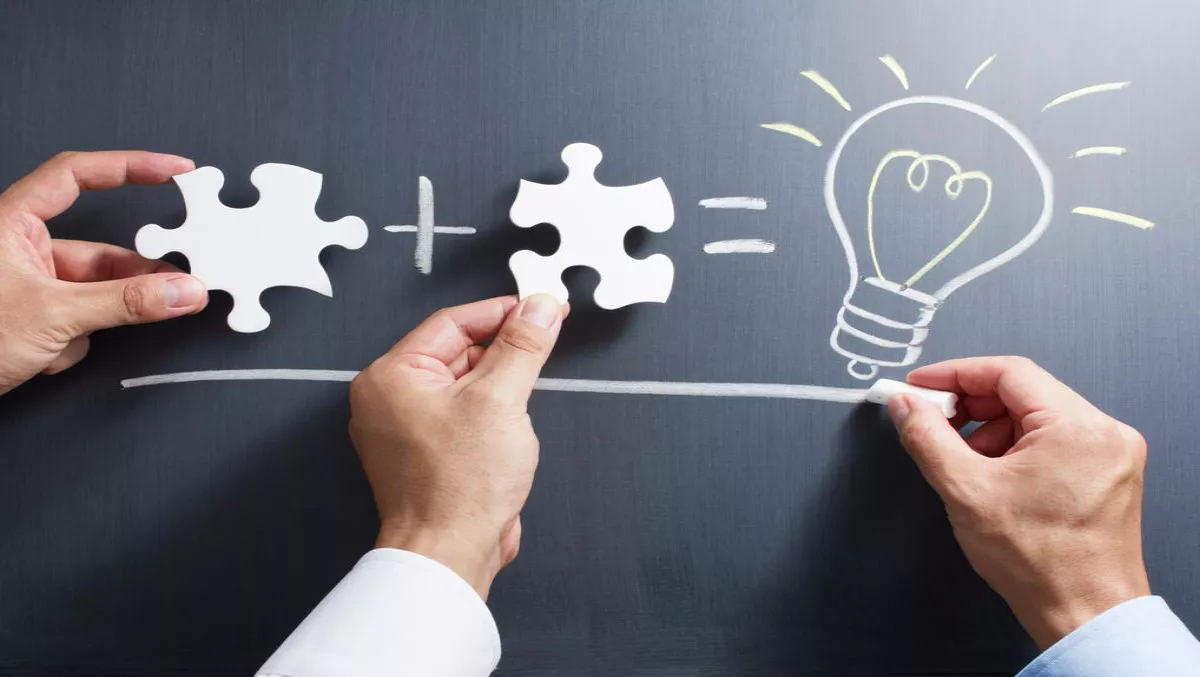 Ingram Micro Showcase 2016: Dell EMC talks vision, partners and being customer obsessed
FYI, this story is more than a year old
16 October 2016 saw Dell and EMC merge to become one entity, forming Dell Technologies, the umbrella group that owns the legacy Dell organisation, the EMC organisation, as well as Virtustream, Pivotal, RSA, Secureworks, VMware – all of which now fall under the Dell Technologies umbrella.
"We're a big company with a big presence, and with that comes all sorts of fantastic stuff."
That's the word according to Dell NZ general manager, James Arnold, speaking at the Ingram Micro Showcase 2016 event in Auckland today.
Arnold says Dell EMC is the world's largest privately controlled technology company in terms of numbers, pulling in $76 billion in revenue, with 140,000 staff operating in 180 countries.
But how is Dell made up? What does the company actually look like?
Dell Technologies is the over-arching organisation, and has one employee in the name of Michael Dell – Dell's founder and CEO. The rest of the staff group work in different parts of the organisation, made up of three parts:
The Clients Solutions Group, which takes care of PCs, software and peripherals, and virtual desktop infrastructure devices, otherwise known as the legacy Dell company.
The Infrastructure Solutions Group, the Dell EMC brand, covers storage, servers and networking, cloud solutions, Infrastructure-as-a-Service (Virtustream), security (RSA) and content management (ECD).
The third arm is Dell EMC Services, covering consulting solutions, support and deployment, and education.
On top of that, Dell Technologies has aligned itself with Pivotal, SecureWorks and VMware.
So what makes them different?
"We're a technology leader and innovator – we have agility with scale, we're customer obsessed and we think big," Arnold says.
Arnold says technology is at the core of the business. They have spent $12.7 billion on R&D over the last three years, and have 20,000 patents and patent applications.
"We are a unique family of businesses – that is strategically aligned businesses that work better together," he explains.
"We are the world's largest privately controlled technology company – that means we are not subject to the same pressures and problems that a public entity has – which is to meet share holder requirements," says Arnold.
"Our 100% focus is on customers and partners - we don't have to worry about shareholders, or quarterly reports to Wall Street or any of that stuff."
And because of that, they have agility with scale, Arnold says.
"We are a very big organisation but because we are private we have agility. Because the structure of our organisation has allowed us to maintain agility," he says.
Where to from here?
Arnold then deep dives into the Dell EMC channels program, and what the new partner program will look like in 2017.
"What is our vision? We see ourselves as a very visionary but practical organisation," Arnold says.
"We see our selves as a technology leader. But we are, without question, customer and partner obsessed," he adds.
"One of those most important parts of any business is its people, and its partners. People and partners are absolutely critical to how we go to market," Arnold explains.
"We've seen incredible growth in the channel. Both Dell and EMC across the globe have had great success over the last year.
Arnold says the company is experiencing huge growth in distribution. In New Zealand, growth in distribution is just over 30%, a figure Arnold says he hopes to each 60 in the next year.
"Obviously over the last few months, we have been going through some massive change as we look at next year and what 2017 will look like for Dell EMC," he adds.
The company will launch its new partner program in February, and because of that, Arnold says they have been going around talking to partners across the globe.
Channel Vision
Arnold says there is a lot of work going on for the launch of the program next year.
He says they have a vision of becoming the world's most trusted brand, with the industry's most desired channel program with most lucrative and predicable incentives and rebates for profitable behaviours.
"We want to enable our partners with world class training and support that result in high team member and partner NPS. We want to make it easy for partners to do business with us," he says.
Arnold says they are fast tracking both EMC partners into the current Dell program, and Dell partners into the current EMC program. "Obviously this is all set to change with the new program next year," he says.
Arnold says the new Dell EMC Partner Program will incorporate the best of both programs.
The new program will have four tiers: Gold, Platinum, Titanium and Titanium Black, which is by invitation only.
Arnold says existing partners in the Dell EMC network will know how they fit into this program by Christmas, and the requirements to get to the next level should also be known by the end of the year.
Related stories
Top stories